Ramadan Mubarak! Muslims Around the World Celebrate Holy Fasting Month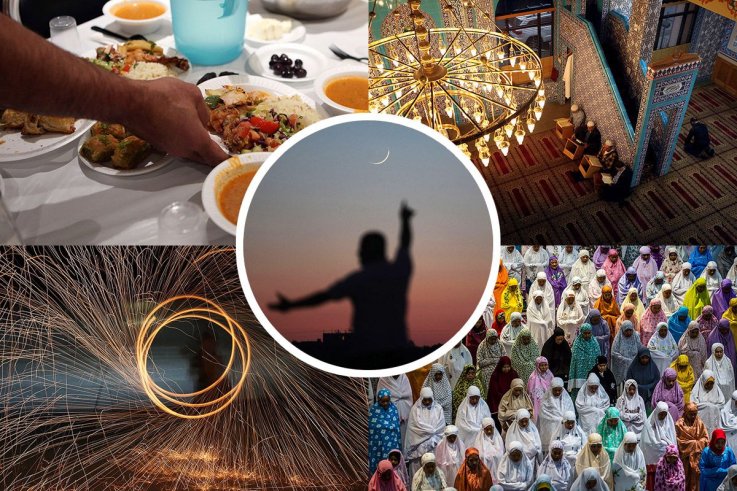 Muslims across the world are marking the start of the holy month of Ramadan. The timing of Ramadan varies in different countries depending on the sighting of the new moon, which marks the start of the month in the Islamic calendar. Traditionally, the month begins the evening after authorities in each country announce that their moon-sighting council has spotted the crescent moon.
Around the world, believers go to mosques to offer special prayers to mark the beginning of Ramadan, the ninth and holiest month in the Islamic calendar.
Each day for the month of Ramadan, Muslims abstain from eating and drinking from sunrise to sunset. Even a sip of water, coffee or a cigarette can invalidate the fast. There are exceptions to fasting for children, the elderly, the sick, women who are pregnant, nursing or menstruating, or people traveling during Ramadan.
Many break their fast by gathering with family and friends at sunset for 'Iftar,' the first meal of the day. Charities often arrange free meals for members of the public at mosques and other public spaces. The fast is intended to bring the faithful closer to God and remind them of the suffering of those less fortunate.
Observing Ramadan is one of the Five Pillars of Islam. It is a period of fasting, prayer and charitable giving believed to mark the first revelation of the Quran to the prophet Muhammad. Islam is the second largest religion in the world, with roughly 1.6 billion followers—nearly a quarter of the global population.
The month of Ramadan will end with the festival of Eid al-Fitr and the sighting of the new moon on June 15. Click through this Newsweek gallery to see how Muslims around the world prepare to mark the start of Ramadan or break their fast after sunset on the first evening.
— Reuters contributed to this report.