Rami Malek Thinks the End of 'Mr. Robot' Is 'a Great Way to Wrap up the Story'
Rami Malek knows as much about the ending of Mr. Robot now as he did at the beginning of the show, the actor told Jimmy Kimmel Tuesday.
The upcoming fourth season will be the series' last, USA Network announced August 29. Production will begin in New York this winter. "That's a character I hold so deeply in my heart, so it'll be hard to walk away from Elliot," the actor said on Jimmy Kimmel Live. "It's nice to walk away on a high note."
He always knew the show was going to be four or five seasons, but the studio, Universal Cable Productions (UCP), "had grand aspirations we would go a little bit longer," he told the late night talk show host.
"I knew as much in the beginning as I know now ... which is quite a bit," he said about how the show will end. "I think it'll be a great way to wrap up the story."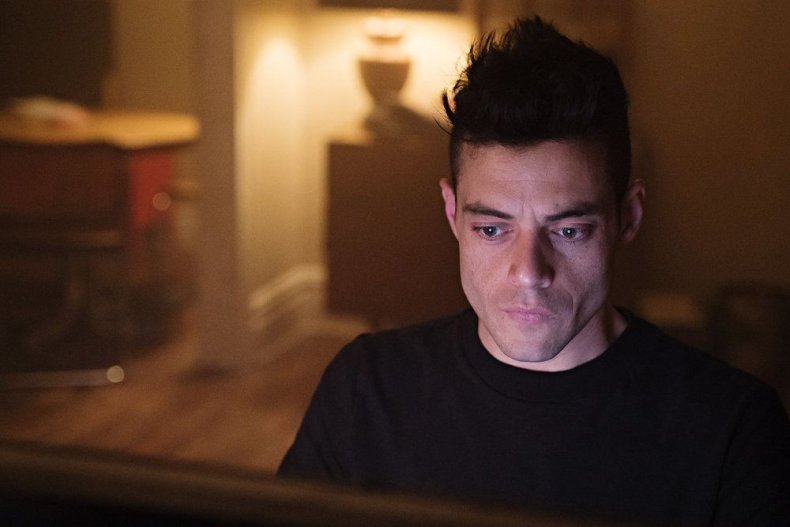 "Since day one, I've been building toward one conclusion—and in breaking the next season of Mr. Robot, I have decided that conclusion is finally here," creator, showrunner and director Sam Esmail said in a statement. "Everyone on the creative team, including the amazing people at USA and UCP, didn't want to say goodbye, but we ultimately have too much respect for Elliot's journey to extend past its inevitable ending."
"From the beginning, Mr. Robot proved to be a show unlike any other on television, capturing the zeitgeist of our modern times with a unique point of view and definitive vision," USA Network President Chris McCumber said in a statement. "We can't wait to reveal the complete Mr. Robot story."
Malek won an Emmy for outstanding lead actor in a drama series for playing cyber-security engineer Elliot Alderson in 2016. He credited his work on Mr. Robot for getting him the role of Freddie Mercury in the film Bohemian Rhapsody, in theaters on November 2. "Our producers Graham King and Denis O'Sullivan saw me on Mr. Robot of all things," he told Kimmel. "I think a lot of it had to do with the jawline because he does have a very austere jawline."
Malek wore fake teeth to play Freddie Mercury because the performer was called "Bucky" as a kid. He kept them in for most of the shoot and he "will always keep them." He keeps them in a side drawer and when Kimmel asked where he's going to keep the hoodie his character on Mr. Robot wears, he said, "with the teeth."
Mr. Robot will return to USA Network for its fourth and final season in 2019.