Rammstein Band Members Kiss on Moscow Stage to Protest Russia's Anti-LGBTQ Policies
Two members of the German heavy metal band Rammstein shared a kiss on stage during a concert in Moscow in what was seen by many as a pledge of support for the Russian LGBTQ community.
At the show in Luzhniki Stadium on Tuesday, guitarists Paul Landers and Richard Kruspe shared the kiss during a performance of the song "Auslander," The Gay Times reported.
An image of the moment was put up on the band's Instagram page, along with the message in Russian: "Russia, we love you!"
People took to social media to voice their support for the band. One tweeted that it was like a "symbolic middle finger" to the authorities in Russia. Another tweeted in Russian: "There are no words, and one emotion."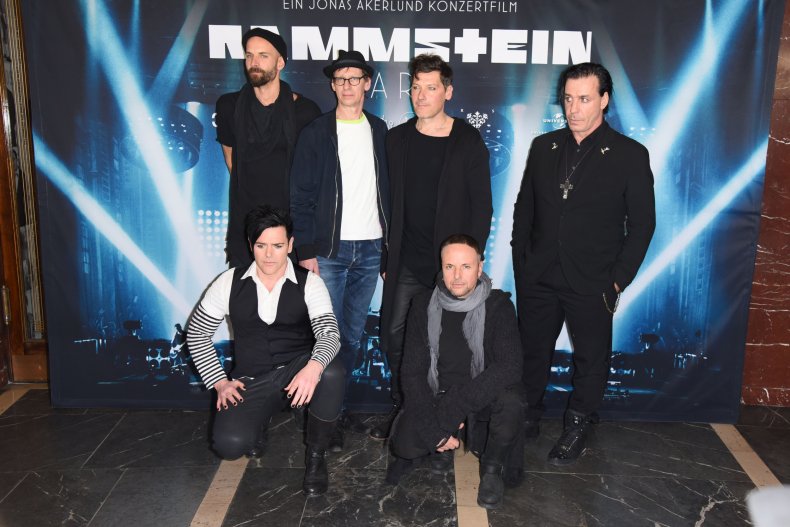 Another fan tweeted: "Just when I thought I couldn't love them more than I already do, here they come, waving pride flags and openly supporting LGBTQ people."
"Thank you Rammstein for being the most amazing human beings one could ask for! "
It is not the first time that the band, which is renowned for its spectacular live shows, has shown support for gay rights on this tour. Landers and Kruspe have kissed several times before during their European tour, with fans dubbing the pair "Paulchard," The Independent reported.
In Poland, following reports that LGBT-free zone stickers are being distributed by the newspaper Gazeta Polska, band members waved rainbow flags on stage and frontman Till Lindemann crowdsurfed in a rubber dinghy, The Gay Times reported.
Homosexuality is not illegal in Russia but activists say that the so-called "gay propaganda" law has made the country a hostile place for the LGBTQ community.
On 21 July, a prominent LGBT+ activist was found dead in St Petersburg, having been strangled and stabbed. Elena Grigorieva, 41, had only come out in January this year. Friends and colleagues say they believe her death came as the result of her activism, The Independent reported.
Earlier this month, a Russian website, titled Saw, that encouraged people to hunt down LGBTQ people, was taken offline. It was referencing the purge spearheaded by Chechnya's authorities in 2017, in which men suspected of being gay were brutally targeted.
In March, Rammstein was at the center of controversy after it was criticized by the Israeli foreign ministry over a video for their song "Deutschland" that outlined the history of Germany and included brutal Nazi imagery.