Tommy Ramone Helped Make the Ramones the Punk Beatles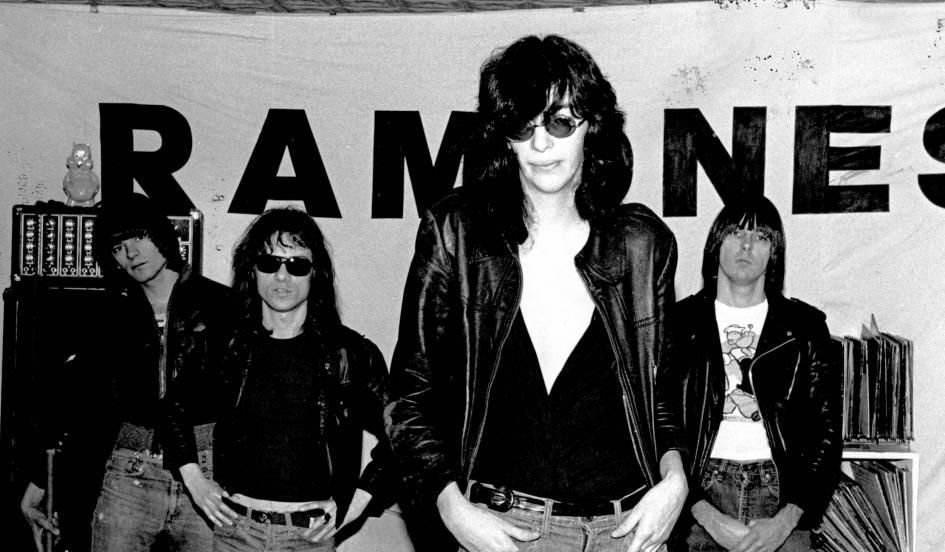 "1, 2, 3, 4!"
Joey, Dee Dee, Johnny and now Tommy. They're all gone. Tommy Ramone, né Thomas Erdelyi, the original drummer for—and the last surviving member of—the most influential band in the history of punk rock, the Ramones, died last Friday of bile-duct cancer. He was 65.
Ramone was more than just the drummer for one of the most minimalist, beat-driven bands in the history of rock: he was also its architect and its producer. It was Tommy who suggested the band's signature leather-jacket hoodlum look, who produced the albums and scheduled the rehearsals, and who even wrote the song that opens their eponymous debut album: "Blitzkrieg Bop."
"Hey! Ho! Let's go!" the tune begins, and certainly there was a spirited adolescent impatience to all their songs. "Blitzkrieg Bop" is one of 14 tracks on Ramones, all of which end in 2:35 or less. "Our music is an answer to the early Seventies, when artsy people with big egos would do vocal harmonies and play long guitar solos and get called geniuses," Tommy told Rolling Stone in 1976. "That's bull----! We play rock and roll."
The Ramones, who were not brothers (none of them had that surname), all attended the same high school, Forest Hills (N.Y.) High, from which Paul Simon and Art Garfunkel had graduated. Don't think about that too long.
The Ramones were to rock-and-roll what Twitter is to social media: a source of revolutionary blasts of short, staccato statements that forever altered the old model. They could play three songs before Led Zeppelin would have gotten through their introductory guitar solo. For their first live show, on August 16, 1974 at CBGB in Manhattan's dirty Lower East Side, the band's set contained approximately a dozen adrenalin-addled songs and lasted no more than 17 minutes. Rock historians will note that their first words were "Now I wanna sniff some glue" and that another band, later to be known as Blondie, was also on the bill that evening.
Tommy, a Jewish, Hungarian-born drummer whose parents survived the Holocaust by the grace of neighbors who hid them, had no designs on becoming a rock star. He had played in a high school band with John Cummings (Johnny Ramone), but by 1974 he was an audio engineer who had worked on Jimi Hendrix's 1970 album, "Band of Gypsys." Tommy's first association with the Ramones was as its manager and publicist.
However, once rehearsals commenced, Joey Ramone (Jeff Hyman) found it difficult to sing lead and also play the drums simultaneously, such was the furious pace of the melodies. As Erdelyi attempted to demonstrate to potential replacements how to play the songs on drums, it became obvious to the other three members that he should sit behind the kit. Which he did, even though Erdelyi had minimal experience as a drummer.
"Hey! Ho! Let's go!"
More than lyrics, these four words were the Ramones' battle cry. From their first set at CBGB --five years to the day, chronologically, and light years removed, philosophically, from Woodstock-- the Ramones were all revved up and ready to go. They played CBGB 74 times in 1974, and would perform 2,263 times live before disbanding in 1996. In a rare fit of sanity from a Ramones band member, Tommy left the band after four years and three albums, but would continue to produce many of their vinyl efforts.
Like KISS, the Ramones were a foursome that came up in a seedy New York City in the early 1970s and eventually ascended to the Rock and Roll Hall of Fame. And there the similarities end. A Ramones show was consciously bereft of bombast, dry ice or pyrotechnics or costume makeup. And whereas Gene Simmons, Paul Stanley, Ace Frehley and Peter Criss brashly boasted about their band's commercial success, even dubbing a Kiss greatest hits album "Double Platinum" (two million in sales), the Ramones were always just the band that the kids who cut class listened to. Their first album only went gold (half a million in sales) within the last year.
In fact, the Ramones are far more evocative of another foursome, the Beatles, whose early albums also were flush with A.D.D. tracks that clocked in at under three minutes. The name Ramones was taken from a pseudonym Paul McCartney had given himself ("Paul Roman") and, well, it certainly looked as if the two bands shared a barber. Again, it may only be a coincidence, but the first track on the first Beatles album, "I Saw Her Standing There," begins with a "1, 2, 3, 4!" count-off. Which is how the Ramones began every one of their songs when performing live.
The Ramones were the essence of cool because they just didn't care. Didn't care about their appearance. Didn't care about fame—they never made the cover of Rolling Stone, although Creed did. Didn't care if their lyrics offended an FM station program director's sensibilities ("Beat on the brat/With a baseball bat"). All that Dee Dee (Doug Colvin), Joey, Johnny and Tommy ever cared about was creating feral and furious but also often funny tunes that were the audio equivalent of tearing off a band-aid.
The Ramones were as real as rock-and-roll gets. If there really is a Rock 'n Roll High School, they're the cool kids sitting at the corner table of the cafeteria. And with Tommy's passing, they're all back together. Approach at your own risk.
Tommy Ramone Helped Make the Ramones the Punk Beatles | Culture