Rams Best Mahomes, Chiefs in Record Monday Night Football Win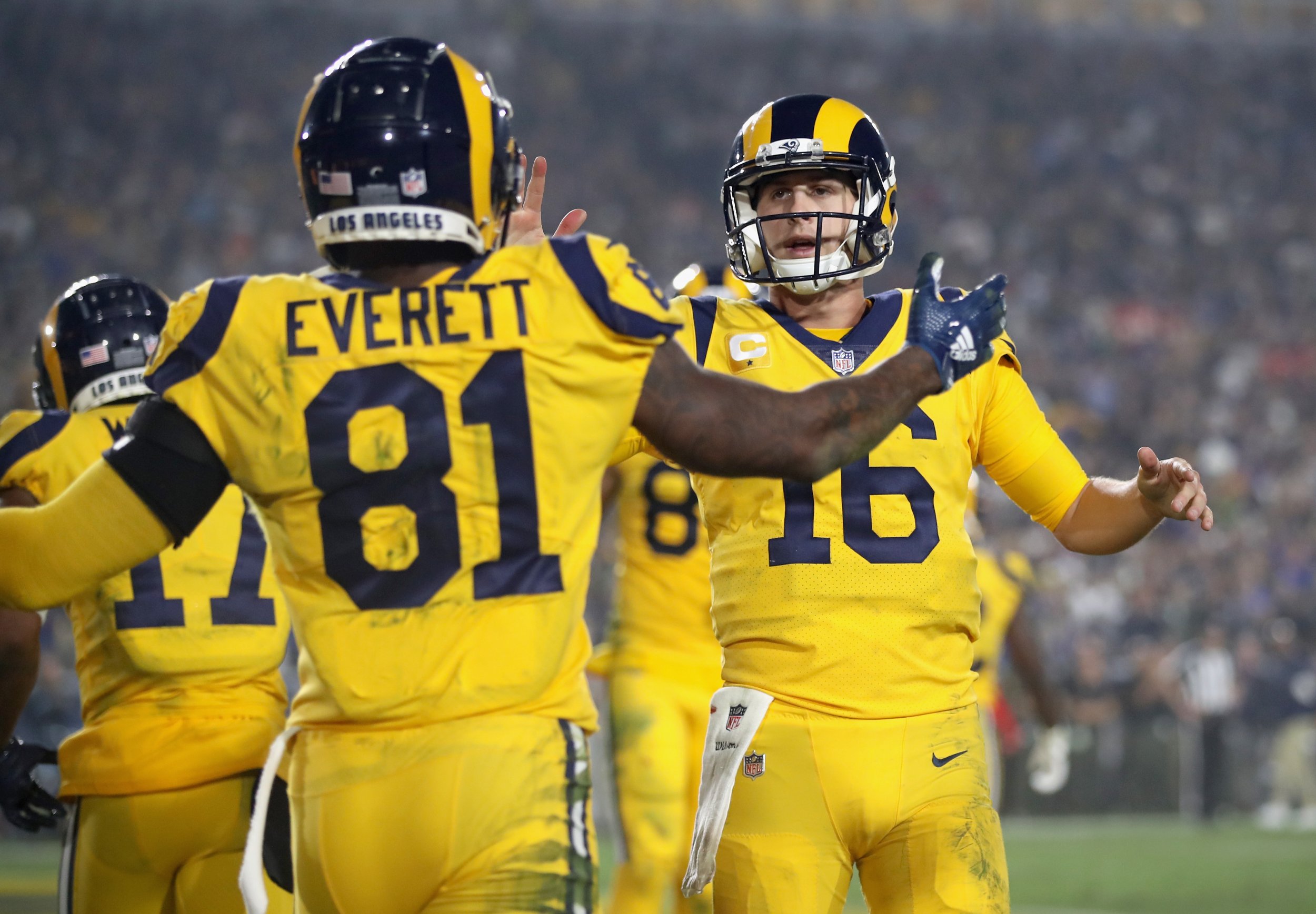 There have been 736 games played in the Monday Night Football series and none of them have included a score as high as this week's game.
The Los Angeles Rams and Kansas City Chiefs combined for a record 105 points, resulting in a 54-51 victory for Los Angeles.
Los Angeles scored on a game-winning 40-yard touchdown pass by Jared Goff to Gerald Everett with 1:56 remaining, which was the fourth lead change of the fourth quarter.
Goff finished with 413 yards and four touchdowns on 31 of 49 passing. Everett had two touchdowns, as well as 49 yards on three receptions.
Read more: Rams invited 3000 first responders: 'You would not believe what it means to us'
"Unbelievable," Goff told ESPN's Lisa Salters after the high-scoring game. "Just four quarters of just craziness and the whole first half, whole second half, you know, crazy game but I'm just glad we came out on top.
"I felt confident," he added. "We scored as many points as we did for a reason and it felt good. We had a good plan going into that and it fell into place."
Los Angeles' final score answered a would-be game-winning drive by Kansas City on the previous possession. Quarterback Patrick Mahomes connected with wide receiver Chris Conley on a 10-yard touchdown to move ahead 51-47.
Mahomes finished with 478 yards, six touchdowns and three interceptions, with two picks coming on deep desperation passes during the Chiefs' last two drives within the game's final two minutes.
"Patrick's a great quarterback," Goff said. "We knew that we were going to have to put up a lot of points to keep up with him and I told him it felt like Texas Tech and Cal, just kind of moving the ball downfield back-and-forth and it was a lot of fun."
Chiefs wide receiver Tyreek Hill also had a huge performance with 10 receptions for 215 yards and two touchdowns. Conley had six receptions for 68 yards and a pair of scores. Tight end Travis Kelce caught nine passes for 119 yards and a touchdown.
The Rams gave Kansas City an additional possession after head coach Sean McVay elected to call multiple passing plays on the team's final drive. However, punter Johnny Hekker pinned the Chiefs deep in their own territory with a 68-yard punt.
Goff said that the team wanted to provide Los Angeles with a big home win for the second consecutive week after a mass shooting occurred less than five miles from the team's training complex and recent wildfires in the nearby hills, which forced a cancellation of practice and the evacuation of many players and coaches from their homes.
"It's been a long two weeks," Goff said. "I've slept in my bed once I think. I know a lot of us are in that same boat. We feel for everyone who's lost their homes and everyone who's mourning the deaths from the shooting and it puts a lot of things into perspective like I've talked about and right now we're playing a football game and then won a game and hopefully that brings joy to a community that needs it."