When Is 'Ramy' Season 2 on Hulu? Ramy Youssef's Golden Globes Win Sparks Interest As Mahershala Ali Joins Cast
Ramy creator and star Ramy Youssef beat the odds Sunday night by winning the best actor in a comedy series category at the Golden Globes. In doing so, he overcame tough competition from veteran stars such as Bill Hader, Michael Douglas and Paul Rudd.
Youssef's surprise win has sparked enormous interest in Hulu's Ramy, which premiered last year and has been renewed for a second season. In fact, Youssef himself appeared surprised by his win on stage, joking: "I know you guys haven't seen my show. Everyone is like, 'Is this an editor?'"
In the speech, Youssef also quipped that his mother was rooting for category rival, Michael Douglas. "Egyptians love Michael Douglas, I don't know if you know this."
If you've not seen Ramy before, now is the time to jump in, fresh from Youssef's big Globes victory.
Ramy follows a first-generation Egyptian-American Muslim, played by Youssef, who navigates life in a politically divided New Jersey. The main character, Ramy Hassan, is torn between his traditional Egyptian heritage and his millennial American upbringing.
"We made a very special show about an Arab Muslim family living in New Jersey and this means a lot—to be recognized on this level," said Youssef accepting his award on Sunday.
The first season of Ramy is streaming now on Hulu and Season 2 should premiere in 2020. Here's what we know so far.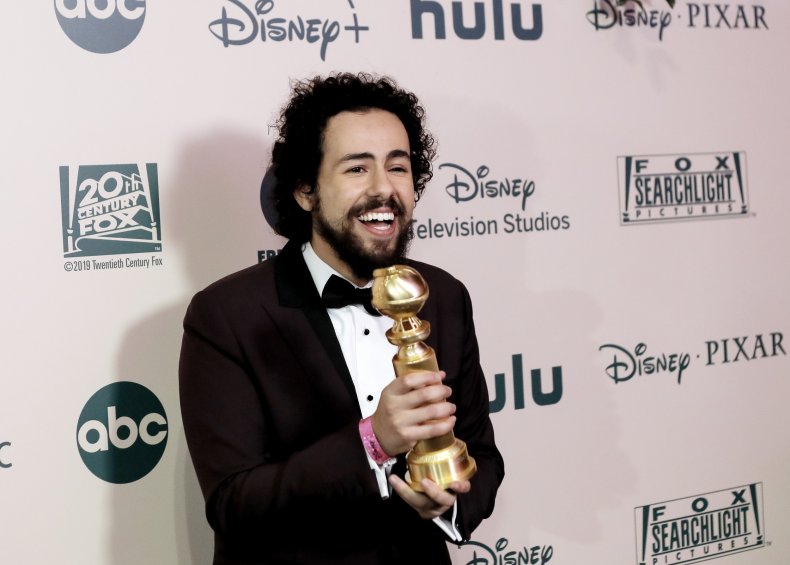 When is Ramy Season 2 airing on Hulu?
Hulu has not yet announced a premiere date for Ramy Season 2.
But the first season premiered in April 2019, so that could give some indication of when to expect the new season on Hulu.
What do we know about Ramy Season 2?
There's some big news for the second season of Ramy—two-time Oscar winner Mahershala Ali is expected to make an appearance in Season 2, Variety reported last July.
Ali has been cast in a "special guest star role," Variety said, and the actor is reportedly a big fan of Ramy.
Also this season, expect to see more of Ramy's Uncle Naseem, the misogynistic diamond store owner who gives Ramy a job. Deadline reported in November that actor Laith Nakil has been promoted to a series regular in Season 2 of Ramy after recurring roles in the first season.
Backstage at the Globes, Youssef explained that he wanted to make a comedy about Muslims dealing with problems just as everybody else. "The tendency when making a show about a group that people don't know is to make them good," Youssef said (via Variety). "I wanted to lead with Muslims' problems and have people connect with them on a human level."