Ramy Youssef Shows Fans What Happen When You Lose An Emmy in 2020
Ramy Youssef's behind-the-scenes look at how award shows work in 2020 has gone viral as the comedian showed fans what happened when he didn't win an Emmy last night.
The "See Dad Run" actor shared a hilarious video of his Emmy award being taken away by a hazmat suited individual outside his home—add this to the list of things that could only happen in 2020.
Youssef was nominated in three categories during last night's unusual award ceremony—Outstanding Directing For A Comedy Series, Outstanding Lead Actor in same (for Youssef) and Outstanding Supporting Actor (for Mahershala Ali)—but sadly did not win any.
Due to social distancing restrictions, the nominees had the Emmy statuettes delivered to their houses.
In a bizarre clip posted to Twitter, Youssef showed the hazmat suited messenger standing outside his home holding the award, waving then walking away when the winner was announced.
"when you lose the emmy," Youssef captioned the bizarre clip, which has been views more than 3.2 million times at the time of reporting.
Did we just witness the birth of a meme?
Thousands of hilarious comments have ensued, with one Twitter user joking: "The intern in the Emmys hazmat suit deserves a raise."
While another joked: "They could've just mailed the Emmy. Instead they went to each nominee, with an Emmy in hand, to present to them in person in case they won... in a hazmat suit. Just, dangling it in front of your face, only to leave like that."
Jesse Tyler Ferguson of Modern Family fame joked: "Me five years in a row."
While comedian Meg Salter added: "Me in five months surprising the girl I like if there isn't a vaccine yet."
Another added: "At first I thought this couldn't be real, but it's 2020."
Many questioned how we will ever be able to explain this madness to future generations, with a Twitter user posting: "LMAO they really sent someone in a hazmat suit to every nominee's house god we will never be able to explain 2020 to future generations I stg."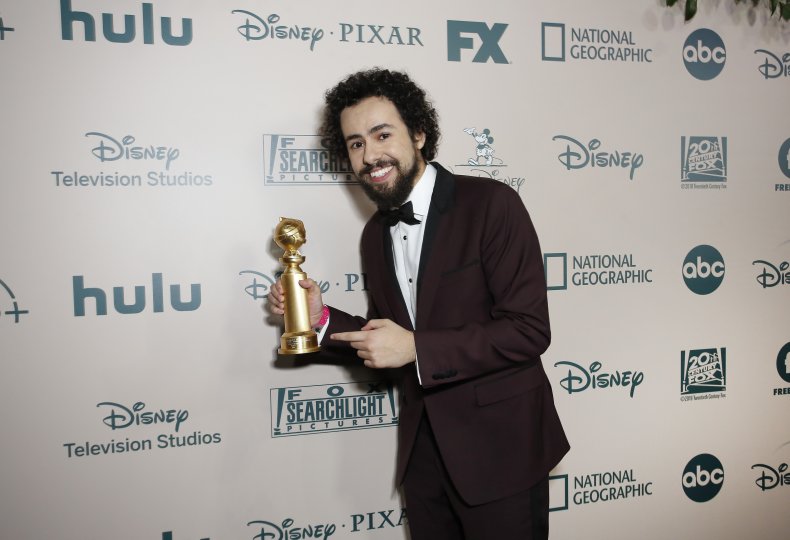 Last night's awards saw Succession, Schitt's Creek and Watchmen among the shows taking home multiple trophies.
The biggest record-breaker of the night, was Schitt's Creek, which in its final season dominated the comedy acting categories and finally picked up an Emmy for best comedy—taking home nine in total.
Euphoria star Zendaya also made history by winning the Emmy Award for outstanding lead actress in a drama series—the youngest ever winner in the category.