Rand Paul Aide Rants that Jon Stewart Is 'a Demagogue' and a 'Disheveled Charlatan'
Republican Senator Rand Paul's Deputy Chief of Staff Sergio Gor claimed that Jon Stewart never reached out to his boss in regard to the 9/11 Victims Compensation Fund, calling the popular comedian "a demagogue" and a "disheveled charlatan."
"Jon Stewart never reached out to me or our office," Gor told The Hill in a statement on Wednesday. "He is a liar and a demagogue who has revealed himself as nothing more than a disheveled charlatan."
Gor's remarks came after Stewart and 9/11 first responder John Feal went on CNN's New Day to discuss the successful passage of legislation guaranteeing healthcare assistance and funding for the victims and first responders of the 2001 terrorist attacks through 2090. During that interview, Feal and Stewart took aim at Paul, who represents Kentucky, and GOP Senator Mike Lee of Utah who had attempted to block the bill and were the only senators to vote against it, citing concerns about fiscal responsibility.
"We've tried to get into that office many, many times to have those conversations with those staffers, and haven't been able to," Stewart, formerly of The Daily Show, said during the CNN interview. He also pointed out that Paul had previously called him a "guttersnipe."
"I have a mind to call him a scallawag and a ragamuffin," the comedian quipped. "I'll escalate this."
Stewart, along with Feal and other 9/11 first responders, was a staunch advocate of the government approving the legislation to secure funding for the victims of the 2001 terrorist attacks. Last month, he gave powerful testimony before a congressional committee, criticizing the legislative body for failing to guarantee the funding in the past.
The comedian said he was "sick and tired" of hearing the attacks described as a "New York issue." Stewart pointed out that "Al-Qaeda didn't shout death to Tribeca. They attacked America and these men and women and their response to it is what brought our country back."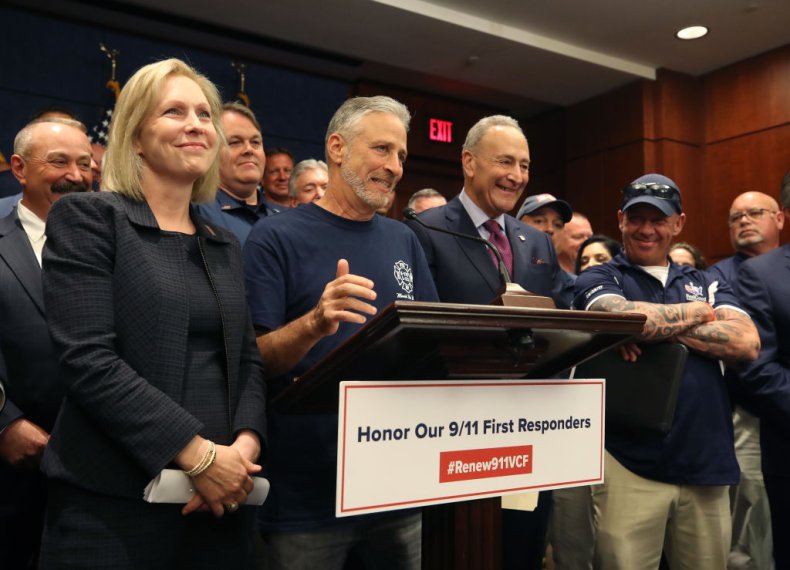 On Tuesday, the legislation passed in the Senate by an overwhelming majority after passing in the House of Representatives earlier this month. The vote was 97-2, with only Lee and Paul dissenting. They both argued that they were concerned about government spending, pointing to the ballooning national deficit.
However, critics, including Stewart and Feal, were quick to point out that the Republican senators had voted in favor of President Donald Trump's tax cuts, which are projected to add nearly $2 trillion to the national deficit over the next decade.