Rand Paul Calls on Republicans to 'Quit' Twitter: 'They Don't Want Us On There'
Sen. Rand Paul (R-Ky.) urged Republicans to ditch Twitter because the platform "hates conservatives" on Tuesday.
Paul made the remarks while speaking to Fox News about receiving a threatening package containing white powder on Monday. Although there is no indication of a direct connection, Paul tied the package to a tweet from singer Richard Marx, who on Sunday offered a hug and free drinks to a man who had violently assaulted Paul.
Paul said that Twitter had allowed potentially "thousands" of users to "wish" him violence and said that he and other Republicans may need to leave the platform.
"This is a private company that basically hates conservatives, hates Republicans," Paul said of Twitter. "They don't want us on there. And ultimately the answer maybe is Republicans need to just quit. We just need to leave it. Because every day they allow hundreds, if not thousands, of people to wish me and my family violence."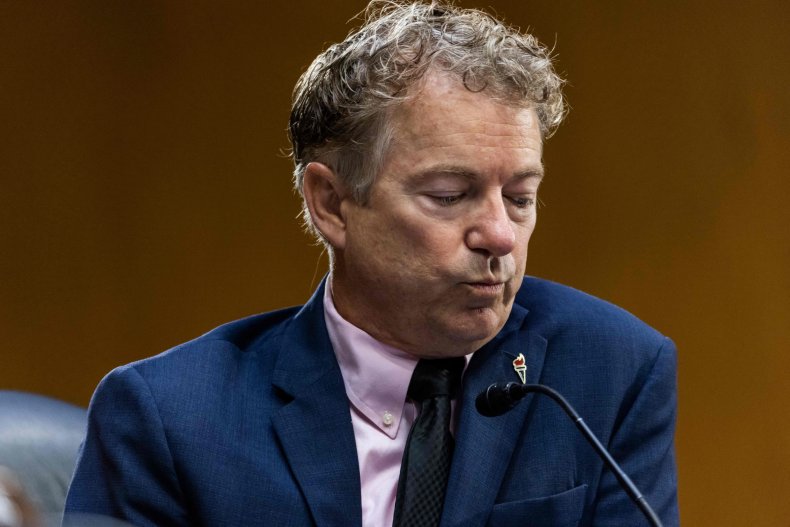 "And frankly I'm tired of it," he added. "I'm just tired of them allowing this. And I'm tired of them blaming it on the right."
Paul was sent a package on Monday that contained white powder and picture of him in bandages with a gun pointed at his head, alongside the quote, "I'll finish what your neighbor started you motherf***er," according to Fox News.
The senator tweeted about the package and Marx soon after, complaining that "Twitter allows C-list celebrities to encourage violence against me and my family."
"I'll say it again: If I ever meet Rand Paul's neighbor I'm going to hug him and buy him as many drinks as he can possibly consume," Marx tweeted on Sunday in response to Paul declaring that he would refuse to take a COVID-19 vaccine.
A Twitter spokesperson told Newsweek that the tweet "was in violation of our glorification of violence policy" and that Marx was contacted and told that he was "required to remove the tweet." The tweet has since been deleted.
During his Fox News interview, Paul detailed the extensive injuries he received after being attacked by his neighbor Rene Boucher in 2017. Paul has received many other threats during his time in Congress, including a 2018 incident involving a man who threatened to murder his family with an axe.
The senator called Marx a "despicable human" who was "advocating violence." He said that the singer's tweet was "offering a guy to buy drinks if somebody will do it again and finish the job."
Marx has pushed back against claims that he was advocating violence, describing his tweet about Paul as "a wisecrack." He suggested that Paul was the person who "actually put multiple people's lives at potential risk" by exposing colleagues to COVID-19 after he contracted the virus in March 2020.
Paul said that was Marx "an irrational idiot" for suggesting that he should be vaccinated despite having already contracted and recovered from the virus. He also described Marx, who had more than a dozen U.S. top 20 hit singles in the 1980s and 1990s, as a "songwriter from a long time ago that no-one's ever heard of."
Newsweek reached out to Paul's office for comment.