With Planned Parenthood Fight, 2016 Race Has New Culture Warrior: Rand Paul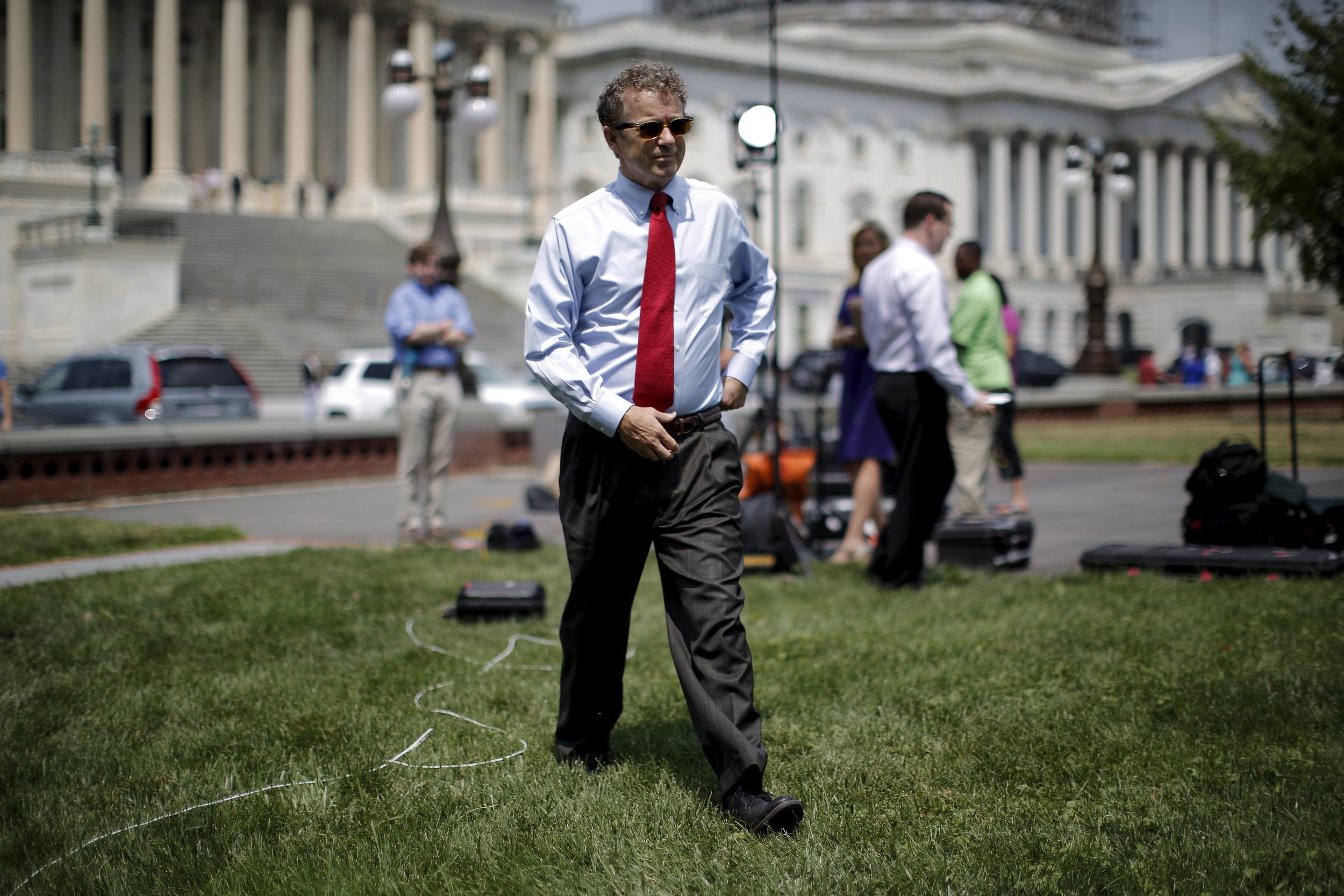 In the Senate, Kentucky Republican Rand Paul is an iconoclast, a libertarian politician who has filibustered over domestic spying and drone strikes against American citizens, while supporting criminal justice reform and access to medical marijuana. These days, however, the 2016 presidential candidate is assuming a role he wasn't known for in the past: culture warrior.
On Tuesday, Paul braved the Washington's relentless heat to make opening remarks at a rally of anti-abortion activists aiming to defund Planned Parenthood. The nonprofit organization that provides abortions and other reproductive health services to women around the country. "There comes a time in the history of nations where we will all be judged on whether or not we took a stand for life. Now is that time," he roared to the crowd of a few hundred.
Paul has been on a tear since a conservative activist group released a video in early July purporting to show a high-ranking Planned Parenthood official haggling over the sale of fetal tissue. The video, Planned Parenthood defenders point out, was heavily edited and recouping expenses when donating fetal tissue for scientific research is perfectly legal. Two more videos have since been released. The latest, out today, portrays technicians going through fetal remains to identify body parts for harvesting. Republicans have seized on the graphic discussions and images to boost their long-running effort to block Planned Parenthood from receiving public funds. According to the organization's fiscal year 2013 report, it received $540.6 million in government health grants and reimbursements for contraceptive and women's health procedures but not abortions.
Nearly all Republican candidates have registered their horror at the videos, but Paul has been among the most proactive. On July 17, he issued a statement pledging to force a vote in the Senate to end taxpayer funding of Planned Parenthood. The following week he introduced an amendment to legislation to extend highway funding that would defund the organization. When the Senate didn't add it to the highway bill, he introduced the same measure as a stand-alone piece of legislation. "I think conservatives across the country are outraged by this," he said on Fox News Sunday. "I think the time is now to discuss whether taxpayer dollars should be going to such a gruesome procedure."
And Tuesday at the rally he announced there was "good news" on that front. "The Senate will vote on defunding Planned Parenthood before we go home in August." Then he went further. "And I'm calling today for Hillary Clinton to return the money she's been receiving from Planned Parenthood officials."
While libertarians are often divided on abortion, Paul has always been adamantly opposed to allowing the procedure to remain legal, and an aide points out that he's a regular at pro-life marches. He introduced a bill back in 2013 to clarify that the right to life guaranteed by the Constitution begins at the moment of fertilization, which would not only outlaw abortion but some birth control methods, as well. But Paul, himself, acknowledged this spring that abortion wasn't the driving issue that got him into politics. "I didn't run for office because of this issue," he said at a campaign event in Philadelphia in May. "I ran for office mainly because I became concerned that we're going to destroy the country with debt. That we would borrow so much money that we would just destroy the currency."
That's certainly been reflected in his Senate career, where the brunt of his legislative efforts have been focused on cutting spending, transparency in government, and civil liberties. Until recently.
Not only has Paul been crusading against Planned Parenthood this summer, he's also been weighing in on other controversial social issues. In July, he introduced legislation hitting at so-called "sanctuary cities," after an undocumented immigrant killed a young woman in San Francisco. He also recently unveiled a bill allowing service members to carry firearms on military installations, after a shooting at a Naval Reserve Center in Chattanooga, Tennessee. His presidential campaign, meanwhile, has been broadcasting those efforts, particularly his attacks on Planned Parenthood.
Paul is almost assured one of the prized spots in the first Republican primary debate August 6 in Cleveland, awarded to the 10 (out of 16) candidates with the highest average national polling numbers. But he's struggled to break out of the pack of mid-tier GOP campaigns as other candidates (Donald Trump, Wisconsin Gov. Scott Walker, former Florida Gov. Jeb Bush) have launched campaigns and sucked up media attention. A new poll from CNN/ORC International shows the senator mired in the mid-single digits among Republican voters, back where he was last year before getting a bump around the official launch of his campaign in April.
The media storm surrounding the Planned Parenthood videos has given Paul a chance to seize the spotlight, and it's not likely to go away anytime soon. The group that surreptitiously took the videos with Planned Parenthood doctors says it has thousands more hours of videotape. Even if the Senate passes Paul's legislation before lawmakers depart Washington, D.C., for their six-week August recess, there are still plenty of steps Congress would need to take before it becomes law. The House is looking at holding a vote on a similar measure. And at least three congressional committees have promised investigations and hearings in September.
For the Kentucky senator, that means plenty more opportunities to get up on his soap box when he returns to town this fall.