Donald Trump Supporters Blast Rand Paul for National Emergency Opposition: 'New John McCain'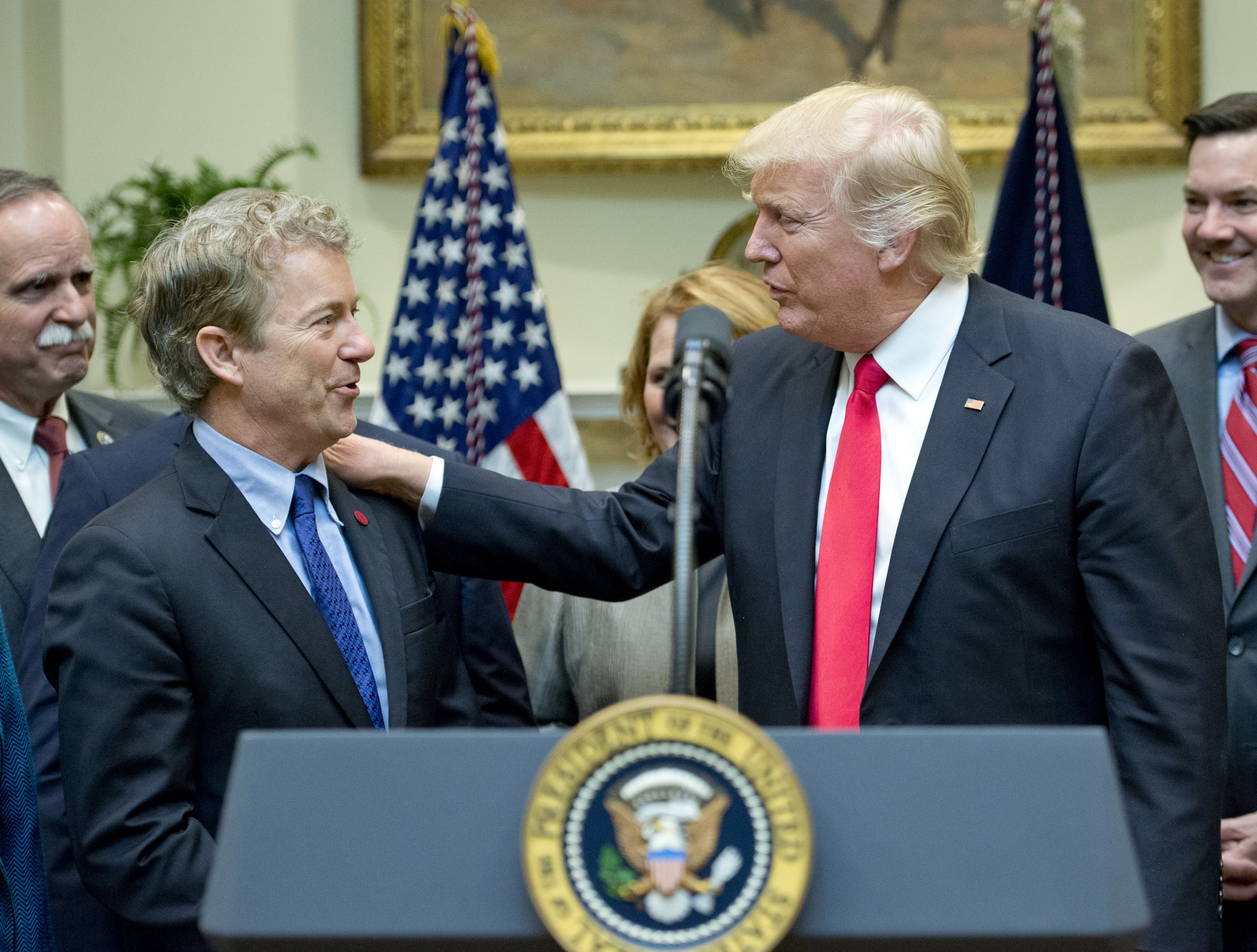 Kentucky Senator Rand Paul's decision not to back President Donald Trump's border-based national emergency exposed a growing rift in the Republican Party—between those who profess extreme loyalty to Trump and those whose ultimate devotion is to the U.S. Constitution.
Diehard Trump supporters lashed out at the libertarian-leaning Republican senator after he announced that he would oppose Trump's emergency declaration, guaranteeing the president would have to veto the congressional resolution to rescind the declaration. Paul explained that he could not support the unnecessary expansion of presidential power over a U.S. border fight he did not consider to be an emergency.
While some conservatives such as radio host Erick Erickson have applauded the move, many pro-Trump Republicans are railing against him as a "hypocrite" and a "traitor" to the party of Trump.
Paul received praise from many Constitution-minded conservatives, but Trump supporters used vitriolic language and called him "the new John McCain," a reference to the late senator's refusal to back the GOP's 2017 Obamacare repeal.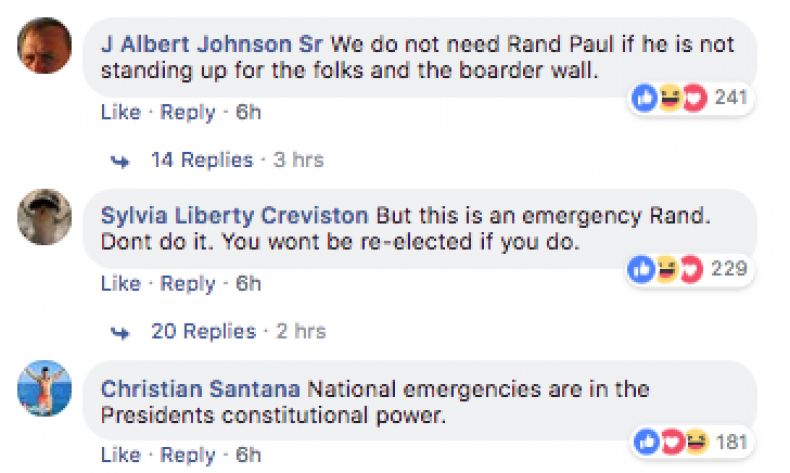 Paul penned a Sunday evening opinion piece for Fox News explaining his reason for "stand[ing] up for the Constitution" and voting against what he sees as Trump's abuse of executive power. Paul reiterated that his purist intention to protect the U.S. Constitution trumped his loyalty to the Republican Party.
The son of perhaps the country's most famous libertarian, Ron Paul, asked conservatives to remember how they felt when former President Barack Obama used executive actions. Paul said, "I would literally lose my political soul if I decided to treat President Trump different than President Obama."
"I support President Trump. I supported his fight to get funding for the wall from Republicans and Democrats alike, and I share his view that we need more and better border security," Paul wrote for Fox News. "However, I cannot support the use of emergency powers to get more funding, so I will be voting to disapprove of his declaration when it comes before the Senate."
Paul quoted Trump's own Twitter criticism of Obama at the time to expose the GOP hypocrisy: "Donald J. Trump agreed with me when he said in November 2014 that President Barack Obama couldn't make a deal on immigration so "now he has to use executive action, and this is a very, very dangerous thing that should be overridden easily by the Supreme Court."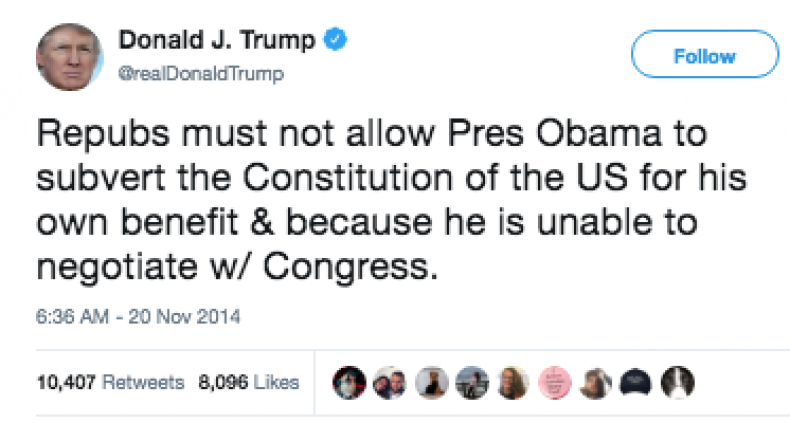 The president's supporters and loudest social media advocates immediately pounced on the Kentucky senator, labeling him a coward.
"Phony constitutionalist Rand Paul. Pathetic," popular Fox News and radio host Mark Levin posted to Twitter and Facebook Monday.
"Apparently Rand Paul is unclear on the National Emergencies Act. I suggest he spend less time in front of the cameras and more time understanding the law. P.S., Does Rand Paul ever do anything positive for America or does he just stop others from doing anything positive?" tweeted YourVoice America host Bill Mitchell.
Top commentary from Paul's official Facebook pages illustrated widespread contempt for his decision to oppose Trump's border-based national emergency. Several Kentucky constituents threatened not to vote him in for another Senate term, while others blasted him as a "RINO," or "Republican In Name Only."
"As a fellow Kentuckian. This in fact is an emergency! In multiple ways. And this is gonna lose you A LOT of votes. Mine is one of them," a Murray, Kentucky, native wrote on Paul's official Facebook page Monday.
"STAND WITH THE PRESIDENT! I very strong [sic] disagree with you on this ! Republicans are why we are having such battle now with far left. The republican people who voted you in will not vote for you again for the stand against the wall," wrote one irate fan of Paul's U.S. Senate page.
"He is absolutely wrong! He of all people should understand National Security! We have been invaded!" wrote an Arlington, Virginia, fan of Paul's page.
Conservative radio host Erickson came to Paul's defense, writing on his The Resurgent website his support for the Kentucky senator's "principled stand" in the face of partisan politics. Paul also received reinforcement from many others on his social media pages, with those supporting his decision labeling the pro-Trumpers "Constitution tramplers" and "statists," and even referencing the blind loyalty Adolf Hitler received in Nazi Germany.
"Good for you, Rand. The statists are going to attack you, but ignore them," wrote one supporter of Paul's decision. "After all, they are the same people who sat quiet as government transgressed its authority and produced over $22 trillion in debt."