Rand Paul Has Firm Lead Over Democratic Challenger Charles Booker in Senate Race
A poll released Friday shows Kentucky Senator Rand Paul with a large lead over Democratic challenger Charles Booker in this year's Senate race.
Paul is one of the most visible members of the Republican Party in Congress, and he's made national news recently for his public clashes with Dr. Anthony Fauci over the Biden administration's pandemic response.
Many onlookers view Booker as a threat to Paul's seat, but the Mason-Dixon Polling & Strategy poll found 55 percent of registered voters in Kentucky said they would vote for Paul when they were asked who they would support if the race "were held today."
Thirty-nine percent said they would vote for Booker, while 6 percent were undecided.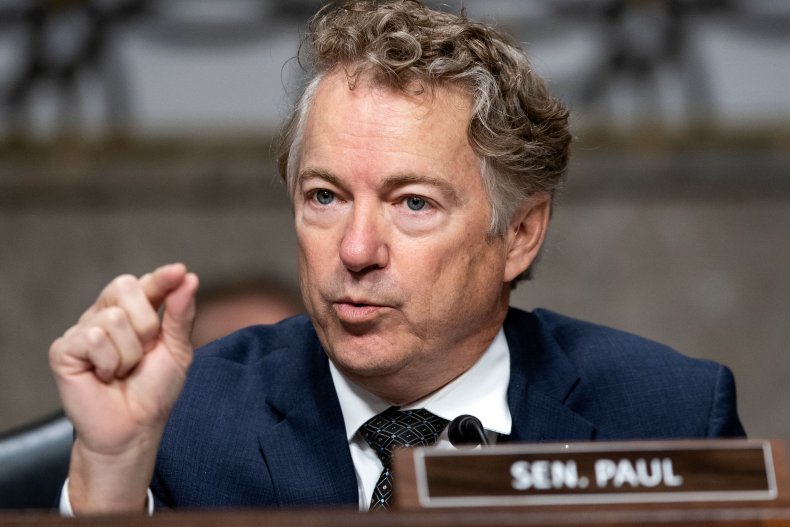 Booker served in the Kentucky House of Representatives before running for the Democratic nomination for senator in 2020. He narrowly lost that primary to former Marine pilot Amy McGrath, who was later beat by incumbent Mitch McConnell.
The Mason-Dixon Polling & Strategy survey found Paul maintained a large amount of support from Republican voters, with 89 percent of the demographic saying they would vote for him, compared with 5 percent of GOP voters who said they'd choose Booker.
Paul also had the support of 22 percent of Democratic respondents to the poll, while 73 percent of Democrats said they'd vote for Booker if the election were held today.
Respondents who identified as independent also tended to say they'd vote for Paul. Fifty-four percent of independents said they'd support him, compared with 39 percent who chose Booker.
Fauci, the chief medical adviser to the president, has verbally sparred with Paul recently. During a January 11 Senate hearing on the coronavirus, Fauci blamed remarks Paul made for potential threats to him and his family.
"I have threats upon my life, harassment of my family and my children with obscene phone calls, because people are lying about me," Fauci said.
Paul has criticized Fauci throughout the pandemic, even accusing the director of the National Institute of Allergy and Infectious Diseases of being responsible for large numbers of deaths. The senator's reelection website has a section called "#FIREFAUCI."
The statewide poll also asked voters about their feelings in regards to Governor Andy Beshear's job performance. Sixty percent of Kentuckians said they approve of how Beshear is doing his job, while 32 percent said they disapprove.
Beshear, a Democrat and former state attorney general, defeated Republican incumbent Matt Bevin in 2019's gubernatorial election. Beshear won by just over 5,000 votes in what was called the closest gubernatorial election in Kentucky since 1899.
The Mason-Dixon Polling & Strategy poll was conducted from January 19 through January 22. A total of 625 registered Kentucky voters were randomly selected and interviewed by telephone. The margin for error was 4 percentage points.