Rand Paul Hopes for Big Upset in Iowa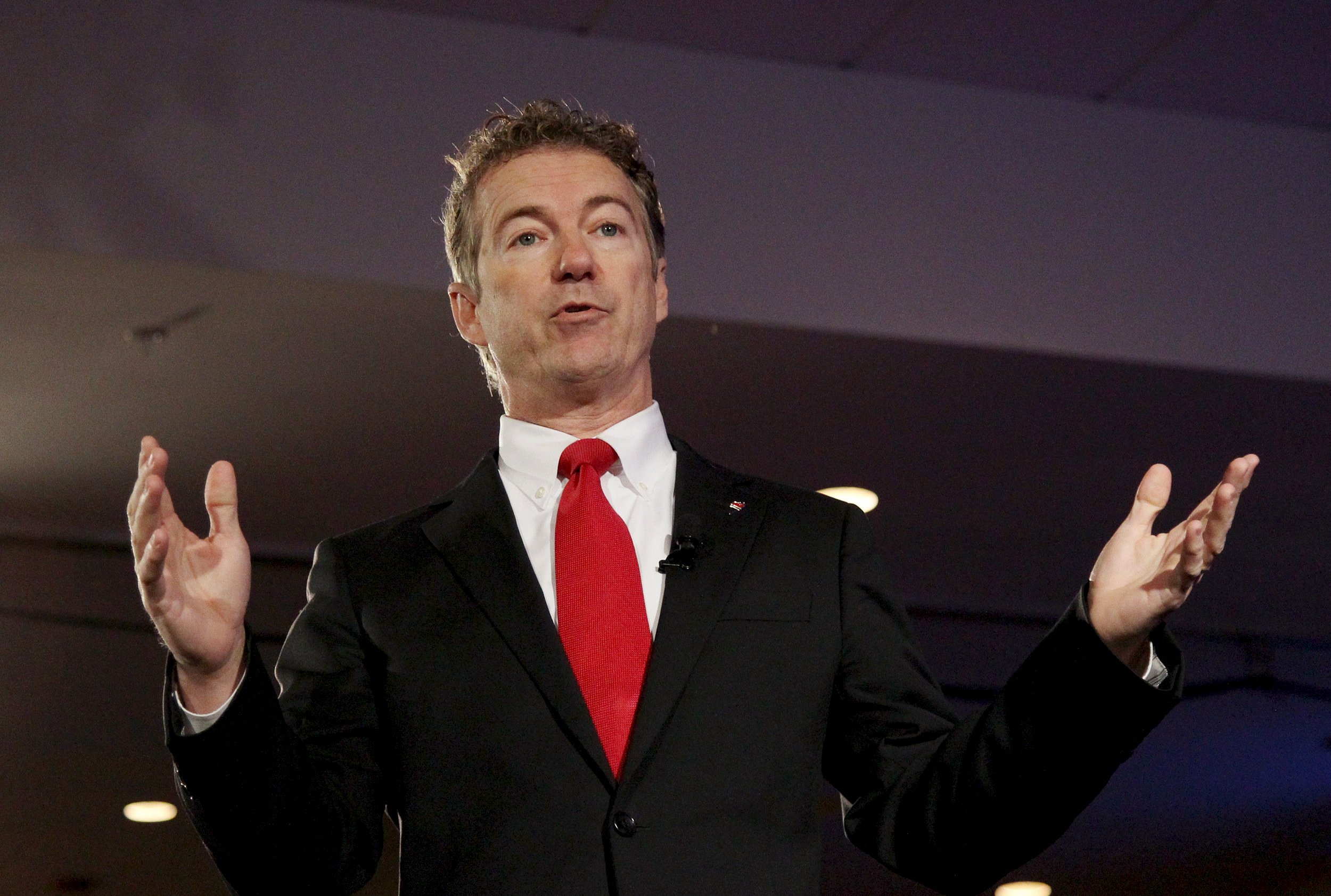 This article first appeared on Reason.com.
Rand Paul likely needs to pull off a very good showing on February 1 in Iowa if his campaign is to have any future.
Ron Paul in 2012 pulled 21 percent, and Rand Paul thinks it's not quite conceivable that his father's fans could go for the likes of Ted Cruz, though current polling does not bear out his belief that he'll pull anything close to a Ron-like percentage. (Paul's as confused as some others are as to how the "Tea Party" energy that helped propel his libertarian-leaning self to the Senate seems to be coalescing around Trump.)
However, his student supporters insist that since this caucus is happening, unlike the last one, while college is in session, a vast, unpolled (since they don't have landlines) student and youth vote is going to make a miracle for Paul. Paul has a vast announced Iowa leadership team.
Corie Whalen Stephens, writing at Rare, a generally pro-Paul publication that employs his former aide and co-author Jack Hunter, wonders if he can pull off a big surprise in Iowa, and explains reason for hope:
Paul's Iowa campaign has appointed 1,000 precinct captains and claims to have made an astounding 500,000 get-out-the-vote calls.

"These are feats that have been unheralded by the media," said Paul, noting his supporters' on-the-ground organizing and his well-attended campaign events.

Paul explained that Iowa has approximately 1,600 precincts and that his campaign has appointed captains in over two-thirds of them. "What outsiders don't realize is that some people show up and aren't sure who they're supporting. They can be convinced by the captains who stand up and speak in their precincts," he said.

Paul also noted that captains help recruit others and bring them to the caucus. "I think we're in a good position to turn our people out," he said.

Another factor that could give Paul an edge is his reliance on a secret weapon other candidates have overlooked: the youth vote. "We have 22 college campuses organized," said Paul, "And we're having a rally at Iowa State University just preceding the caucus."
While campaigning in Iowa, Paul's still trying to claim his unique ground, as the rare Republican campaigning at barber shops with mostly African-American clientele to talk criminal justice reform.
Daily Caller has more on the campaign's student strategy:
....the campaign has had between 40 and 50 college students in Iowa making phone calls on a daily basis in an attempt to attract the Libertarian-leaning millennials Paul's father, former Texas Congressman Ron Paul, managed to captivate during his presidential bids and time in the House.

"We've organized all across Iowa on campuses, we're recruiting what we call our Iowa 10,000 to try and bring 10,000 college students to the caucus – so we feel really good that our grassroots effort are really strong there," Senior National Advisor Michael Biundo told The Daily Caller News Foundation.

"In addition to that, we've organized 1,000 precinct captains throughout the state. You need a lot of organization to get people out on an icy, cold Iowa night to spend several hours at the caucus location – and having done it before, having that many precinct captains is a significant milestone a lot of campaigns can't tout."
A Paul-supporting SuperPAC, Concerned American Voters, has raised over $5 million over the course of the campaign and have been focusing their early efforts on get-out-the-vote and voter identification in Iowa.
They also have a pro-Paul video ad with over 238,000 views and over 3,500 shares.
Their digital ad strategy hopes to make sure anyone even potentially interested in Paul sees some of their content, and they have launched a half-million digital ad buy for that purpose. They have 30 videos already circulating, and intend to have more than 75 by the end of the month.
Their calling operation has identified over 37,000 potential Paul caucus voters, who have claimed they either will, are likely to, or might vote for him.
Jeff Frazee, a veteran of Ron Paul's campaigns and president of that PAC, predicts an Iowa win would open as yet-closed taps of cash for Paul. The idea apparently is that many very wealthy folk are inclined to help but not inclined to pour money into something they have no confidence will have any electoral traction.
Another Paul-supporting SuperPAC, PurplePAC, has an ad for Paul they've developed airing on TV in Des Moines and Cedar Rapids now. It will be airing 25 times on the ABC affiliate in Cedar Rapids, six times on the Fox affiliate, 33 times on the CBS affiliate, and 46 times on the NBC affiliate. In Des Moines, it will air 36 times on local CBS, 11 on Fox, 40 on NBC, and 30 on ABC, for a total 227 airings in both markets combined.
The ad, below, is built around the visual and textual metaphor of liberty as a flame that only Rand Paul will keep stoked: