Rand Paul Suggests John Brennan Is Making Millions off Leaking Secrets, Will Ask Trump to Revoke Security Clearance
Republican Senator Rand Paul of Kentucky said Monday he will meet with President Donald Trump in an effort to revoke the security clearance for former CIA Director John Brennan, a frequent critic of the Trump administration.
"Is John Brennan monetizing his security clearance? Is John Brennan making millions of dollars divulging secrets to the mainstream media with his attacks on @realdonaldtrump?" Paul tweeted Monday. "Today I will meet with the President and I will ask him to revoke John Brennan's security clearance!"
It is not unusual for former intelligence officers like Brennan to maintain security clearance after they leave their positions, according to CNN.
Brennan, who served as director of the CIA under former President Barack Obama, has been a vocal detractor of the current commander in chief. After Trump held a press conference alongside Russian leader Vladimir Putin last week, Brennan called Trump's refusal to denounce Putin's narrative—that Russia didn't interfere in the U.S. presidential election—"nothing short of treasonous" and an impeachable offense.
"Donald Trump's press conference performance in Helsinki rises to & exceeds the threshold of 'high crimes & misdemeanors' It was nothing short of treasonous. Not only were Trump's comment imbecilic, he is wholly in the pocket of Putin. Republican Patriots: Where are you???"
Last month, Brennan penned a scathing op-ed in The Washington Post that called Trump's approach to office "appalling."
"Mr. Trump's lifelong preoccupation with aggrandizing himself seemed to intensify in office, and he quickly leveraged his 1600 Pennsylvania Ave address and his Twitter handle to burnish his brand and misrepresent reality," he wrote.
"As someone who had the rare privilege of directly serving four presidents, I will continue to speak out loudly and critically until integrity, decency, wisdom- and maybe even some humility—return to the White House."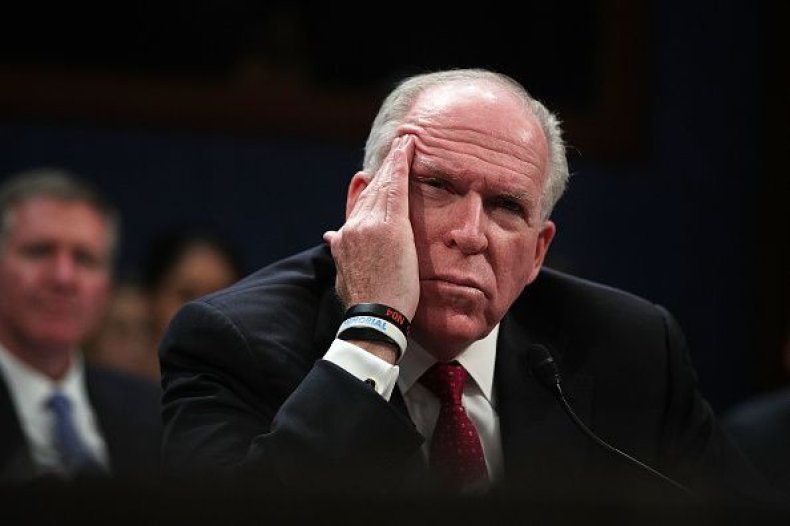 Paul has been an unlikely defender of President Trump in recent weeks, and the only Republican lawmaker to release a statement in support of the president immediately after his press conference with Putin in Helsinki last week. "I think it's a good idea to have engagement," Paul said, "and I guess I don't quite understand all of the people who have gone completely deranged criticizing the president."
Paul and Trump traded frequent barbs during the 2016 presidential campaign, which Paul dropped out of in February 2016. "Do we want someone with that kind of character, that kind of careless language, to be negotiating with Putin?" Paul asked during a primary debate in 2015.
In the same debate, after Paul hit at Trump for resorting to attacks based on physical appearance, Trump said, "I never attacked him on his look, and believe me, there's plenty of subject matter there, I can tell you."