Rand Paul Says Fauci Acts 'Against the Science,' Wants People to Stay In 'Biden's Basement'
Sen. Rand Paul (R-Ky.) continued his pubic dispute with Dr. Anthony Fauci on Tuesday, claiming that Fauci wants Americans to remain in President Joe Biden's "basement" even if they have been vaccinated against COVID-19.
Fauci, the nation's top infectious disease expert and director the National Institute of Allergy and Infectious Diseases (NIAID) for decades, has recently urged the public to maintain preventative measures as the COVID-19 pandemic continues regardless of their vaccination status.
Paul, who was a practicing ophthalmologist before entering the Senate, disputed the notion that any such caution is warranted and claimed that Fauci's views were "against the science" during an interview with Fox News' Neil Cavuto on Tuesday.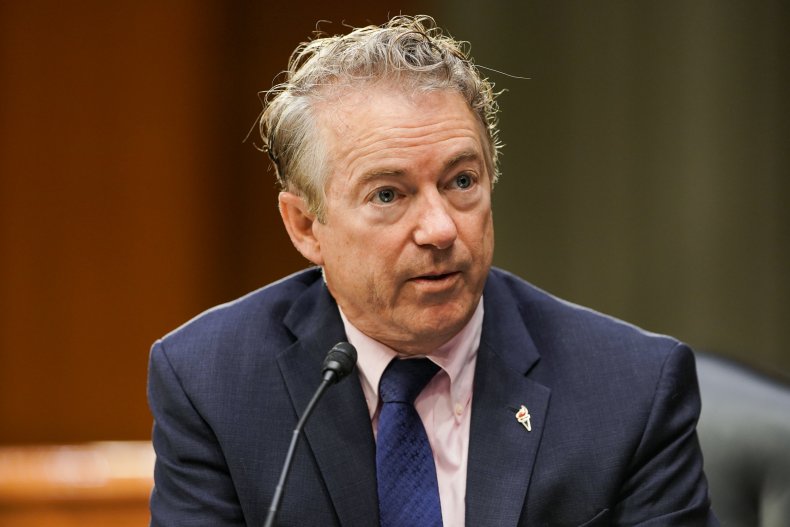 "Dr. Fauci comes out with statements, 'Oh, even though you've been vaccinated you still need to stay in Joe Biden's basement. You can't go to a restaurant, you can't go out," Paul said. "That's kind of ridiculous. It's against the science and it's actually discouraging people. People want a reward. Rewards work and your reward if you get the vaccine is you can live your life again, you're not going to get it or transmit it to people."
"The likelihood is very, very small," he added. "And the risk is such that you could probably go back to living a normal life. Now, if he says the risk is going to go to zero, no risk is zero. So, he needs to quit dictating to the entire world how to live and let us make our own decisions."
Paul said that he would like Fauci to "just obey the science that's coming from his own institute," citing a NIAID study from late last month. The study found that those who recover from COVID-19 naturally, as well as those who have been vaccinated, likely do have some level of protection against emerging variants of the virus due to infection-fighting T-Cells.
Fauci said that it is "still not okay" for Americans to dine out indoors even if they have been fully vaccinated during a Sunday appearance on MSNBC's The Mehdi Hasan Show. Fauci's remarks prompted outraged calls for him to be fired by conservatives opposed to public health restrictions.
"It's still not okay for the simple reason that the level of infection, the dynamics of infection in the community, are still really disturbingly high," Fauci explained. "If you are vaccinated, please remember that you still have to be careful and not get involved in crowded situations, particularly indoors where people are not wearing masks."
"Until we show definitively that a person who is vaccinated does not get this subclinical infection and can spread to others, you should also continue to wear a mask for the time being," he added.
There are still an average of over 60,000 new COVID-19 cases recorded in the U.S. each day, with more than 31.2 million total cases as of Tuesday, according to Johns Hopkins University.
During a Senate hearing last month, Paul accused Fauci of engaging in "theater" for encouraging others to wear masks and wearing two masks himself despite being vaccinated.
Fauci countered that he believed Paul was being theatrical while arguing that studies had not conclusively shown that vaccinated people could not still spread the virus.
Newsweek reached out to NIAID for comment.