Rand Paul Shocks 'The View' Audience by Stating Most Americans Making Less Than $50,000 'Don't Pay Any Income Tax'
Senator Rand Paul surprised the audience of The View by saying that most Americans making less than $50,000 don't pay any income tax.
"We have a different form of taxation in our country. Ours is much more progressive. So we've taken the poor off of the rolls. They don't pay income tax anymore. Most people making below $50,000 don't pay any income tax," the Kentucky senator said, evoking murmurs from the audience. "The top one percent in our country pay 40 percent." Paul said he was citing IRS statistics when making the claim.
The Tax Policy Center estimated last year that 76.4 million or 44.4 percent of Americans would not pay income tax in 2018. Those exempted don't pay income tax because of some combination of credits, standard deductions and income level.
Rand's claim that most people earning below $50,000 don't pay income tax is true at the federal level, economists told Newsweek. According to a March document from the Joint Committee on Taxation, Americans earning $40,000 to $50,000 are expected to pay an average income tax rate of -0.6 percent in 2019. But Mark Mazur, the Robert C. Pozen Director at the Tax Policy Center, noted that the amount of taxes paid by each person depends on their situation.
"If this taxpayer has no children, claims the standard deduction and earns $50,000 in 2018, they would owe over $2,700 in income tax liability," he told Newsweek in an email."If the taxpayer had the same characteristics and had two children, they would get a refund on a portion of their child tax credit and owe no income tax (actually get a refund)."
Alexandra Thornton, the Senior Director of Tax Policy at the Center for American Progress, questioned Paul's framing and sole focus on income taxes.
"Americans making less than $50,000 actually do pay taxes—some of them pay income tax and all of them pay federal employment taxes. While many taxpayers making less than $50,000 benefit from the earned income tax credit and possibly also the child tax credit, the amount of these credits depends upon marital status and number of children," Thornton told Newsweek over email. "In addition, and perhaps more important is the fact that all of these taxpayers pay Social Security payroll taxes, which are imposed on all earned income up to the income cap of $132,900."
And Hunter Blair, a budget analyst at the Economic Policy Institute, noted that "households also face state income taxes, sales taxes, excise taxes, and property taxes. And ITEP has shown that state and local tax systems are regressive."
The IRS said that in 2015, the top 1 percent of tax returns made up 20.7 percent of the gross adjusted income and paid 39 percent of the total income tax. But these figures were released before Trump implemented his tax reform plan, which lowered the income tax rate across brackets, including for the highest earners.
A New York Times article published this week, based on research from two University of California, Berkeley, said that the U.S. tax system has become far less progressive in the last 75 years.
The Berkeley professors, Emmanuel Saez and Gabriel Zucman, found that the bottom half of U.S. households paid a higher average effective tax rate last year than the wealthiest 400 families did.
Newsweek reached out to Paul for additional comments on his statement, but did not hear back by press time.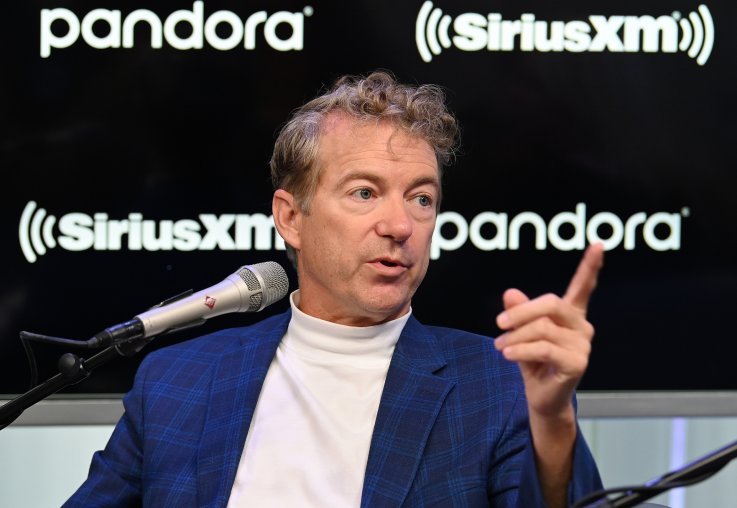 Rand Paul Shocks 'The View' Audience by Stating Most Americans Making Less Than $50,000 'Don't Pay Any Income Tax' | News