Is Rand Paul Suing His Neighbor? Senator Hires Personal Injury Attorney After Attack Left Him With 6 Broken Ribs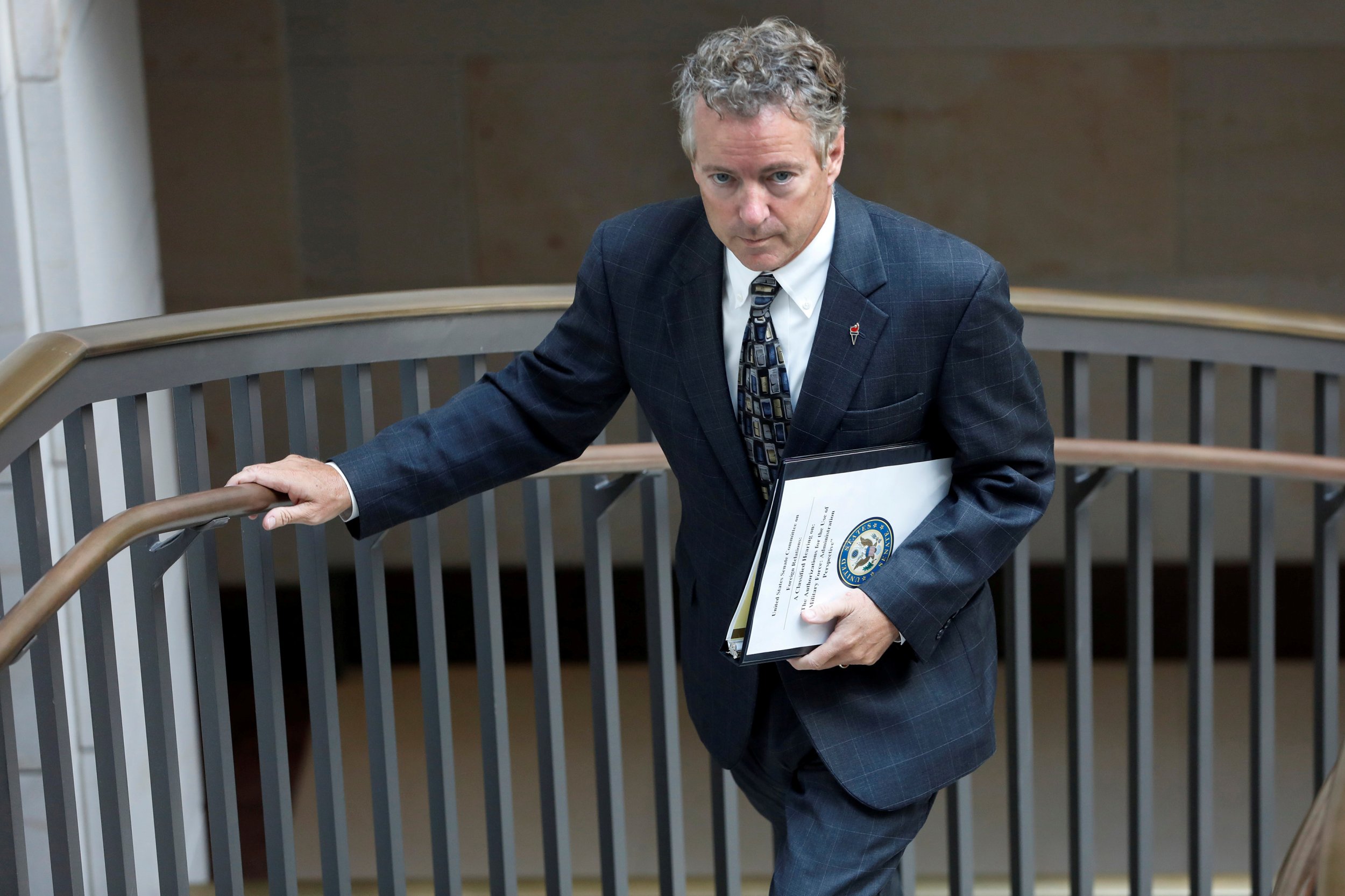 Is Senator Rand Paul planning to sue his neighbor?
The Kentucky lawmaker hired a personal-injury attorney more than a week after a bizarre fight with his neighbor that left him with six broken ribs and a lung condition—a scuffle that still doesn't have a clear motive.
Paul posted on Twitter that he is "still in a good deal of pain" but went back to work at the Senate Monday to "fight for liberty and help move forward with tax cuts."
Thomas Kerrick, a personal injury lawyer with Kerrick Bachert Law, is representing Paul, the law firm confirmed to Newsweek—but no lawsuit appears to have been filed as of Monday afternoon.
Kerrick and the law office declined to comment about the case, whether any lawsuit was in the works or any motive in the incident.
Rumors have continued to make the rounds in Paul's well-to-do gated community about why his longtime neighbor Rene Boucher would tackle him but very little has been released about the attack.
Neighbors have said Paul continually violated the rules of the Rivergreen community, a gated subdivision in Bowling Green, Kentucky, adding he grew pumpkins and had a compost pile. They say the pair have argued about grass clippings, leaves and yard clippings.
Paul "was probably the hardest person to encourage to follow the (regulations) of anyone out here because he has a strong belief in property rights," Jim Skaggs, the developer of the subdivision, told the Louisville Courier Journal.
"He wanted to actually own the property rights and build any kind of house he wanted. He didn't end up doing that, but it was a struggle," Skaggs added.
Paul's office has dismissed the accusations about property rights and yard waste as the cause behind the incident and said the senator was blindsided and attacked.
"As to reports of a longstanding dispute with the attacker, the Pauls have had no conversations with him in many years," said Doug Stafford, an adviser in Paul's office, adding the first time they'd talked recently was when Paul's ribs were broken.
"This was not a fight, it was a blindside, violent attack by a disturbed person," he said. "Anyone claiming otherwise is simply uninformed or seeking media attention."
Boucher released a statement that said the dispute was not about politics—though Paul is a libertarian who identifies as a Republican and Boucher is a registered Democrat.
He said in the statement he hoped Paul was recovering and that the fight was a "regrettable dispute between two neighbors over a matter that most people would regard as trivial."
Boucher is facing a misdemeanor assault charge but additional penalties could be added because harming a member of Congress is a federal crime.