Some members of Congress are allegedly using their leadership PACs as "slush funds" to pay for extravagances such as expensive hotels and fine dining, according to a report released Wednesday.
The report comes from the nonpartisan watchdog groups Issue One and Campaign Legal Center, and it looked at how politicians used leadership PACs, which are separate from campaign accounts and aren't subject to the same restrictions on how donors' money can be spent.
The groups' research found that the leadership PACs of 120 members of Congress spent less than 50 percent on politics between January 2019 and December 2020. That equals roughly one of every five members of Congress.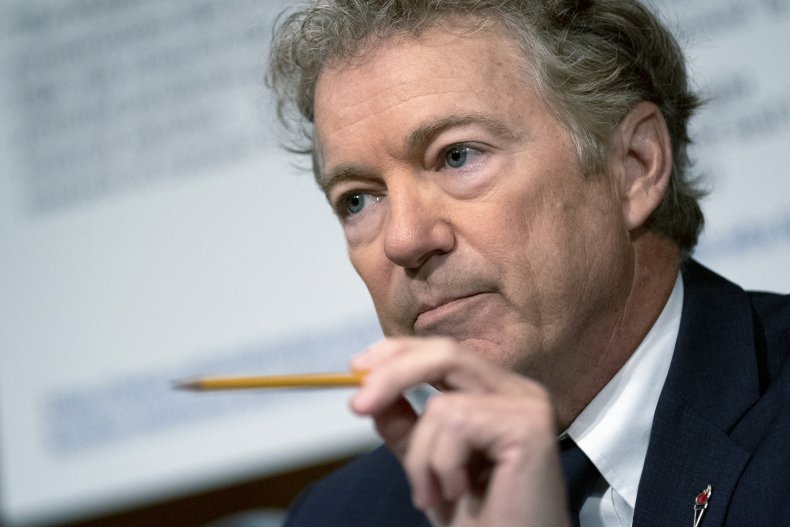 Among those singled out for their "lavish lifestyles" funded by the PACs are former North Carolina Representative George Holding, a Republican, Wisconsin Representative Gwen Moore, a Democrat, as well as Republican Senators Rand Paul of Kentucky and Ted Cruz of Texas.
Leadership PACs are meant for members of a party and lawmakers seeking reelection, but the groups' findings suggest many in Congress are using the money for non-political expenses.
The report shows many leadership PACs' funds covered costs for high tabs at restaurants and resorts. More than $2 million was spent by those PACs at hotels and resorts, $220,000 was used for sporting events and concerts, $190,000 was spent at ski resorts, and $150,000 was paid for meals at steakhouses.
"Leadership PACs represent the worst of pay-to-play political giving," Issue One CEO Nick Penniman said in a statement. "People of conscience in Congress and at the Federal Election Commission must rein in the abuse of leadership PACs and prohibit leadership PACs from being slush funds for politicians to pursue lavish lifestyles."
Holding's leadership PAC spent $202,000 during the period of two years analyzed by Issue One and the Campaign Legal Center. Only 2 percent of that spending went toward political matters such as campaigns for candidates and political groups. Instead, most of the money went toward items such as airfare, hotels, car services and exclusive members-only clubs in the U.S. and abroad.
Moore spent $320,000 through her leadership PAC during the same period, with 12 percent used for political activities. Around $9,000 was used for event tickets through Live Nation, StubHub and Ticketmaster, according to the report.
Paul also used only 12 percent of his leadership PAC for political expenses—"the smallest percentage of any senator that did not retire in 2020"—though he spent considerably more, to the tune of roughly $990,000. The report claimed he used $14,000 on lodging alone, including stays at "some of the top resorts in the country" like The Breakers in Palm Beach, Florida.
Meanwhile, Cruz's leadership PAC spent around $2.2 million with 18 percent going toward aiding other candidates, political parties and political groups. Much of his spending was used for digital advertising expenses and consultants, according to the report, though his tally for hotels reached around $20,000 over the two years studied.
A spokesperson for Senator Paul replied to Newsweek's request for comment via email, noting that the use of political funds for travel and event expenses are part of a normal political operation and are not "non-political."
The spokesperson also included a statement that said "reports will show in a few weeks" that Paul "has given nearly $200,000 in contributions to other candidates just this year, with many more coming as the cycle moves on."
"Fundraising and political travel have costs," the statement said. "Dr. Paul prides himself on never traveling at taxpayer expense, and his trips and travel and events all were incurred for political travel or helped raise funds for RANDPAC."
A Cruz spokesperson told Newsweek, "Senator Cruz is committed to getting our country back on track, which means electing solid conservatives up and down the ballot across the country and winning the battle of ideas in the public square.
"Therefore, in addition to making direct contributions to candidates, his strong fundraising has permitted Jobs, Freedom & Security PAC to go above and beyond the typical leadership PAC by investing heavily in advertisements and messaging that empower and help give voice to the conservative movement," the spokesperson said.
Newsweek contacted Moore for comment but did not hear back in time for publication.
Update (9/30/21, 4:20 p.m. ET): This story has been updated to include a statement from Senator Paul's office.
Update (10/01/21, 9:00 a.m. ET): This story has been updated to include a statement from Senator Cruz's office.