Republican Rand Paul is one of the most vocal critics of universal health care in Congress, once equating it to "slavery." Now the Kentucky senator has opted to have surgery at a private hospital in Canada, a nation of socialized medicine, rather than in the United States.
Paul is scheduled to have an outpatient operation at the Shouldice Hernia Hospital in Ontario later this month, according to court documents in a civil lawsuit Paul launched against his neighbor Rene Boucher.
According to the court filing, the hernia operation is related to a 2017 attack in which Boucher assaulted Paul while the senator was mowing the lawn at his Kentucky home. The incident left the lawmaker with six broken ribs and a bruised lung.
Boucher pleaded guilty to the assault and was sentenced to 30 days in prison. Federal prosecutors said the neighbor had "had enough" after Paul put a pile of brush close to his property line. Boucher, 58, ran and tackled the senator to the ground.
Paul will have the surgery during the week of January 21. Court documents estimated that the procedure would cost somewhere between $5,000 and $8,000. The hospital markets itself as "the global leader in non-mesh hernia repair."
Kelsey Cooper, a spokeswoman for Senator Paul, said that the Canadian hospital was privately owned, and called the backlash against Paul's decision to have surgery outside the United States "more fake news on a story that has been terribly reported from day one."
"This is a private, world-renowned hospital separate from any system, and people come from around the world to pay cash for their services," she said in an email statement to the Courier Journal, which was one of the first outlets to report on Paul's upcoming operation.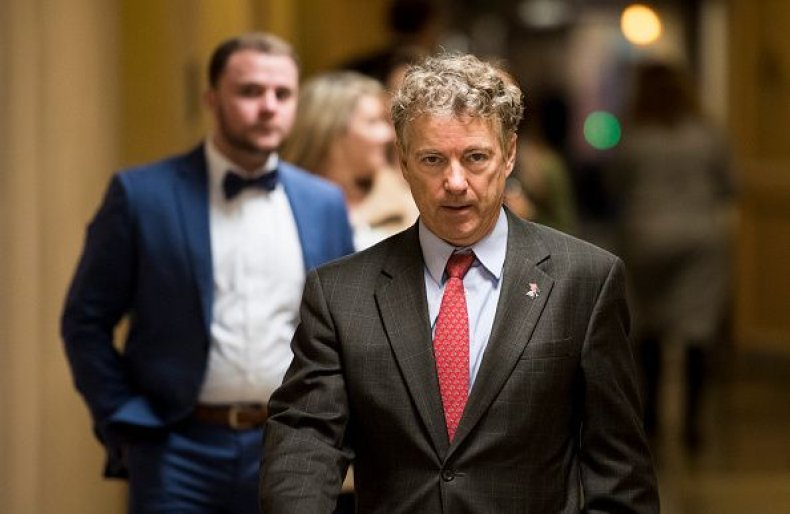 Before entering Congress in 2011, Paul was an opthamologist for 17 years. He founded the Kentucky Lions Eye Clinic, a nonprofit organization that provides eye exams and procedures to those in need.
But shortly after joining the Senate, Rand said that the "right to health care" was essentially "slavery."
"With regard to the idea whether or not you have a right to health care, you have to realize what that implies," he said during a Senate subcommittee on primary health in the spring 2011.
"I am a physician. You have a right to come to my house and conscript me. It means you believe in slavery. You are going to enslave not only me but the janitor at my hospital, the person who cleans my office, the assistants, the nurses … You are basically saying you believe in slavery," Paul said.
In 2017, Paul doubled down on his attacks against socialized medicine in a Republican effort to repeal and replace Obamacare.
"Are we gonna give up our freedom and say to the government, 'You decide what kind of insurance I get and what it covers'?" Paul asked during an appearance on Fox News's Hannity.
"It's a freedom issue. It really isn't about actuarial tables. It isn't about all the ins and outs. We have always taken care of those who are sick in our country. We have never, ever turned anyone away," he continued.
The Democratic Coalition tweeted Monday about Paul's upcoming surgery, writing, "Oh, the irony."