Poll Closure Plans in Majority Black Georgia County Draw Racism, Disenfranchisement Accusations
The Randolph County board of elections is facing national outrage from civil rights groups over plans to close seven out of nine polling places across the county, which is two-thirds black.
Update: Mike Malone, the elections consultant tied to the poll-closing proposal, has been fired by Randolph County lawyer Tommy Coleman. Previous reports linked Malone to Republican gubernatorial candidate and Georgia Secretary of State Brian Kemp. Georgia Democrats issued a statement Thursday responding to Malone's contract being terminated:
"Randolph County officials were correct to tell Brian Kemp's henchman to take a hike, but he never should have recommended the poll closures in the first place," said Democratic Party of Georgia Chair DuBose Porter. "Georgians deserve a free and fair election, not 11th hour efforts to close down polling locations and suppress votes."
"Now that his donor and associate has been fired, it's a good time for Brian Kemp to resign as Secretary of State," added Porter, noting that Kemp continues to oversee the gubernatorial election in which he is a candidate.
The proposal being considered by the election board says the seven precincts are not in compliance with the Americans with Disabilities Act regarding accessibility. But critics view the potential closures as a Republican-led effort to disenfranchise the predominantly black, low-income areas ahead of a gubernatorial election in which a candidate could become the country's first black female governor.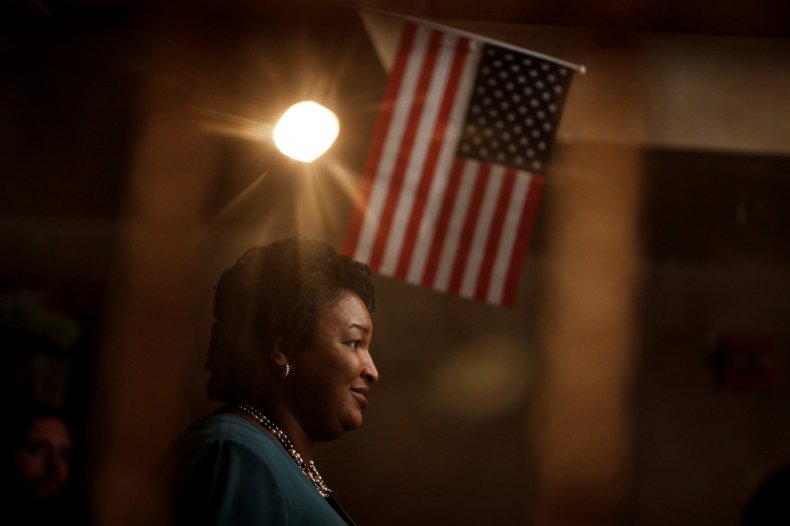 Randolph County attorney Tommy Coleman told the Associated Press the timing of the proposal appears strange given they were just used in the May 22 primary election as well as the July 24 primary runoff. The American Civil Liberties Union of Georgia sent a letter to county offiials earlier this month ridiculing the potential closure of the polling places, leaving, "a reasonable observer to wonder whether the real motive behind these closures is indeed to make it harder for African Americans to cast a ballot."
The vote Friday by the county elections board was proposed by a third-party consultant who was recommended by Secretary of State Brian Kemp's office. Kemp is currently the Republican candidate running against Stacey Abrams, a Democrat and former House minority leader who could become the country's first black female governor.
Abrams took to Twitter Monday to discuss the potential closure: "Efforts to suppress the vote & depress voter turnout are alive & well in Georgia. In Randolph—a predominantly Black, rural, low-income county—the board of elections may cut the # of polling locations from 9 down to only 2. Many would be forced to walk 10+ MILES to vote. #gapol"
When asked by the AP about the proposal to close the locations, elections director consultant Mike Malone simply said, "I don't have anything to do with the board's decision," before saying his lawyer advised him not to comment on the issue.
Kemp's and Abrams's campaigns both issued a statement condemning the poll closures. "We strongly urged local officials to abandon this effort and focus on preparing for a secure, accessible, and fair election for voters this November," Kemp said. Abrams said a "proposal to eliminate nearly every polling location in a Black Belt county belongs in a history textbook, not the current events section."
Former U.S. Attorney General under the Obama administration, Eric Holder, also took to Twitter to call out the election board vote before Friday.
"This is Georgia Republicans-In Randolph County now trying to close 7 of 9 recently used polling places in a largely African American district. Simply to make it more difficult/impossible for black voters to get to the polls. This cannot be allowed to occur."
According to U.S. Census Data, Randolph County, Georgia has a population that is about 61 percent African-American and 37 percent white. Median household income is listed at just above $30,000 per household. And 2016 Small Area Income and Poverty Estimates (SAIPE) place the county in a flagged poverty area, with more than 30 percent of residents fitting into this category.