Rangers Protecting Elephants Shot My Dad 15 Times in the Head: Filmmaker Reveals Reality of Elephant Poaching in Candid New Doc
When Lambs Become Lions is a new documentary from Emmy-award-winning director Jon Kasbe which takes an intimate look at the subject of elephant poaching in Kenya, as told through the eyes of those who hunt the animals and the rangers trying to protect them.
Kasbe spent three years in Kenya amassing more than 700 hours of footage for the film. In this time, he forged strong bonds with his subjects, embedding with them for months at a time and gaining extraordinary access into their lives.
The film follows X—a small-time ivory dealer—and his hunter Lukas as they pursue elephants in the Kenyan bush. On the other side of the law is X's cousin, Asan—a former elephant poacher turned wildlife ranger.
Our preconceptions about what is right and what is wrong are challenged as the story unfolds in a world where economic opportunities for these men are severely lacking. One in which simply providing for their families is a daily struggle.
Each side faces its own existential crisis. For the hunters, poaching is dangerous work and has only become harder since a Kenyan government crackdown in 2016—which was announced with a huge public burning of ivory.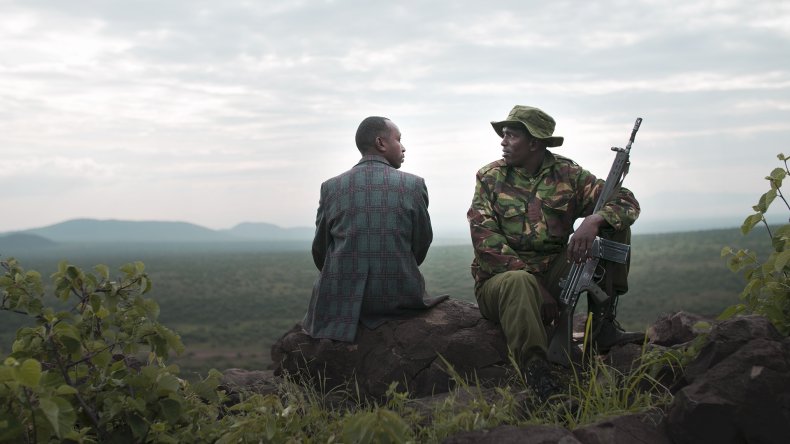 Asan meanwhile—who had a child during the making of the film—hasn't been paid in months as the ranger service grapples with limited resources.
When it is revealed that X's father—an elephant poacher—was killed by rangers, and that hunters are often executed on the spot by officials if they are caught in the act, viewers may question where their sympathies lie.
Newsweek spoke to director Jon Kasbe to find out more about the making of the film.
Newsweek: How did the idea for the film come about in the first place?
Jon Kasbe: It's kind of a weird story. I'd done three other short documentaries in Kenya before this one and through those projects, I had made friends in the area. Early on, those local friends were calling me and asking me to come there to make a film about poaching. I was very resistant to it at first. I felt like it was a topic that was kind of oversaturated. A lot of pieces have come out about it and I didn't really know what we were going to add to the conversation. But they kept pushing back. They kept saying: "Just come and meet this guy in northern Kenya."
They were saying this issue is being taken out of Kenya and funneled through a kind of black and white Hollywood-style narrative of good-versus-evil, right. And they kept telling me that's not actually what's going on. The reality of the situation is much more complex, but no one is embracing that complexion.
This perspective of the hunters is something that no one is talking about. No one is actually meeting and hearing out the local guys on the front lines that are doing the killing. That's a huge part of the conversation that's being overlooked right now. And when you look at the way the law is set up in Kenya, rangers are killing poachers on-site, no questions asked. The response is not so much, "let's listen, let's understand, let's try to figure out what's going on." It's more like, "let's just kill the problem." Assuming that you believe the hunters are the problem.
N: How did the first meeting with X go?
JK: He's an ivory dealer, you know? He's ordering people to kill elephants and selling tusks. So I went into it a little bit timid, a little bit afraid he was going to be secretive or sketchy in some way, or untrustworthy. And I was totally shocked. I mean, he was making eye contact with me consistently. He was very direct. He was very clear. And he felt really honest. I wouldn't even have to ask him a hard question because he was just putting it out there.
He was saying things to me like, "Yeah, we kill elephants, but look at the rangers. They're killing humans and they're getting away with it." He said, "I was 10 years old and my father was shot 15 times in the head by rangers and there were no repercussions." Nothing. It just gets swept under the rug because they're rangers and he's a poacher. Kenyan law has changed. If you're caught in the act most rangers will just kill you. I slowly started to realize that he felt deeply misunderstood, not so much by his community but by the outside world. I left feeling charmed by this guy, and wanting to spend more time with him. I couldn't stop thinking about him. And that's kind of what sparked this whole thing.
N: How did you manage to gain the trust of the subjects?
JK: I was very clear with them upfront that I want to be there for everything that happens. It's one thing to say that but to actually earn it is a whole other thing. It involved months of being in the field, living with these guys. Just kind of coexisting without a camera, without filming, without doing project-related things. Really forming a friendship that is legitimate and stands up on its own so that when problems arise, you have something real to fall back on. And when you're filming people that are doing things illegal, and on top of that, they're on the brink of poverty—waking up every morning thinking about how they're going to feed their kids—there are many problems that will arise.
I saw this as a collaboration. I didn't see this as me coming in with a vision telling their story. This was them trusting me to be around to collect things and put it together in a way that resembled what the reality was like. And part of that was me being like, "If there's ever a time you don't want me to film, you can tell me and I'll stop filming. If I ever film something that you don't want to exist, you can tell me and we can delete it together." And that's what we did. During the first two years of production, every time that we'd film something and they said, "We feel uncomfortable that you just got that shot, we want you to delete it," we deleted it together. But then it eventually got to a point where there was so much trust, in the last two years of shooting, they were no longer asking me to delete anything.
it wasn't my sense to try to convince them that this needs to be out there. They had to decide for themselves that there is value in people seeing what their lives are like. And they wanted that on a deep level. They wanted to be understood, they wanted to be seen, they wanted the world to know that the situation is not the way it's been portrayed.
N: Was there anything that struck you as particularly poignant during the filming process?
JK: It was about eight months into the project when X revealed to me that his cousin was a wildlife ranger. And that was when it sunk in for me that, holy smokes, this situation is so much more complicated than I thought. And I started to realize that these aren't separate sides. I think in Western culture and media, we are really obsessed with sides that are fighting because it's such a traditional story and it makes so much sense and is so easy to digest. I kind of went into the situation thinking that you guys are obviously against each other. The hunters want to kill the elephants, and the rangers want to protect the elephants, and so they're at odds with each other.
But these aren't different sides at all. This is a community that's in a situation where it does not have an infrastructure to support options outside of those two, and neither side wants to be doing what they're doing. The rangers don't want to be out there killing humans because these are humans they know. These are humans that are family. These are humans that they've grown up with their whole lives. And the poachers don't wanna be out there killing elephants. They don't get any joy from doing that. They do it when they feel like they absolutely have to, they do it when they feel like there's an opportunity to do it safely without getting caught.
Even the type of elephant they pick is specific, you know, they're not going after mothers that have children, because they know that puts the children in a bad situation. They're not going after lone males because they know lone males are very aggressive and it's much more dangerous. They're going after older elephants that they think are going to die in the next two to five years. So there's a lot more thought going into the whole thing than I realized. It's way less about good and evil, much more about survival and feeling like you have a lack of opportunity and a lack of agency over your choices.
Over the course of the four years, it evolved into something much more complex. Rather than telling people what to think, or telling people how to feel. We just wanted to give them the experience we had in the field and let them decide for themselves.
N: Did you come out of the process with a better idea of how the problem could be addressed?
JK: People, especially in America, are always like, "So what do we do? How do we fix this? Where do we donate money to?" And It was disappointing to come out of this process without a clear solution. The further I got into this world, the more I realized how much I didn't understand it. I'm not Kenyan. I'm Indian-Australian. This is not my culture. These are not my people. There's a community that accepted me and let me in and gave me a small taste of what their life is like. I came out of it thinking this isn't necessarily a problem that I think other people should be coming and trying to fix. The solutions to this are going to come from within. And there are local Kenyans that are taking steps to do that, who understand the complexities of the situation, who understand the people, who understand the tribal conflicts. But what I'm seeing over and over again is outsiders coming in trying to solve an issue that isn't theirs, and failing miserably and creating new problems.
I kept seeing that and not just in the way people are addressing Kenya and the issue of conservation but also the way the films around this issue are made. Most of the films on this are focusing on outsiders coming in trying to solve it. So that was a lovely thing at the beginning: I thought there's such a clear piece here that no one is looking at about the people that live this. The people who belong in this place and have been doing this for generations and generations.