How Disney+'s 'Rangers of the New Republic' Will Link to 'The Mandalorian'
Rangers of the new Republic is one of dozens of TV shows announced by Disney+ this December, as the streamer expands its Marvel, Star Wars and Pixar catalogs. The upcoming live-action series will be one of two new spin-offs to The Mandalorian, with Ahsoka Tano (played by Rosario Dawson) also getting her own limited series.
Though fans have already met Ahsoka in a previous episode of The Mandalorian, we know much less about this second spin-off series.
How Rangers of the New Republic will link to The Mandalorian
So far, the only official information we have about Rangers of the New Republic is that it is "a new Original Series set within the timeline of The Mandalorian."
Rangers, Ahsoka and The Mandalorian are all expected to crossover with each other, coming together in a climactic crossover event for all three series—similar to what The CW does every year with its "Arrowverse" superheroes.
What Disney+ has not revealed, however, is what exactly the "Rangers of the New Republic" are. The New Republic is the time directly after the death of Emperor Palpatine in The Return of the Jedi (between Jedi and The Force Awakens)—the time when The Mandalorian takes place, in other words.
As for who its rangers are, the title suggests some sort of law-enforcement team, suggesting we might be getting the Star Wars equivalent of a police procedural.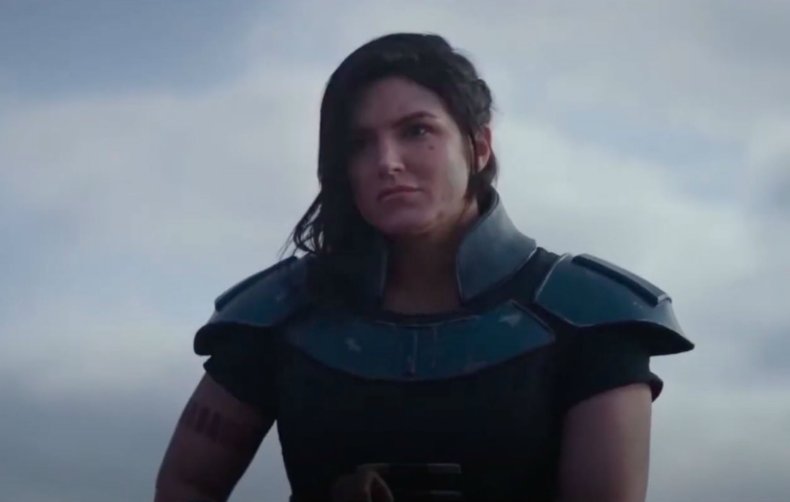 Who will star in this is unclear. Fans are already speculating, however, that it will star Cara Dune (Gina Carano), the rebel fighter who earlier in The Mandalorian Season 2 became a marshal with the New Republic.
As to why Carano was not announced as part of the show at the investors' event, this could be because Disney is waiting for the heat to die down after the actor created controversy for a series of social media posts about voter fraud and the coronavirus.
If Carano proves too contentious a casting choice, however, there is someone else who could spin off into Rangers of the New Republic.
In The Mandalorian Season 2, Episode 1, we met Cobb Vanth (Timothy Olyphant), a marshal on Tattooine who could find himself part of this new show. This may explain why a TV leading man like Olyphant made such a brief appearance in the Disney+ show—because he knew there was more in the future.
Of course, he could have done it for the pure love of Star Wars, like when Daniel Craig played an uncredited Stormtrooper in The Force Awakens.
Rangers of the New Republic is coming soon to Disney+.