Ranked: America's Most (and Least) Expensive States to Live In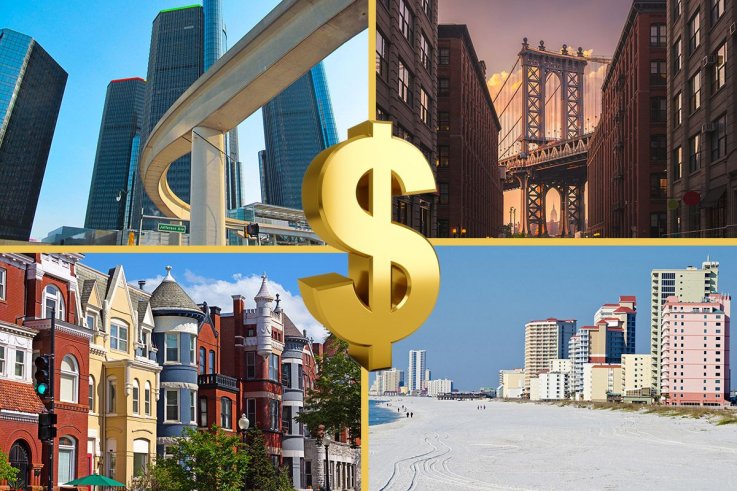 Wages in the U.S. are rising, slowly—the median wage grew almost one percent in 2017 to $44,564, according to the Bureau of Labor Statistics. But how much bang your hard-earned bucks will get you varies from state to state.
The Bureau of Economic Analysis (BEA) has released data comparing the cost of living and income in different parts of the country. They found that in 2016, the states with the fastest growth in per capita income were Maryland, Hawaii, Utah and California, which all saw increases of over 3%.
Meanwhile, per capita income declined in seven states, with the biggest falls occurring in Oklahoma (-2.9%), Wyoming (-2%), and Arkansas, North Dakota and Alaska (all -1.5%).
The BEA also looked at regional price parities, which consider the local prices of a mix of goods and services, including rents, and compares them to the national average price for the same group of goods.
In 2016, Hawaii had an RPP of 118.4, meaning the state is 18.4 percent more expensive than the national average. So although Hawaiians earn an average of $50,358 a year, that's just $42,676 in real purchasing power.
Coastal states tend to have higher RPP levels, meaning they are more expensive to live in, while Southern states are generally cheaper. And although workers in the South may be paid less, their money goes much further. The average 2016 income in Mississippi was just $35,524, but as things are 86.4% cheaper than the U.S. average, that equates to $41,115 in actual purchasing power.
Using this BEA data, we've ranked the 50 U.S. states and D.C. by how expensive they are to live in compared to the national average. We've also included their average income and purchasing power.