Ranked: The Artists With the Most Billboard Hot 100 Number One Hits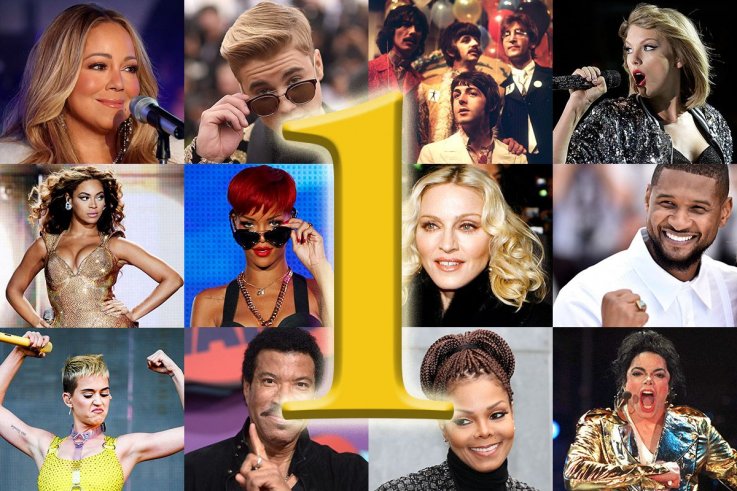 One Direction has never had one. Neither have James Brown, Nicki Minaj or the Backstreet Boys. The phenomenal success of each of these musicians goes to show that a hit at the top of the Billboard 100 isn't a steadfast indicator of success.
Just ask musicians like Crazy Town, Toni Basil or Bobby McFerrin, who all scored a single number one hit before fading back into obscurity. In their case, their quick success was a curse, impossible to replicate and overshadowing the rest of their careers.
But the list of artists who have achieved the most number ones in their career does read like a musical hall of fame. The Billboard Hot 100 has charted every number one record since August 1958, allowing us to see which musicians have reached the top spot most frequently.
The count isn't perfect—Elvis Presley's pre-1958 number ones get left off the list, meaning he is overtaken by Bruno Mars, the Hawaiian artist who started his career aged four impersonating The King. Billboard's record-keeping has adapted to the internet age, and physical and digital sales are now counted alongside radio play and online streaming.
The result is a good mix of artists from a number of musical eras, from The Supremes to Katy Perry. Musicians with long, decades-spanning careers do well, as they've been able to produce a greater volume of hits.
There are some surprises—it now seems hard to believe that Paula Abdul has had more number ones than Eminem, or that Olivia Newton-John has achieved the same level of chart success as Taylor Swift.
Although the list is understandably American-centric, there is a strong international influence. The very top act is British, and their fellow countrymen (and one countrywoman) make a strong showing on the charts. Caribbean and Canadian artists also fly their respective flags.
We've run down the kings and queens of the Billboard Chart, ranking each artist not only by their number of chart-toppers, but also how long they spent at number one.