Ranked: The North American Cities with the Highest Quality of Life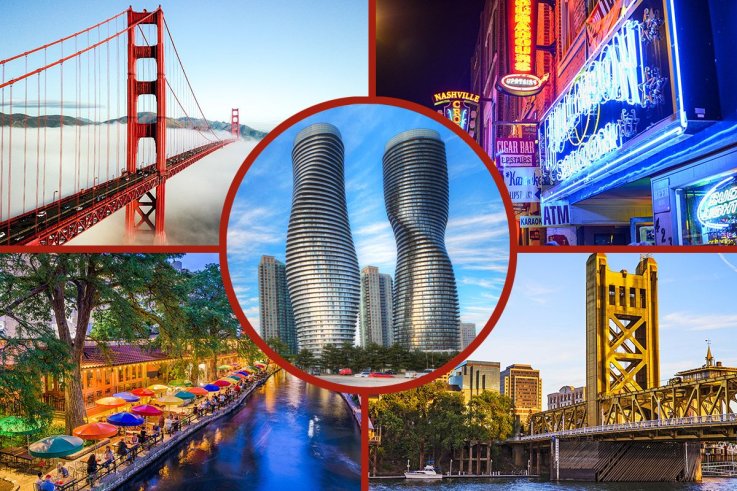 It's no secret that quality of life varies across America. When it comes to commonly accepted measures of a good life, like safety and cost of living, some cities just have it better than others.
Numbeo, a crowd-sourced global database, has collected information on nine factors that are seen as contributing to quality of life—including low cost of living, affordable housing, low pollution, low crime rates, quality healthcare and short commutes—and created a ranking of North American cities that have the best overall score within these categories.
Numbeo's rankings show that some states outperform others when it comes to quality of life; two of North Carolina's cities came in at first and fourth place. They stand out for their high purchasing power, indicating that citizens can afford to buy more goods and services than the average American.
Madison in Wisconsin was ranked in second place. The state capital, which is home to around a quarter of a million people, scored particularly highly in safety and healthcare facilities. It also has the second-best commute in North America, coming in after Regina, Canada.
Detroit received the lowest quality of life score in North America, with New York City coming in at close second. Unlike New York, Detroit actually comes top in one measure—property price to income ratio. Houses in the rust belt city cost just 1.72 times the average income. However, this excellent score is counterbalanced by the city's poor scores in the safety, cost of living and pollution rankings.
Canadian cities tended to score well, with Ottawa and Victoria coming in at fifth and sixth place respectively. Cities in Canada tended to score higher than U.S. cities for safety, but lower for purchasing power.
Read more: Cities with the Best Quality of Life in the World
These rankings leave out some intangible factors that can also improve quality of life. If access to arts and culture was measured, it's doubtful that New York would rank so poorly. Low-scoring but diverse, vibrant cities like Los Angeles and Miami are preferred by many to the family-focused, cookie-cutter cities at the top of the rankings.
These are the cities in America with the best quality of life, according to Numbeo.