Ranked: Tom Hardy Movies, From Worst to Best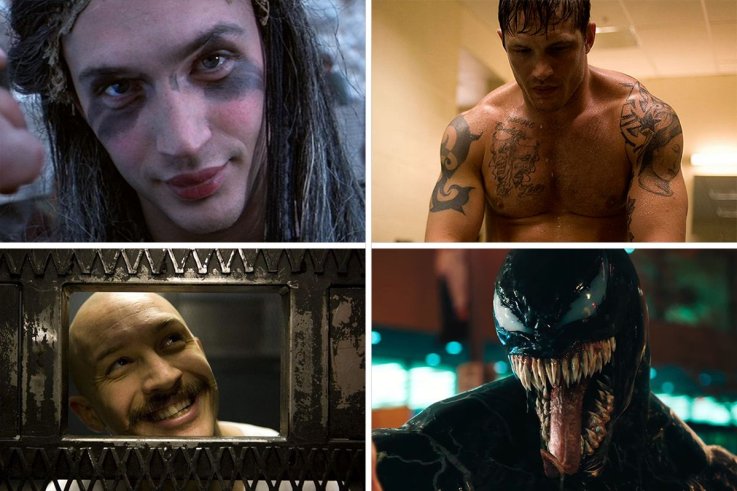 Reviewers have not been kind to Tom Hardy's latest movie, the Marvel comic book adaptation Venom. Since its release earlier this month, critics have variously labeled it "tone-deaf," "drab," and "baffling."
They had a little more praise for Hardy's lead performance as the journalist-turned-alien-host, though. "Hardy makes the film sit-throughable, but only just, and only because he plays what comedy there is for all it's worth," said CJ Johnson of Australia's ABC Radio. GQ went further: "Tom Hardy [gives] a downright incredible performance as a man possessed," wrote critic Joshua Rivera.
It seems like the people behind Venom made a canny choice in casting Hardy—despite an avalanche of bad reviews, the movie pulled $205 million worldwide during its opening weekend. This runaway box office success is of course in part to the Marvel tag, but over the years Tom Hardy has proved to be a popular—and bankable—leading man.
It wasn't always this way. Back in the early 2000s, Hardy was a little-known actor and wannabe rapper living in his native England (his hip-hop mixtape from that time, Falling On Your Arse In 1999, is available online for the morbidly curious).
He made an auspicious movie debut in Ridley Scott's 2001 war thriller Black Hawk Down, but his Hollywood career didn't immediately take off. He's since spoken about his out-of-control alcohol and drug abuse during that time, later saying "I was lucky I didn't get hepatitis or Aids." He sought help for his addiction after collapsing in a pool of vomit and blood on a street in London in 2003, and celebrated 13 years of sobriety this year.
After cleaning up, he netted progressively better parts, but was often typecast as an East End bad boy. He eventually cracked Hollywood in 2011, playing a U.S. marine in the sports drama Warrior. Since then, he's starred in a number of hits, from The Dark Knight Rises in 2012 to 2017's Dunkirk. So where does Venom sit in his career trajectory?
Using data from movie review aggregation websites Metacritic, Rotten Tomatoes and IMDb, we've ranked all of his movies (which received enough reviews), tracking his wide-ranging career from Brit flick mobster to Hollywood icon.