Ranked: The U.S. Cities With the Longest Commute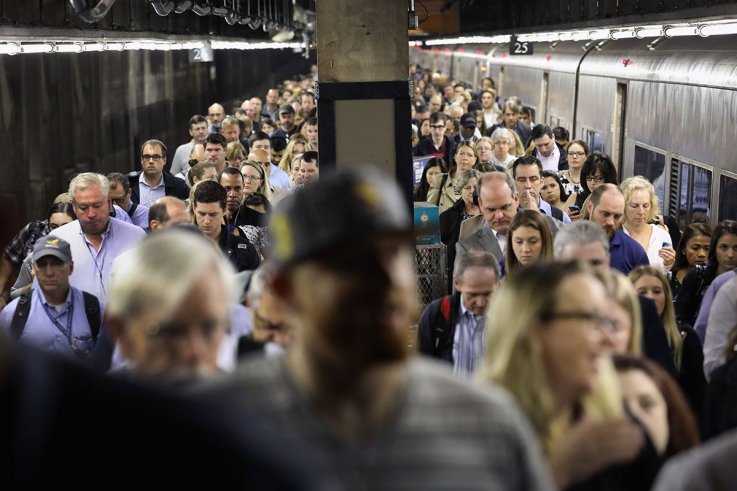 The average American spends on average 26.9 minutes commuting each way to work, according to the U.S. Census—a number which is only growing. Ten years ago, that number was 25.3 minutes each way.
This spells bad news for the nation's health. Non-active commuting, such as driving or catching public transportation, has been linked to higher stress, less happiness and less daily physical activity. That's according to a report looking at British commuters from the Royal Society for Public Health (RSPH).
The report found that 29 percent of people thought their commute made them eat more fast food, while 44 percent felt that it meant they spent less time with family. Some 36 percent also felt that their commute was linked to getting less sleep.
British people face a longer average commute than Americans. Londoners spend an average of 79 minutes commuting one way to work, more than any U.S. city.
But although the U.S. may not have such a stressful commute as the U.K., where you live will still affect the amount of time you spend getting to work.
The U.S. Census tracks commuting time by metro area, and found that, despite its traffic-clogged reputation, no California city is in the top three for longest mean travel time to work.
The number one spot goes to East Stroudsburg, Pennsylvania. A number of the town's residents make the 80 mile commute on the I-80 to New York, while enjoying the cheaper house prices of the small Pennsylvanian city. But this has increased traffic along the highway, causing jams during rush hour. This long journey also explains why nobody surveyed cycled to work.
New Yorkers faced the second-longest commute, with over 30 percent of people opting to use public transport. A fairly large proportion of New Yorkers also walk to work, at almost six percent.
From East Stroudsburg to Olympia, WA, these are the fifty U.S. cities with the longest commutes.