Rape Survivor Sues William Jewell College, Claims She Was Threatened With Expulsion If She Spoke Out
A former William Jewell College student has filed a lawsuit against the school, alleging she was threatened with expulsion if she spoke out about being raped by a former football player.
Prior to the incident outlined in the lawsuit, William Jewell College, a private liberal arts college in Liberty, Missouri, allegedly had knowledge of the player's previous sexual misconduct. However, it contended officials acted with "deliberate indifference" to the risk he posed to female students.
Similarly to Bailey Kowalski, a former Michigan State University student who went public in April with claims she was discouraged from reporting her rape because it involved student-athletes, the former William Jewell College student's name was withheld from the suit. Kowalski was referred to as "Jane Doe" in her suit, and the former William Jewell College student was given the alias "A.P."
The athlete, identified in the suit as Z.P., was recruited to play football at the Missouri college for the 2017-2018 school year and the two were assigned to the same dormitory.
What Allegedly Happened That Night
Late on September 30, 2017, or early on October 1, 2017, A.P. and her roommate were outside their dormitory when they saw Z.P., who gave her a "big hug," which the lawsuit claimed was "unexpected" and "unwelcomed."
Z.P. allegedly followed A.P. and her roommate to their room and sat on her bed while she sat with her roommate on the floor. After eating, she climbed onto her bed, wrapped herself in a blanket and the three college students watched a movie. On numerous occasions, the lawsuit alleged, her roommate heard her tell Z.P. she was not interested in having sexual intercourse with him.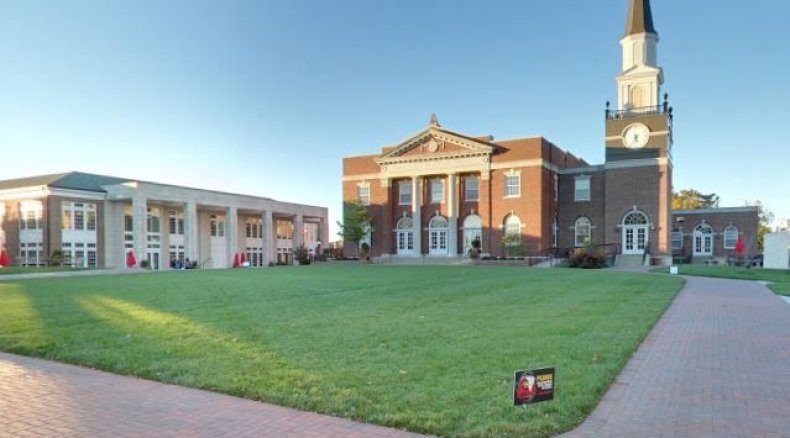 A.P. fell asleep while watching the movie and when she woke up, she was undressed and Z.P. was having vaginal intercourse with her.
"Plaintiff came in and out of consciousness multiple times throughout this sexual assault and every time yelled out 'NO! STOP! I DON'T WANT THIS!' and during her last state of consciousness saw Z.P. using her shirt to wipe semen off himself and Plaintiff," the lawsuit stated.
Throughout the assault, A.P. reportedly attempted to shove Z.P. off, but was unsuccessful, partly due to his size and strength.
Although a Resident Assistant was instructed to check each dormitory room around midnight or 1 a.m., the lawsuit claimed the policy was only enforced for about a week.
The Aftermath
In the morning, A.P. went to Liberty Hospital and had a sexual assault forensic examination, commonly called a "rape kit." About three days later, she reported the incident to the local police department.
After she told two professors about the assault, the professors emailed WJC's Anti-Harassment Coordinator/Title IX Coordinator Andrew Pratt. Z.P. was placed on Partial Interim Suspension, terms of which included not participating in school-sponsored activities and moving to an off-campus apartment.
A violation of his Partial Interim Suspension prompted Full Interim Suspension, and ultimately Z.P. was permanently expelled and fined $2,000. The $2,000 was available to A.P. for mental health treatment, but, the lawsuit contended she needed to seek permission to use it and the school would have access to her medical records in connection with the treatment.
A.P. was also allegedly informed that if she spoke out about her experience, she also could face expulsion.
"Plaintiff was also advised that she was not allowed to speak to anyone about the rape or WJC's investigation and handling of the rape, as it would be considered retaliation, and grounds for dismissal from WJC if she spoke to anyone other than a therapist or medical professional about the rape," the lawsuit claimed.
Cara Dahlor, Director of Marketing for William Jewell College, denied A.P.'s claim she was threatened with expulsion if she spoke out about the sexual assault. Dahlor called contrary allegations "categorically false."
"With respect to the incidents referenced in the lawsuit, the College is confident that it acted responsibly and in compliance with the law," Dahlor said.
As a result of how the school handled the situation, A.P. decided not to return to the Missouri college.
Z.P.'s Alleged Prior Misconduct
The lawsuit alleged that Z.P. committed an "unauthorized sexual act" with a young woman during his senior year of high school. He completed his secondary education in an alternative setting. According to the suit, William Jewell administrators never inquired as to why he failed to complete his education on the high school campus.
About 20 days before the alleged rape occurred, the lawsuit claimed Z.P. filmed two individuals having sexual intercourse through a dormitory window. Along with sending it to the parties involved, Z.P. allegedly sent the video to several football palyers and other students.
The School's Response to the Suit
In an official statement to Newsweek, the school noted privacy laws limited their ability to comment on specifics but said "safety and security" of students is the school's top priority. Along with a "comprehensive Title IX program," to guide the school's response to incidents and allegations, William Jewell College said it also offers support to students and training for faculty and staff.
"William Jewell College believes we all have a responsibility to work every day to eliminate sexual misconduct from our campus and maintain a safe and healthy environment," the school said.
The lawsuit sought monetary damages of $75,000 and attorney's fees. Dahlor said the school was not served with the suit, yet, and will file a response if they are.