'I was Raped and Trafficked—Now I'm Studying Law to Go After my Attackers'
I had a pretty happy childhood growing up in Nepal, together with my father, mother and baby brother, until I was about eight years old. Then my little brother became very ill, so ill that he eventually died. He was just one year old. My mother was inconsolable; I remember that she kept crying and crying. My father couldn't handle his grief, either; he often fled the house, and one day he left us altogether. From one moment to the next, everything changed. As my father had left, we no longer had any money for food, clothes or to pay the rent. My mother had to go out to work—she said she could get a job in the entertainment industry, but I had no idea what that meant.
As I was her only child, she didn't want to leave me at home alone; she was scared that something would happen to me. After school, I had to go to her workplace—she called it a restaurant—and wait until she'd finished. I didn't like it there, the atmosphere of the place, the people who went there, but I had nowhere else to go. Usually, we'd only get home late in the evening. At that time my mother was getting drunk more and more frequently, and she didn't care for me properly. I felt lonely; I didn't have any brothers or sisters, or any friends.
One day, when I was eleven years old, I was raped by a client. When I came round, everything in my body hurt so much that I could hardly walk. I went home on my own and cried for days, of pain and sorrow. There was no one to comfort me; my mother was at work, and anyway, I didn't tell her—or anyone—what had happened. What's more, she was always drunk and hit me regularly.
After I was raped, I didn't go to school for a while; I didn't want anything. And I was afraid. Afraid of the man who'd raped me, afraid of all the boys and men in the street. I couldn't look at them without thinking of what had happened to me. I saw every man as a potential rapist. I was in an increasingly bad way, I got depressed and felt guilty, but no one cared for me. Most of all, I wanted to run away from home, but where could I go? I had no family, no friends, no one.
My mother kept working at the restaurant, but I didn't want to go there anymore. By now, I'd discovered what kind of place it was; a place where men went to have sex. But sometimes I had to go, to get something to eat – there was nothing at home.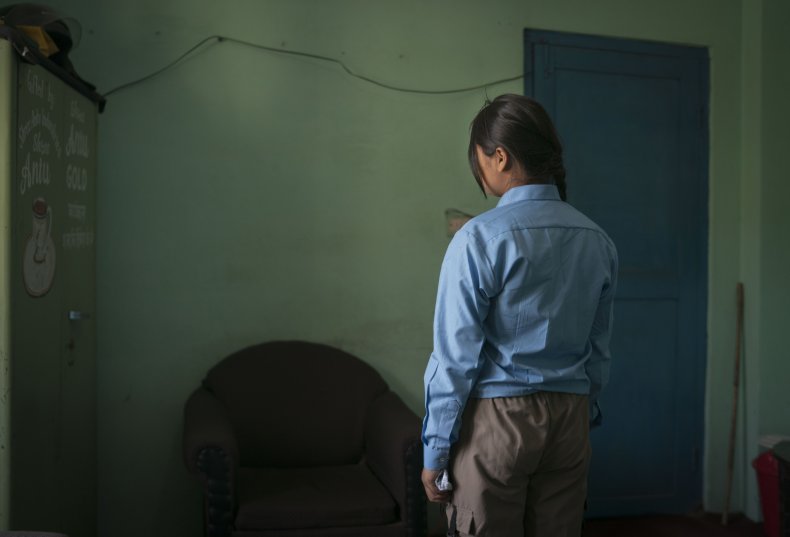 Then, my mother fell ill and had to go to hospital. I was fourteen years old, and all of the cares fell on my shoulders. Mainly money worries – money to buy food and pay the doctors. But where could I get money? I'd had no contact with my father since he'd left, and my mother's income had stopped because she was no longer working. On the grapevine, I heard about a dance bar that was looking for girls. I loved dancing, when I danced I forgot all my cares. If I could earn money that way... But the reality turned out to be different. As well as dancing, I also had to have sex with the clients. Whether I wanted to or not—my boss simply forced me to. Or he got me and the other girls drunk, so that we didn't resist too much and did what the clients wanted. Sometimes I was so dazed that I hardly knew what was happening. I was physically and emotionally numb; I was living in a haze.
For almost two years, I worked at the dance bar where I was sexually exploited. In the meantime, my mother recovered and took up her old job again. She was often getting drunk again, and depressed. At that time, I realized that I'd fallen into the same trap as my mother, and that there's no safety net to catch people in economically precarious situations. That made me feel so sad that I no longer wanted to do this, I no longer wanted my mother to have to do this.
A girl told me about Free a Girl, that they helped girls in situations like mine. One day, I gathered my courage, left the bar and went to the shelter. That was the start of a new life. I was given advice, therapy and medical help. People paid attention to me and looked after me. Now there is a rhythm to my days, I'm going to school again. And I'm doing a work placement at the police station, as a paralegal. I'm learning a lot there. Every day, I feel more self-confident and I believe in myself again. I've left my old life behind and I'm looking to the future again.
I want to keep studying. A good education is so important, so you can be independent and support yourself, and have a better life. I want that for my mother, too. I know she's ashamed of herself. She must leave the dreadful sex industry, and the trade in minor girls has to stop. That's why I'm studying law and want to become a lawyer. I want to fight for others, for justice and the rule of law.
I haven't taken legal action against my boss. Not yet; the past is still very painful for me, it will take time. But the criminals who traffic minor girls and force them into prostitution must be punished. That's what I'm going to fight for; that's my goal.
I'd never dared hope that I'd study at university one day. Not during my dreadful childhood. But I've seized this opportunity with both hands. As a lawyer, I will focus on making young girls aware of and informing them about human trafficking, to prevent them from being exploited. But I will also help survivors to build a future, and above all motivate them—to make them stronger, so they're able to bring charges against the perpetrators.
I want to be an example for them and I want them to know that you can use your voice. Your voice to ask for help, and your voice to change the system. That's why it is important for the world to hear my story and learn from it.
Renuka Sherpa is the pseudonym of a first-year law school student in Nepal. Her true name is being withheld for her own safety.
The views expressed in this article are the author's own.