Rape, Underage Sex, Forced Marriage, Abuse. That's the Plight of Too Many Afghan Girls
Sahar was only 10 years old when she was forced to marry an older man.
Her father agreed to "trade" her in what is known in Afghan culture as " Badal " so he could have a second wife.
Her husband stopped her from going to school, starved and beat her.
Lina has a similar story, but it stretches back much longer.
Her uncle forced her to marry her cousin when she was just ten years old. After 30 years of abuse, she managed to escape, but Afghanistan's laws mean that she must now wait three more years to be able to divorce him.
Both Sahar, now 14, and Lina, now 43, managed to flee to the emergency women's shelter my organisation runs in Kabul and are both recovering along with nearly 200 others.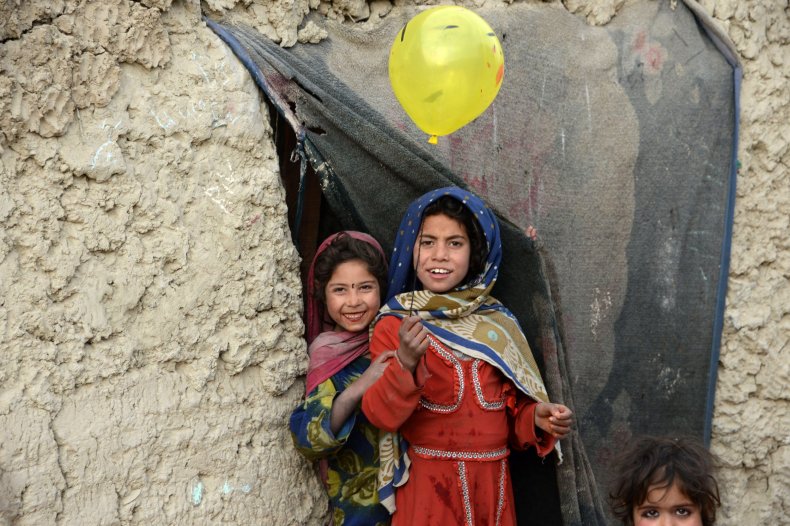 Afghanistan is one of the most dangerous countries in the world to be a woman. Women face violence and abuse in many different ways - in public life and in our homes.
After decades of being influenced by external forces - including invasions by the U.S. and Russia, which were supposed to "liberate" us - it is time that we take charge and fuel change from within, and that our government makes some major steps forward for women and girls.
One of the most fundamental changes we need is for the trading of Afghan girls under the guise of "child marriage" to be banned. The legal minimum age of marriage is currently 16 years, but this is rarely adhered to and girls as young as 12 are married off if they "look like they are old enough." Only 15 percent of our girls are educated and 60 percent are married off by age 16.
The minimum age should be increased to the international standard of 18. Anyone - including family members - who forces a girl to marry below this age should be arrested. This would make clear that girls are of equal value to boys and should not be treated as commodities.
Another issue we deal with at our shelter is that women have to wait three years to get divorced after abusive marriages. This can be highly distressing and means that women who have often been victims of violence need to put their lives on hold until the government permits them to move on.
The Afghan government also needs to make sure that women who flee violence to safe spaces should not be further victimized. Regulation 1133 of the Supreme Court of Afghanistan states that it is not a crime for a person to run away from home to escape violence to stay with a close relative, an NGO or after approaching a government entity - when no sexual activity takes place.
However, in such highly-charged situations where women flee violence, they often stay elsewhere such as in a hotel - and are punished if they do so. This is completely unfair and further victimizes women who are often in desperate situations.
Stalking is also growing in prevalence and has also yet to be defined and outlawed in Afghan law. A draft law was recently passed but it needs to be strengthened to include both definitions and punishments.
When a case is brought forward of any form of violence against women it should be continued - even when the plaintiff "drops" it. It may sound beneficial to female victims of violence to be able to drop a case, but the reality is that she is often pressurized to drop it by the culprit himself or by family members.
Instead, she should be seen as a potential victim and given adequate protection. This includes those instances when a victim does not make a formal request but when there is enough evidence to start an investigation.
Existing violence against women laws should be properly enforced, too. A woman can face huge obstacles when bringing a case against a perpetrator. Those who commit acts of violence against women are usually not punished and can find a way out. I know of several cases where judges are bribed, or are simply afraid of judging against a culprit who belongs to a powerful party.
The whole Afghan legal system needs to be comprehensively improved. Professional lawyers and judges should be hired in courts and in the judiciary. Higher priority should be given to cases of violence against women and a clause for moral crimes should be included in the existing violence against women law.
Female survivors of violence should be supported when reintegrating into their communities. They need training, job opportunities, psycho-social assistance and educational facilities.
We should have a national awareness programme on ending violence against women, aimed at students, mullahs and religious authorities in particular.
Finally, government funding of shelters like the one we run in Kabul should be increased and made sustainable. We had a crisis earlier this year when funding was stopped for a time. We cannot afford for that to happen again and for the hundreds of girls and women we help to be potentially put in harm's way.
Afghanistan can become a safer place, but only if our government gets behind us and makes sure that women and girls like Sahar and Lina no longer have to live in fear.
Enduring decades of war - the longest in U.S. history - has certainly not liberated us. We will have to do that ourselves.
Shafiqa Noori is Executive Director of the Humanitarian Assistance for the Women and Children of Afghanistan (HAWCA), the Afghan partner of international group Donor Direct Action.