Rape Victim Faces 20-Year Charge After Giving Birth to Her Abuser's Baby
A rape victim in El Salvador is facing an attempted murder charge after giving birth to her abuser's baby in a latrine near the city of San Miguel.
Imelda Cortez, now 20 years old, was arrested in April 2017 after giving birth to a daughter fathered by her abusive elderly stepfather, according to The Guardian.
She was rushed to hospital having been found bleeding and in severe pain when she was 18. Medical personnel suspected it was a result of an attempted abortion—all forms of which are illegal in El Salvador—and called the police. The baby was found healthy and alive.
Cortez said she had been abused by her stepfather since she was 12 years old, and claimed not to even have known she was pregnant. She was charged with attempted murder, denied bail and sent to jail after a week of treatment in hospital. Judges will decide Cortez's fate this week, Reuters noted.
Salvadorian women continue to suffer under restrictive and persecutorial laws. Often, impoverished single women from rural areas are convicted with little evidence after complications such as miscarriage or stillbirth.
Activists are campaigning for a change to abortion laws in the Central American country, but a recent push to overhaul the legislation before a new conservative government took office in May was unsuccessful, The Washington Post reported.
Prosecutors first alleged that Cortez had fabricated the abuse to cover for her criminal abortion attempt, but a DNA test later confirmed that her stepfather was responsible for the pregnancy. He has not yet been charged over the abuse.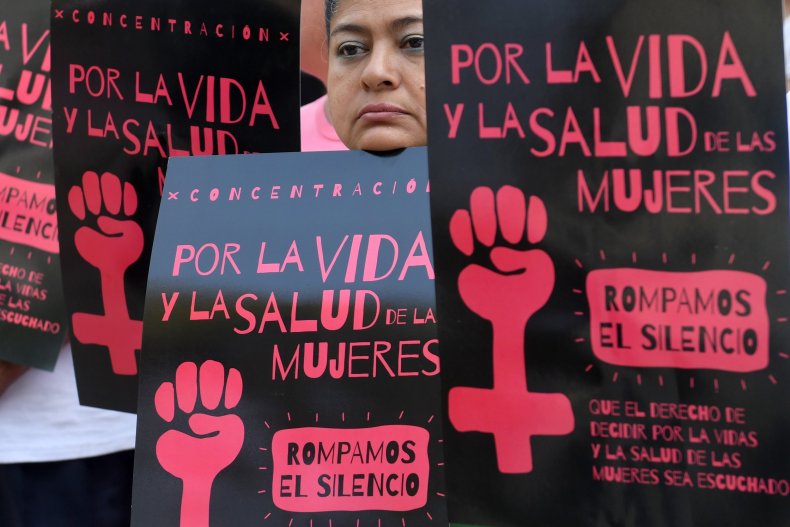 A psychological evaluation of Cortez discovered cognitive and emotional deficits suggesting the 20 year old had suffered from abuse and trauma. However, she has been given no psychological support during her 18 months in detention.
While Cortez was being treated in hospital, a witness told a nurse they had overheard the stepfather visiting. He reportedly threatened to kill Cortez, her mother and her siblings if she reported the abuse. The nurse then called the police to pass on the report.
Cortez's trial opens today with a ruling from the three sitting judges expected within the coming week, The Guardian reported.
One of her lawyers, Bertha María Deleón, called the case "the most extreme, scandalous injustice against a woman I've ever seen." Deleón argued that the state "has repeatedly violated Imelda's rights as a victim; she's deeply affected but denied psychological attention."
Another one of her lawyers, Alejandra Romero, told Reuters: "Imelda is despondent. Her case could go either way." Romero said her client should be set free "if the judge is objective and looks at the evidence, which doesn't show she harmed her child and committed a crime."