'Raped or Not' Dutch TV Show to Air Despite Hollywood's Ongoing Sexual Assault Scandals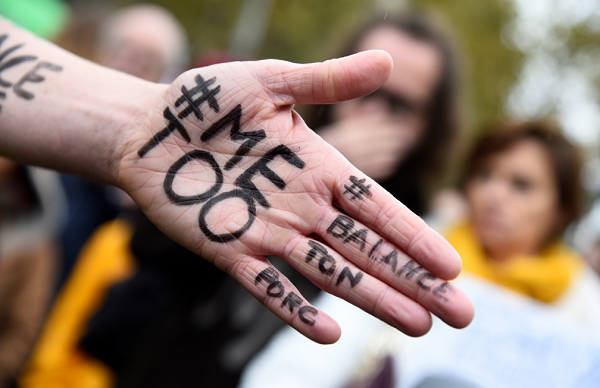 Just weeks after dozens of women and men in Hollywood came forward with sexual assault and harassment claims against high-profile producers, directors and actors like Harvey Weinstein, James Toback and Kevin Spacey, a Dutch TV network announced it would air a new series titled Raped or Not.
Airing on broadcast network BNNVARA, the series will discuss court cases based on true acts of sexual misconduct and have 14 panelists discuss the rulings.
The series, which is set to air on Tuesday, sparked instant outrage across the Netherlands, with many disapproving of the show's title. A number of people also took offense to the timing of the series, which comes after millions of women started sharing their own stories of rape and sexual harassment on social media with the now-viral hashtag #MeToo.
Series' producer Bernard van den Bosch told The Sun that the multitude of sex scandals coming out of Hollywood prove that the topic of sexual assault is a "nuance" subject. He noted that the show's "in your face title" is what viewers are most likely upset about. Also, Raped or Not was slated to premiere in November long before Hollywood's scandals started making headlines.
"First everyone raised their eyebrows. Now everybody says: 'What timing,'" he told The Sun on Thursday.
Despite the title, Van den Bosch believes that the show can shed light on how people determine the difference between rape and consensual sex.
Van den Bosch gave the example of two Dutch male TV producers, Jelle Brandt Corstius and Gijs van Dam, who recently went to trial on rape allegations, as the type of situations panelists on Rape or Not would be discussing.
After #MeToo started to trend, Brandt Corstius wrote for the Dutch newspaper Trouw about a sexual assault he said he experienced. Although he didn't initially list the name of his abuser in the article, which was published on October 23, just a few days later producer van Dam told Dutch TV program Pauw that he was the man Brandt Corstius was referring to.
However, van Dam recalled their sexual encounter, which occurred years prior, as being completely consensual and said that he decided to come forward with his side of the story because he was being "executed extensively on the basis of a lie," according to Dutch news site Nu.Nl.
"One says rape, the other sees it as an innocent sexual encounter. Our show is about that grey area," he said.