Raphael Warnck Dodges Supreme Court Packing Question Twice
Democrat Reverend Raphael Warnock dodged a question about whether he supports packing the Supreme Court twice in his debate against Republican Senator Kelly Loeffler of Georgia on Sunday night.
The two crucial Georgia runoff elections, set to take place on January 5 with early voting starting on December 14, will determine control of the Senate and President-elect Joe Biden's ability to implement a Democratic agenda.
"If Democrats do win control of the Senate, there will be pressure to increase the size of the U.S. Supreme Court, would you support adding more Justices to the Supreme Court to offset President Trump's recent appointments?" a moderator asked Warnock.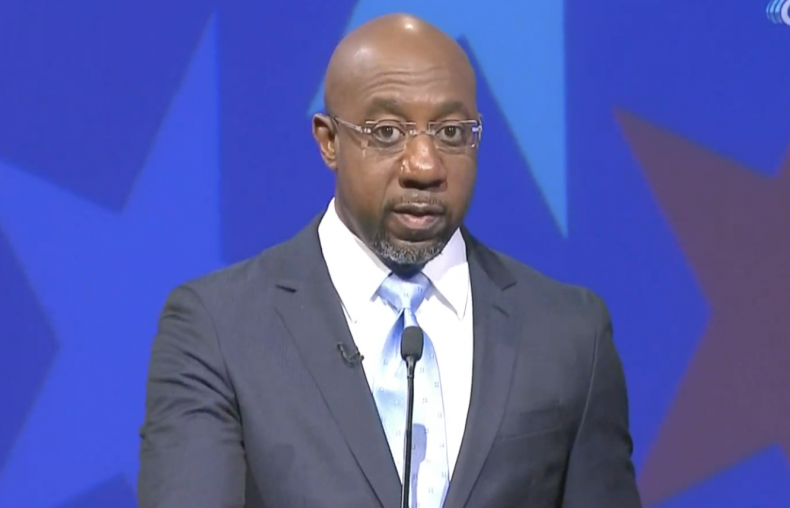 The Democrat declined to answer directly. Instead, he insisted that the issue was not of great concern to most ordinary Georgians outside of Washington D.C. "As I move on across the state, people aren't asking me about the courts and whether we should expand the courts. I know that's an interesting question for people inside the beltway to discuss," he said.
"They're wondering when in the world they're going to get some COVID-19 relief. They haven't gotten any from Kelly Loeffler in months."
The moderator responded by saying that changes to the Supreme Court would impact people on the ground, before asking again, "Do you support expanding the Supreme Court?"
"I'm really not focused on it," Warnock said. "I think that too often the politics in Washington has been about the politicians."
"I'm a pastor and so when I think about these issues, I think about the people I've had to stand with in the critical care units while their loved ones were dying, and not only are they concerned about the sickness, they're wondering how in the world they're going to pay for it."
Newsweek reached out to Warnock for further comment.
Meanwhile, in the other Georgia Senate debate, Democrat Jon Ossoff stood on the stage alone Sunday evening and debated an empty podium for about half an hour after Republican incumbent David Perdue pulled out of the debate.
"This is a strange situation," he said on stage. Ossoff then proceeded to ask the empty podium—which moderator Russ Spencer had introduced as Perdue—some tough questions about the incumbent's refusal to support extending unemployment benefits.
Democrats, who hold a slim majority in the House, will need to win both Senate races for a 50-50 split. If they succeed, Vice President Kamala Harris would cast the tie-breaking vote after Biden's inauguration in January.