Following his projected win in Georgia's Senate runoff race, Democrat Raphael Warnock criticized incumbent Republican Kelly Loeffler's plan to object to the electoral vote certification on Wednesday.
During an interview on CNN, anchor John Berman asked if Warnock thought it was appropriate for Loeffler to join other Republicans in an attempt to block electoral votes.
"Well, I think that Kelly Loeffler has been consistent," Warnock responded. "She has consistently put what she perceives to be her own short-term political interest over the concerns of ordinary people.
"And the people of Georgia rose up and they rebuked that last night," Warnock continued.
Warnock was declared the projected winner in Georgia's runoff election on early Wednesday morning. NBC News called the race for Warnock just before 2 a.m. EST, giving the Democrats one more seat in the Senate. Shortly after, other media outlets also called the race in Warnock's favor, including the Associated Press, CNN and Fox News.
With 98 percent of the votes counted, Warnock led Loeffler by 50.5 percent to 49.5 percent.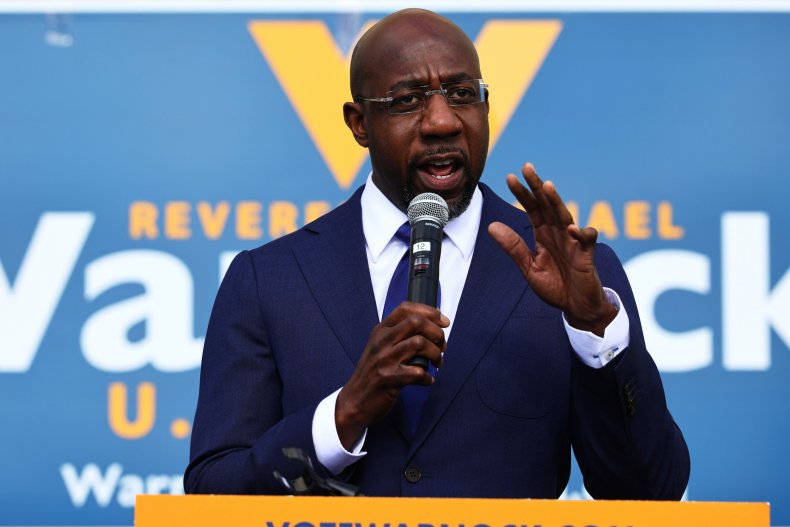 Loeffler announced on Monday that she would join multiple Republicans in challenging the results of the Electoral College with the hopes of reversing the results of the November presidential election in President Donald Trump's favor.
"The American people deserve a platform in Congress, permitted under the Constitution, to have election issues presented so that they can be addressed," Loffler said in a January 4 statement.
"That's why, on January 6th, I will vote to give President Trump and the American people the fair hearing they deserve and support the objection to the Electoral College certification process," she added. "We must restore trust, confidence and integrity in our election system."
Congress, in what is typically a ceremonial procedure, will count the electoral votes on Wednesday with Vice President Mike Pence presiding over the joint session. The vice president's role, however, is "largely pro forma", meaning "for the sake of form," according to the AP.
If one member of the House and the Senate object to certifying a state's electoral vote, the chambers separate and debate for two hours to consider the objection. For an objection to move forward, both chambers have to agree to it by a majority vote, which is unlikely to happen since Democrats control the House. If they don't agree, the original electoral votes are counted.
"What's unfolding in this moment is a distraction," said Warnock during his Monday interview. "It's a distraction and the Senators know better."
The Democrat added that people across Georgia are more concerned about receiving adequate COVID-19 relief, and the squabble in Congress is not helping those people.
"The politicians are focused on their concerns," Warnock said. "Meanwhile, too many ordinary working people are losing."
Newsweek reached out to Warnock and Loeffler's offices, but didn't hear back in time for publication.