Raphael Warnock May Become 11th Black Senator in Georgia Cliffhanger Shaped by Trump
Democrat Reverend Raphael Warnock, a first-time political candidate, is currently poised to defeat incumbent Republican Georgia Senator Kelly Loeffler in Georgia's special election.
Warnock and Loeffler went head to head in the special election after neither candidate obtained over 50 percent of the vote in the November election. Both President-elect Joe Biden and President Donald Trump campaigned for their party's candidates in the days leading up to the election. Trump has criticized the election process in Georgia, baselessly claiming that widespread voter fraud in the state helped Biden win.
As of 12:30 a.m. EST on January 6, the Associated Press reported Warnock with 50.4 percent of the state vote, garnering a total of 2,206,858 ballots. Loeffler trailed with 49.6 percent of the vote and a total of 2,171,156 ballots. As of this writing, 97 percent of Georgia's precincts had reported results. The election between incumbent Senator David Perdue and Democrat Jon Ossoff is neck and neck as of this writing with both candidates receiving 50 percent of the vote.
Both Republicans and Democrats are keenly interested in the outcome of the race. If Democrats win both of Georgia's Senate seats, they will split the Senate evenly with Republicans. In the case of a tie vote, Democrat Vice President-elect Kamala Harris will be in charge of casting the tie-breaking vote. Republicans only need to win one of Georgia's Senate seats to hold a majority in the Senate.
In a joint statement with fellow Republican Senator David Perdue, Loeffler said Tuesday that the Georgia Senate election "could come down to the difference of just a few votes in a few precincts across the state."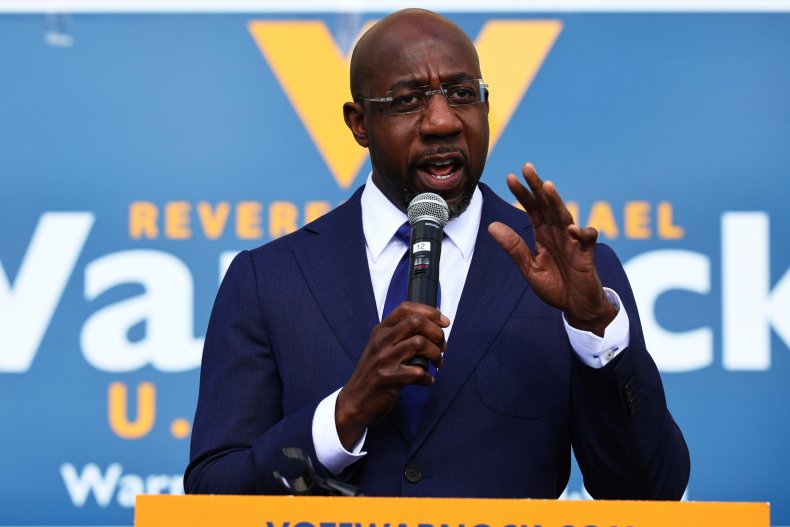 If Warnock wins, he would become Georgia's first Black senator and only the 11th Black senator in American history. Newsweek reached out to Warnock's campaign for comment.
During a Tuesday campaign event on behalf of Loeffler and Perdue, Trump reiterated allegations of voter fraud.
"There's no way we lost Georgia, there's no way," Trump said. "That was a rigged election and we're still fighting it and you'll see what's going to happen."
Trump's allegations that Democrats in Georgia rigged the elections may have kept some Republicans away from the polls. Trump has also strongly criticized Georgia's Republican Governor Brian Kemp and Secretary of State Brad Raffensperger for not assisting him in reversing the state's electoral votes.
"I'll be here in about a year and a half campaigning against your governor, I guarantee you that," Trump said Monday.
At this point, some Georgia counties still have absentee ballots and early in-person votes to count. Those are not expected to be tallied until sometime Wednesday. Ballots from overseas and members of the military are not expected to be tallied until Friday.
All Georgia counties are required to certify their Senate election results by January 15. Statewide results must be certified by Raffensperger by the deadline of January 22.