Georgia 'Technical Issues' Mean 19,000 DeKalb Votes Need Manual Scanning
The confirmation of one of the next senators of Georgia has been delayed by a technical issue in DeKalb County, which means the remaining 19,000 ballots must be manually scanned.
DeKalb County, a largely African-American suburb of Atlanta, skews heavily towards the Democrats.
Democrat Reverend Raphael Warnock, a first-time political candidate, looks set to defeat incumbent Republican Senator Kelly Loeffler to become the first Black senator of Georgia, and only the 11th Black senator in America's history.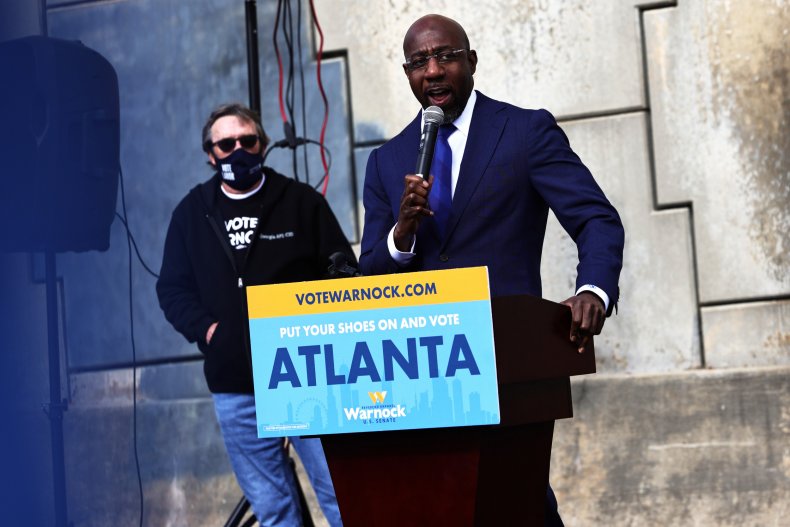 "Due to technical issues, the remaining 19,000 ballots must be manually scanned in order to be tabulated and added to the total vote count," Erica Hamilton, the county's voter registration and elections director, said in a statement.
"Georgia's voting systems provides built-in safeguards, in the form of paper ballots, that allow us to quickly process ballots that are electronically cast. These outstanding paper ballots are currently scanned and the tabulation will be completed as quickly as possible and in compliance with state guidelines."
As of 12:30 a.m. EST on January 6, the two candidates were separated by less than a percentage point, with Associated Press reporting Warnock had taken 50.4 percent of the state vote, a total of 2,206,858 ballots, while Loeffler trailed with 49.6 percent, a total of 2,171,156 ballots.
Warnock delivered a livestream address in the early hours of Wednesday morning, as he inched past Loeffler in the count, which hinted of a victory speech.
"We were told that we couldn't win this election, but tonight, we proved that with hope, hard work, and the people by our side, anything is possible," Warnock said. "So Georgia, I am honored by the faith that you have shown in me. And I promise you this tonight: I am going to the Senate to work for all of Georgia."
However, Loeffler showed no sign of conceding. The senator made her own comments at the same time as Warnock spoke, stating: "We're going to win this election."
Both President Trump and President-elect Joe Biden have campaigned for their respective parties in the race.
Trump used a campaign rally Tuesday to reiterate claims of voter fraud, familiar from his defeat in November's national election.
"There's no way we lost Georgia, there's no way," Trump said. "That was a rigged election and we're still fighting it and you'll see what's going to happen."
It is not known how long the manual scanning of the remaining ballots will take. Newsweek has contacted DeKalb County election officials for comment.
In Georgia's other senatorial race, Democract Jon Ossoff is ahead of incumbent Republican senator David Perdue by less than 15,000 votes, with 98 percent of voting precincts reporting, according to Associated Press. At the last count, Ossoff had 2,205,082 votes, or 50.1 percent of the total, while Perdue had 2,192,276, or 49.9 percent.