Georgia Seat Called for Raphael Warnock
Raphael Warnock will represent Georgia in the U.S. Senate for the next two years following a close runoff election on Tuesday, according to multiple networks.
NBC called the race for the Warnock just before 2 a.m. ET, giving Democrats one more seat in the Senate. With 98 percent of the votes counted, Warnock led Republican Kelly Loeffler by 50.5 percent to 49.5 percent.
Shortly after NBC, others also called the race for Warnock, including The Associated Press, CNN, and Fox News.
The race between Loeffler and Warnock has been close since the 2020 general election. Neither candidate received 50 percent of the votes on November 3, the percentage needed to win in Georgia.
Competing against 18 other candidates in the general election, Warnock received nearly 33 percent of the votes cast while Loeffler received just shy of 26 percent. Those vote tallies pushed Loeffler and Warnock into Tuesday's runoff election.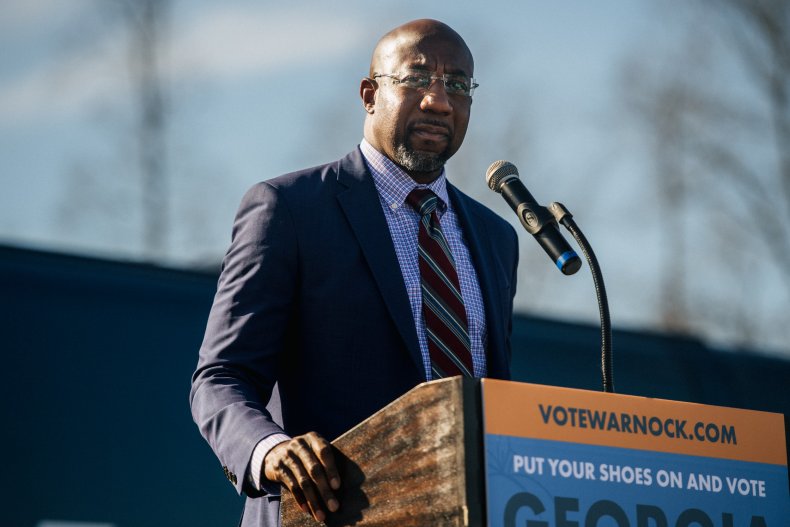 "We were told that we couldn't win this election," Warnock said in a virtual victory speech Tuesday night. "But tonight, we proved that with hope, hard work and the people by our side, anything is possible. May my story be an inspiration to some young person who is trying to grasp and grab hold of the American Dream."
Loeffler entered the race as one of Georgia's two incumbent Republican senators. Georgia Governor Brian Kemp appointed her to fill former Senator Johnny Isakson's seat after he retired in 2019, and she officially stepped into the role in early 2020.
Forbes reported last year that Loeffler potentially entered the Senate as its richest member, with Loeffler and her husband's net worth estimated to be about $800 million.
Warnock is the senior pastor at Atlanta's Ebenezer Baptist Church, the same church in which Martin Luther King, Jr. was once a co-pastor alongside his father.
The pastor announced his intent to run against Loeffler less than a month after she was sworn into office.
While President Donald Trump and Vice President Mike Pence have both campaigned in Georgia in recent weeks on behalf of Loeffler, so too have President-elect Joe Biden and Vice President-elect Kamala Harris on behalf of Warnock.
Recent polls conducted ahead of Tuesday's election showed a close race between Loeffler and Warnock.
A SurveyUSA poll conducted in mid-December said Warnock had a seven-point lead over Loeffler, but a Gravis Marketing poll conducted in late December found Warnock just two points ahead, while an Insider Advantage poll conducted among likely voters on January 3 said Loeffler was leading by one point.
According to polling averages compiled by FiveThirtyEight, Warnock had a two-point lead over Loeffler with one day remaining before Tuesday's runoff election.
Georgia is typically viewed as a red state, but Biden's November win combined with the fact Loeffler and fellow Republican incumbent Senator David Perdue did not secure 50 percent of the vote during their elections threw the state's political identity into question.
Further complicating matters is the fact that the outcome of Tuesday's runoffs will determine which party controls the Senate as Biden enters the White House.
After the 2020 general election, Republicans held power in the Senate with 50 seats but needed to win at least one of Georgia's runoffs in order to retain that control.
Jon Ossoff, the Democrat running against Perdue, will also need to win in order to secure 50 seats for the Democrats and thus the majority, with Harris able to break ties as needed.
Biden congratulated Warnock in a statement shared with reporters Wednesday morning.
"I congratulate Reverend Warnock on his groundbreaking win last night and I am hopeful that when the count is complete, Jon Ossoff will also be victorious," the president-elect said. "I congratulate the people of Georgia, who turned out in record numbers once again, just as they did in November, to elect two new Senators, demand action, and call on our elected leaders to end the gridlock and move us forward as a nation."
Correction, 1/6/21, 11:08 a.m.: This story has been corrected to state that Warnock's term will be for two years rather than six as the runoff was a special election for the remainder of former Sen. Johnny Isakson's seat.
Updated 1/6/21 at 11:27 a.m.: This story has been updated to include comments from Raphael Warnock and President-elect Joe Biden.