Rapinoe: 'If It's Not Equal, There's No Deal' to End Battle Over Equal Pay With U.S. Soccer Federation
The fight for equal pay by the World Cup-winning U.S. Women's National Team (USWNT) seems to have hit a new snag, players Megan Rapinoe and Christen Press told ABC's Good Morning America and NBC's TODAY show hosts on Thursday.
"If it's not equal, there's no deal that we can get to," Rapinoe told TODAY host Savannah Guthrie. "This isn't bargaining. You either value us equally and show that or you don't."
The soccer stars' appearances came a day after negotiations between the U.S. Soccer Federation and the 28 members of the women's team reached an impasse. The players filed a gender discrimination suit against the organization in March.
When Guthrie asked if there's a particular point that was holding up the negotiation for equal pay, Press said: "I think, unfortunately, it was just the concept of paying us equally. We never even got past that. We were very hopeful in our discussions with them that they were going to take our proposals and our positions seriously, which is simply that every game that we play, we get compensated the same way a man would for playing or winning that game. And it broke down right there."
Guthrie pointed out that U.S. Soccer claims the reason for the disparity has more to do with the types of contracts that have been put in place rather than inequality on the basis of gender. Male soccer players are paid with bonuses, while female players are paid by salary.
"I think it's fair for us to ask that when we play a game and we win that game, or we tie that game, or we lose that game, that we should be paid the same as our male counterparts," Rapinoe said.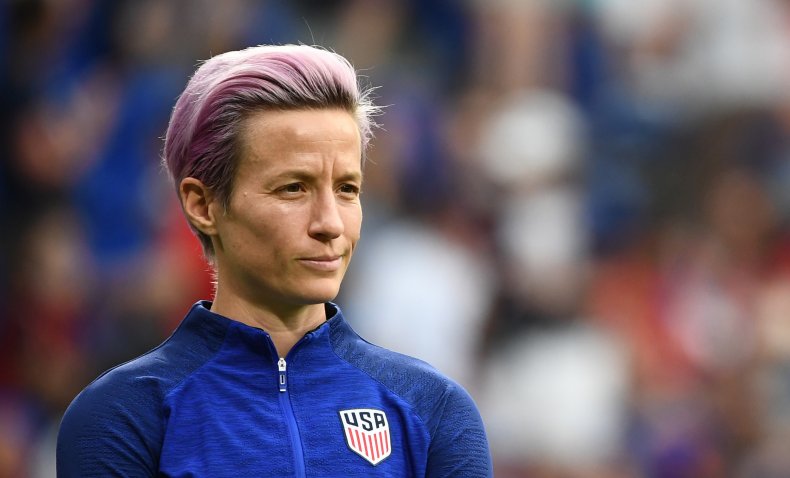 U.S. Soccer voiced its own frustrations after mediation came to a halt. According to The Wall Street Journal, U.S. Soccer spokesman Neil Buethe said "plaintiffs' counsel took an aggressive and ultimately unproductive approach that follows months of presenting misleading information to the public in an effort to perpetuate confusion."
He added: "We value our players, and have continually shown that, by providing them with compensation and support that exceeds any other women's team in the world."
Last month, Rapinoe helped the U.S. to retain their World Cup title. The 34-year-old also has been campaigning for equal pay throughout the summer and has rebuked President Donald Trump and his policies.
It was only a couple of weeks ago that Rapinoe met Democratic Washington state Senators Patty Murray and Maria Cantwell in Tacoma, Washington, to discuss equal pay.
Speaking to the senators, Rapinoe advocated equal pay not just for female athletes, but for all.
Following her meeting with Rapinoe, Cantwell tweeted about how she'd taken action to eliminate the gender pay gap among U.S. athletes.
"I've introduced a bipartisan plan to ensure equal play for Americans who represent our country in global athletic competitions, like the World Cup or the Olympics," she wrote. "Currently men and women can be paid differently for representing Team USA in the same sport."
Press did not suggest that she or her teammates would attempt to use Olympic participation as leverage in the dispute. Using the World Cup as a recent example, she referenced the team's demonstrated ability to separate such issues from on-field performance.