Rapper/Actor Common: A Trump Presidency Would Return U.S. to 'Slave Days'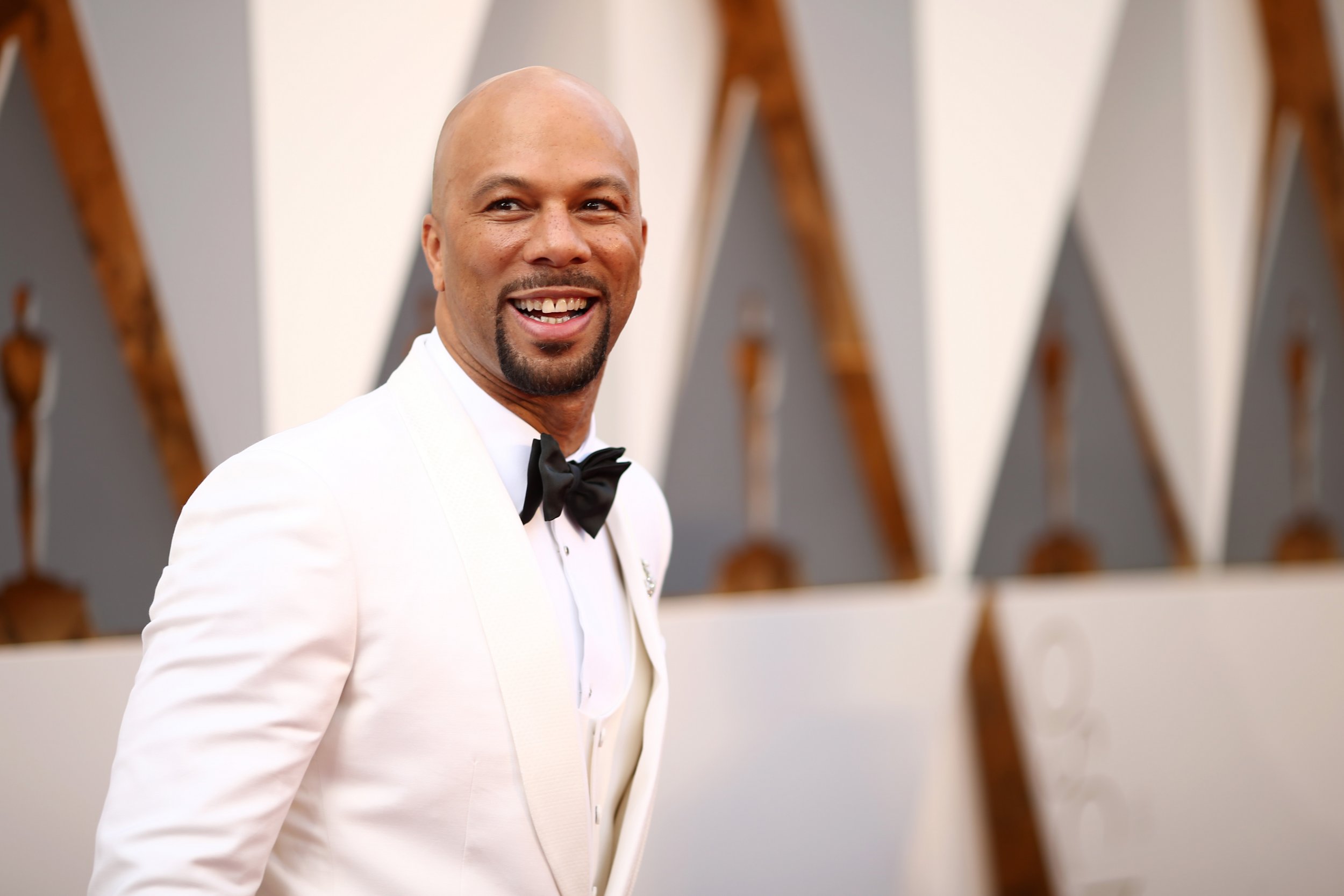 Rapper and actor Common believes that should Donald Trump be elected U.S. president in November, then America risks being transported back to a time when slavery was considered acceptable.
"America wouldn't be taking a step back… we'd be taking 12 steps back [if Trump becomes president]," the Chicago-born musician and activist tells Newsweek. "It would be returning to some of the mentality of racism we've seen in the mid-Sixties, in the civil rights era. It would be returning to some of the actual racism that existed in slave days."
Republican candidate Trump's controversial remarks during his presidential campaign have offended, among others, women, Muslims and Mexicans, and detractors fear he could divide the country.
Common, 44, has often spoken out on social issues and has publicly backed Black Lives Matter—he praised the girlfriend of police shooting victim Philando Castile at the BET Hip Hop Honors last month. He also starred in the Oscar-nominated Selma, chronicling Martin Luther King's voting rights marches in 1965, and with John Legend won Best Original Song for that film's "Glory" at the Academy Awards in February 2015.
"There's a certain mentality that is being put out there [by Trump's campaign] that it doesn't seem like it's for [the good of] everybody," explains Common. "It doesn't seem like the intention is to unite people. It is part of the racist mentality that we in America don't want to be part of, that we're tired of and want to get rid of."
Unsurprisingly, then, the artist says he will be voting for Trump's rival in the November election: Democrat candidate Hillary Clinton.
"My hopes and beliefs are that Hillary Clinton can be elected. I feel like having a woman as president is needed at this point," says Common. "Let's bring new energy into it. Our president [Barack Obama] has already done the best he can at getting the country going in the right direction. If Hillary can continue that movement and make things better for the country… that's my hope. I'm speaking up for Hillary because we can't allow Trump to get into office. That's not acceptable."
The Grammy Award-winning musician is supporting insurance firm Allstate's Quotes for Education campaign, which pledges to donate up to $250,000 to fund scholarships for students attending historically black colleges and universities (HBCUs). These schools, created before 1964, gave African-Americans an opportunity for higher education during segregation. They continue to afford opportunities to students of all races. It is a cause close to Common's heart as he himself attended a historically black college, Florida A&M University, where he majored in business administration.
He credits his mother, Dr. Mahalia Hines, a fellow HBCU graduate-turned-educator, with instilling in him the importance of education while he was growing up in the South Side of Chicago.
"My mother made sure I excelled in school. That gave me a [feeling] of hope, support and discipline. My mother really reinforced that not only with me but with a lot of her other students—she supported them in developing."
Common is backing the Quotes for Education campaign to provide others with the opportunity that he had. "[We are] saying: 'Hey, we want to support you so you don't have to worry about finances.' Historical black colleges are important. Or young people in areas where it may be more difficult financially, we want to give them support and hope."
The rapper says that without scholarship schemes potentially bright students from lower incomes could miss out on important opportunities to better their education.
"I'm from Chicago and right now the violence in Chicago is at the highest it's been for a lot of years. It's definitely because of a lack of opportunities, lack of education and, in some ways, a lack of hope," Common explains. "When you don't have the support, you come from a tough neighborhood and don't have any hope, it's very easy to get caught in things that are in the wrong direction, that don't benefit you, society or your community."
This brings the conversation back to the ongoing presidential election. In May, Trump's co-campaign chair Sam Clovis outlined the party's plans for tuition fee loan reforms that would require institutions to have "more skin in the game" by being held partially responsible if a student were to default on their loan after graduating. The idea is to alleviate the burden on the federal government—the biggest lender of student finance.
However, one of the potential drawbacks of this proposal, says website GoodCall, is that colleges may be more inclined to accept students from "'safer' socioeconomic backgrounds" that are less likely to default on their loans in comparison to those from low-income families. That would then further the divide in achievement between white students and black students, which had "barely narrowed" in 50 years, according to research published in January.
For Common, the Trump campaign's position is troublesome. "That would discourage people from even wanting to go college," he warns. "Education should be a pure right. We are educating our youth so they can be better human beings, be better for society, and add to the world. It should be something that's sincere. The term 'skin in the game'... I think that mentality strays away from why we want kids to have education. We don't want universities to think selfishly."
To hear Common tell it, a Trump presidency would mean a "darker direction" for the United States. But he reasserts that the Republican candidate hasn't gotten to the last leg of the election race himself.
In September 2015, the Suicide Squad actor criticized the U.S. media for devoting endless coverage to Trump's then-fledgling campaign for ratings. He believes this fixation bolstered the businessman's platform. "I feel like the integrity of the media is gone in many areas," he said. "Don't just dwell on the spotlight and keep exploiting the popularity of him just for numbers, because eventually that's going to just mess up the situation in the country if we do. It's feeding into the big monster."
A year later, does he still believe that the media has helped Trump into the final two of the election race?
"They've definitely assisted him in becoming the popular force that he is," says Common. "Nobody was really taking him too seriously but I think the media continued to put him out there, and he gathered enough people that [want to see] separation [in the country]. They stood up. He gathered enough of those people and, along with the media, that's how he became a considerable candidate."
If Trump was elected, Common says he wouldn't "desert" America and move to, say, Canada, but adds: "We will definitely have to mobilize and figure out how do we continue self-empower? How do we continue to feed ourselves financially and socially?"
These questions cannot be answered until the next president is elected in November. Until then, Common encourages people to make a difference in their own lives for the betterment of the country rather than leave it in the hands of politicians.
"Everybody has an opportunity within us. When you say 'black lives matter' or 'I'm supporting this politician,' what is your contribution? What are you going to do?" he says. "We all have a part… I utilize my music, my voice [with speaking engagements] and I also utilize programs like Quotes for Education, which can be a positive change for the community that I come from and for young people across the board."