Rapper DMX Dies at Age 50 After Being on Life Support Following Heart Attack
After suffering a heart attack last weekend, 50-year-old rapper DMX died at White Plains Hospital in New York on Friday.
His family announced his death via their press representative.
"We are deeply saddened to announce today that our loved one, DMX, birth name of Earl Simmons, passed away at 50-years-old at White Plains Hospital with his family by his side after being placed on life support for the past few days. Earl was a warrior who fought till the very end," the statement, obtained by Pitchfork, reads.
"He loved his family with all of his heart and we cherish the times we spent with him. Earl's music inspired countless fans across the world and his iconic legacy will live on forever," it continued. "We appreciate all of the love and support during this incredibly difficult time. Please respect our privacy as we grieve the loss of our brother, father, uncle and the man the world knew as DMX. We will share information about his memorial service once details are finalized."
A day earlier, rumors of DMX's death trended on social media late Thursday, but the 50-year-old rapper, whose birth name is Earl Simmons, was reportedly still on life support at the time.
His manager, Steve Rifkind, confirmed that DMX was still alive as of Thursday night in an Instagram post. Rifkind urged people to avoid speculating about the rapper's health.
"Everybody please stop with posting these rumors. DMX is still alive," Rifkind said.
"Yes, he is on life support. But, please, it is not helping anybody by having them see these false rumors," he added. "Let the family relax for a night. You'll be hearing a statement from the family sometime tomorrow. I've been with DMX for the past three years. The only thing I ask is just stop with the rumors. He is still alive and he is on life support."
DMX had been on life support for the past week. The Grammy-nominated rapper suffered a heart attack around 11 p.m. on April 2 at his home in White Plains and was taken to a local hospital by an ambulance, according to his longtime attorney Murray Richman. It is unclear what caused the heart attack at this time.
As of Sunday afternoon, the rapper remained in a coma and was on a ventilator, according to a statement from his family.
On Monday, his family held a prayer vigil outside the New York hospital where he was admitted to intensive care.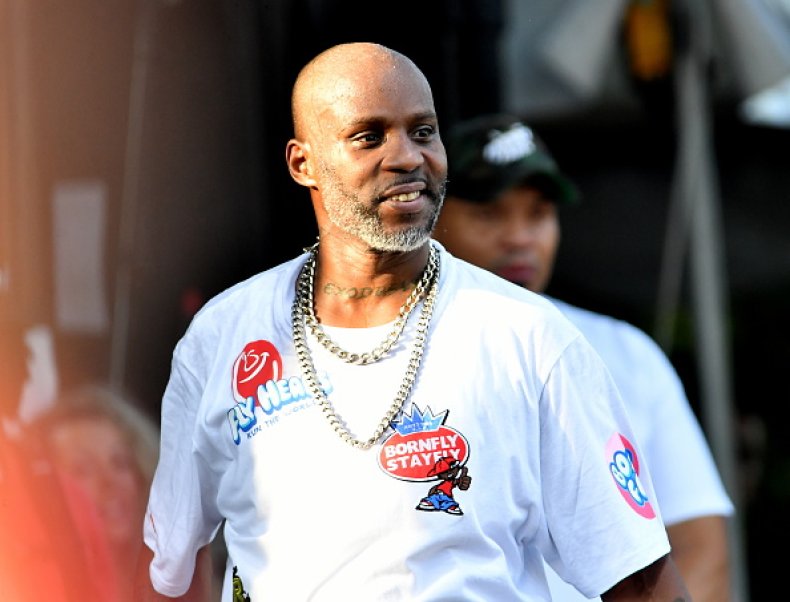 Born in Mount Vernon on December 18, 1970, DMX was the only child of Arnett Simmons and Joe Barker.
Over the course of his career, DMX sold millions of albums and earned three Grammy nominations, for his songs "Party Up (Up In Here)" and "Who We Be," and his 1999 album ...And Then There Was X. He was the first musician to have his first four studio albums debut at No. 1 on the Billboard chart.
He also pursued acting, appearing in several films in the late 1990s and early 2000s.
The rapper is known to have struggled with substance abuse over the years. He had been arrested for driving under the influence and without a license, weapon and narcotics possession, fraud and assault.
Richman acknowledged that DMX lived a "difficult life" in an interview with the Times, adding that he shared those struggles through his music.
"He expressed the pain and suffering in a very unique way," Richman said. "He truly is reflective of a whole segment of our society whose pain and suffering go unrecorded."