Huey Dead—'Pop, Lock & Drop It' Rapper Killed in Shooting
Hip hop musician Huey, famous for the song "Pop, Lock & Drop It," is confirmed to have died at the age of 32.
Huey, whose real name is Lawrence Franks Jr., was killed in a shooting in St. Louis, Missouri according to authorities.
A spokesperson from the St. Louis County Police Department confirmed a homicide to Newsweek in a statement.
"The deceased is positively identified as Lawrence Franks Jr., 32 years of age, of the 1000 block of Spruce Street in St. Louis, Missouri 63102."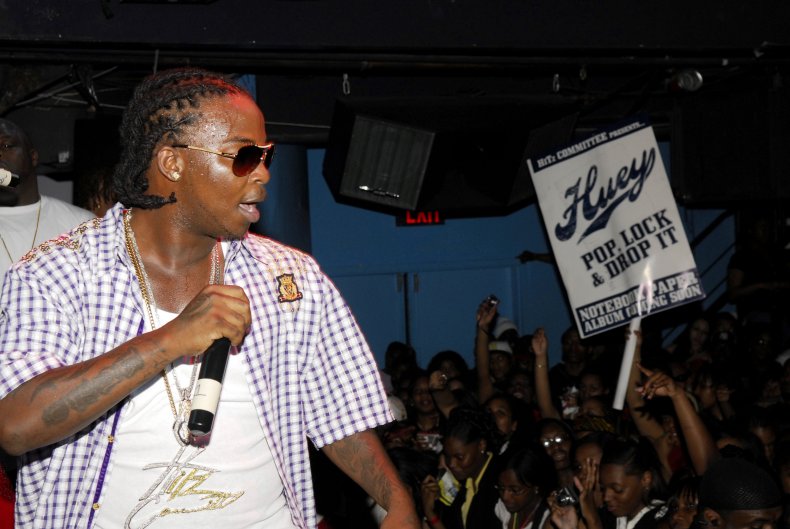 More information was provided after a briefing from detectives which confirmed that a victim of a shooting, a 32-year-old male, had arrived at a local hospital suffering from at least one apparent gunshot wound. He was pronounced dead shortly after his arrival.
St. Louis County PD also stated that the shooting was related to a second incident that took place in the 8100 block of Martin Luther King Boulevard in Kinloch, Missouri, in/around the front yard of a single-family residence in that block.
A second adult male, had arrived at the Ferguson Police Department, located at 222 South Florissant Road. That victim was transported to a local hospital for treatment of non-life-threatening injuries.
Police say the second victim is 21 years of age and remains hospitalized with non-life threatening injuries.
Detectives believe as many as 10 other individuals were present in and around the crime scene during the occurrence of this incident.
Jevon M. Tompkins of IDOL Music Group and St. Louis, Local Media Personality Page, Blanco Tarantino TV tweeted: "STL native Huey, best known for his classic single 'Pop Lock & Drop It,' was shot and killed earlier tonight and was expected to shoot a video this Saturday. This just hit home fr."
St. Louis-based producer and songwriter Jaylien Wesley posted a photo of Huey to Twitter, writing: "shed a few, my dawg Huey is gone forever. thank you for the talk, thank you for your energy, thank you for believing in me. Ima help keep your spirit alive down here. much much love forever."
Also known as Baby Huey, Franks was originally from Kinloch, Missouri and rose to prominence when his hit song "Pop, Lock & Drop It" debuted on the Billboard Hot 100 at number 98 in 2007, before peaking at number six. The video for the track has 50 million views on YouTube. He was previously signed to Jive Records.
A local social media news outlet for community news in St.Louis called Real Stl News, shared further information about Franks' alleged death on Facebook.
"The St. Louis hip hop community is at a loss for words as it received confirmation that recording artist Baby Huey has passed away after being wounded in a shooting," the post reads.