Rapper Lil Mosey Isn't Dead—Whatever the Internet May Be Telling You
Rapper Lil Mosey was recently arrested in Los Angeles for carrying three concealed weapons in his vehicle. This news about Mosey's legal trouble is a bit strange considering that some of the internet thinks the 18-year-old rapper is actually dead. He's alive, but he's certainly not having an easy time of it at the moment.
The rapper's current problems began after three concealed 9mm semi-automatic pistols were discovered inside his 2016 Cadillac Escalade, according to an exclusive report by TMZ. Mosey, his bodyguard/driver, and another juvenile (whose name has been withheld) were all arrested at the time of the discovery.
Mosey, a juvenile, allegedly had one of the guns in his possession while his bodyguard reportedly carried four credit cards which didn't belong to anyone in the vehicle. The Escalade was pulled over by the cops because the car was spotted without a license plate.
Mosey was released after he posted bail of approximately $35,000. The Certified Hitmaker is due back in court sometime in September.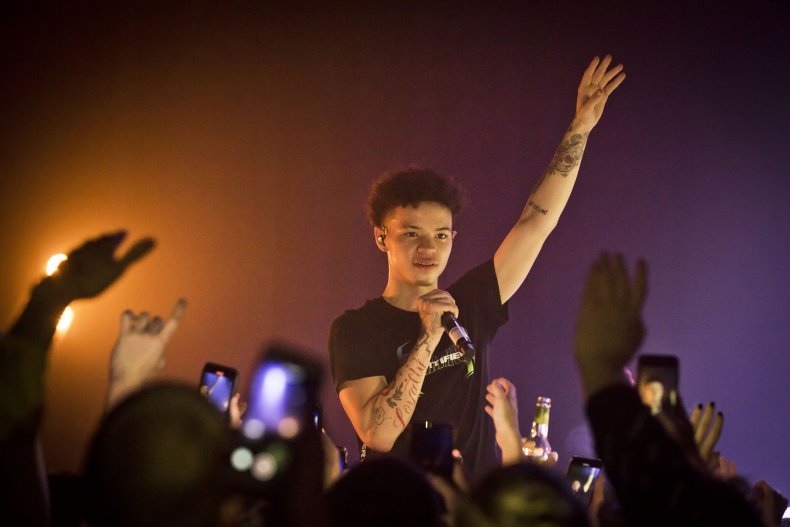 But his arrest isn't the only problem he's been facing lately.
Like many other up and coming entertainers, Mosey has been the victim of several fake news stories about his untimely death.
The fake news about Mosey's death has spread over onto Quora, the question-and-answer website. At the beginning of August, Quora user Eric Young answered the question about how Mosey "died" with a story of his own invention.
According to the tale spun by Young, the "Top Gone" rapper died during a drive-by shooting. He went on to allege that Mosey's death was recorded on video and posted on Twitter, but due to the graphic content, Twitter pulled it down.
"If the shooter hasn't been caught yet, I hope he does soon. He will either be charged with first degree murder, or second degree murder The drug dealer could also be charged as an accessory or at least with boot-legging," wrote Young.
About a year ago, DeadDeath and Obituaries, a page that publishes obituaries, posted news about Mosey's alleged death. Supposedly, the 16-year-old rapper was confirmed dead after being shot inside his car in California.
The obituary stated, "It was reported that a gunman ran up on his vehicle and opened fire on the youngster on December 9, 2019. On Monday afternoon, he was leaving the dealer. Video footage of the rapper in his car circulated online and on Twitter after the reported shooting."
React2424, a prank website, alleged that the Northsbest artist's body was found in Miami, Florida. They alleged that the teen rapper was shot over three times and stabbed about seven times by two "tall males in black and gray hoodies." The fake news site claimed that Mosey was murdered because he owed about $14,000.
Don't believe everything you read on the internet, folks.
Newsweek reached out to Lil Mosey's management team for comment but did not hear back before publication.