Rapper Nuke Bizzle Arrested After Confessing to Covid Relief Scam
Rapper Nuke Bizzle made a music video about fraud and identity theft, and he just got arrested because of it. The musician was arrested Friday in Los Angeles after allegedly taking advantage of the government's COVID relief financing, and raking in a whopping $1.2 million in the process.
A press release from the U.S. Attorney's Office in California revealed Nuke Bizzle, real name Fontrell Antonio Baines, was accused of registering for a total of 92 preloaded debit cards with Employment Development Department (EDD) funding. The cards were allegedly sent to multiple California addresses with which the rapper was associated, and many of the cards were said to be registered to the names of citizens who had reported their identities as stolen.
It's unclear if Nuke Bizzle's fraud scheme would have been discovered had he not released the song titled "EDD" in September. While rappers often create songs around exaggerated themes, Nuke Bizzle apparently didn't try to hide the fact that he was involved in a highly illegal act. Instead, he bragged about it.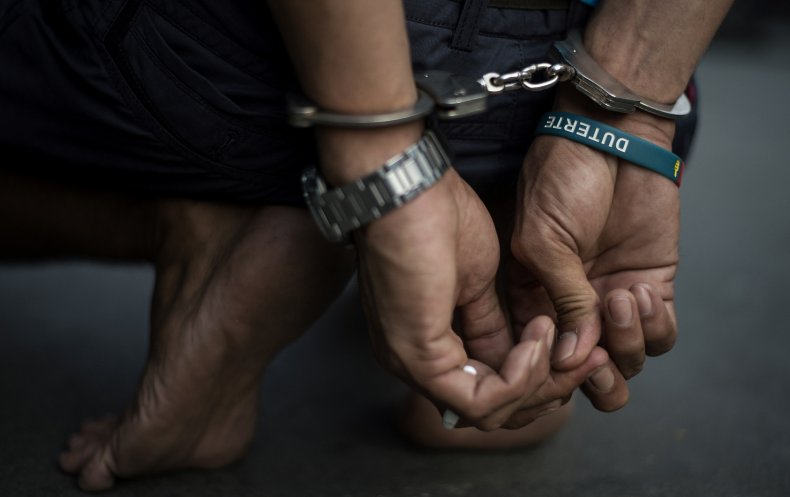 In the song, Nuke Bizzle embraces lyrics about having "swagger for EDD" and getting rich when he "go[es] to the bank with a stack of these." It even shows Nuke Bizzle getting a handful of government envelopes from the mail.
Lyrics also state that Nuke Bizzle is "rich cause of EDD" and that he "woke up to 300,000 G."
There was a disclaimer that not everything in the video was true. "THIS VIDEO WAS CREATED WITH PROPS AND WAS MADE FOR ENTERTAINMENT PURPOSES," Nuke Bizzle's YouTube upload was captioned.
Still, the video caught attention. "Baines allegedly exploited the Pandemic Unemployment Assistance (PUA) provision of the CARES Act, which is designed to expand access to unemployment benefits to self-employed workers, independent contractors, and others who would not otherwise be eligible," the press release explained. The rapper is scheduled to make his first court appearance in Los Angeles on Friday afternoon.
While he's accused of gaining over $1 million in illegal benefits, Nuke Bizzle hasn't spent it all, according to the release. "Baines and his co-schemers allegedly accessed more than $704,000 of these benefits through cash withdrawals, including in Las Vegas, as well as purchases of merchandise and services."
Whether for the music or the controversy, Nuke Bizzle's song has picked up steam online. The YouTube video has over 400,000 views at the time of publishing. The rapper also has an impressive Instagram following with 32,800 followers on his main account, @nukebizzle1.
Newsweek reached out to Nuke Bizzle via email for comment but didn't hear back at the time of publication.