Rapper Offset Detained by Police During Instagram Live Stream
In an Instagram live video posted on Saturday evening, rapper Offset of the hip-hop trio Migos was detained by police during his live stream, during a pro-Trump march in Beverly Hills.
In the video, two Beverly Hills police officers, a man and a woman, approach Offset, real name Kiari Cephus, who is sitting in his automobile.
"I'm not doing that, I'm not doing that. Because you've got guns out," Offset says.
"That's my choice," the male officer says.
"I'm not going to move my hands from my steering wheel," Offset replies.
"We were told that you guys were waving guns," the female officer says.
"You know who I am? Offset from the Migos. They got fans, that's why they're following me," Offset says.
"That has nothing to do with why we're here. We were told that you guys were waving guns at people," the female officer says.
"You just watched somebody beat my car up with a flag. What are you talking about?" the rapper replies. "You told me to put my hands up, I'm not doing that.... There's 25,000 people on my live. You're going to get sued publicly."
The male officer tries to open Offset's car door, and Offset says that he can't do that. Offset is then pulled from the car, and handcuffed.
The video below contains language some may find objectionable.
Newsweek reached out to Offset's representatives for comment.
Lt. Max Subin of the Beverly Hills Police Department confirmed that Offset had not been arrested, but was merely detained.
"Police received information from a passerby of a subject who pointed a weapon from a vehicle at him; in the area of South Santa Monica Blvd and N. Beverly Drive. The passerby provided a license plate to the vehicle, and the vehicle was stopped by patrol units a short distance away. After the on scene investigation, the passenger in the vehicle was arrested. The victim of the crime did not desire to press charges for the pointing of the weapon," Subin said told Newsweek.
The passenger who was arrested was Marcelo Almanzar, who was charged with carrying a concealed weapon and carrying a loaded firearm in public. Almanzar's bail was set at $35,000. Alamazar is the cousin of Offset's wife Cardi B, according to TMZ.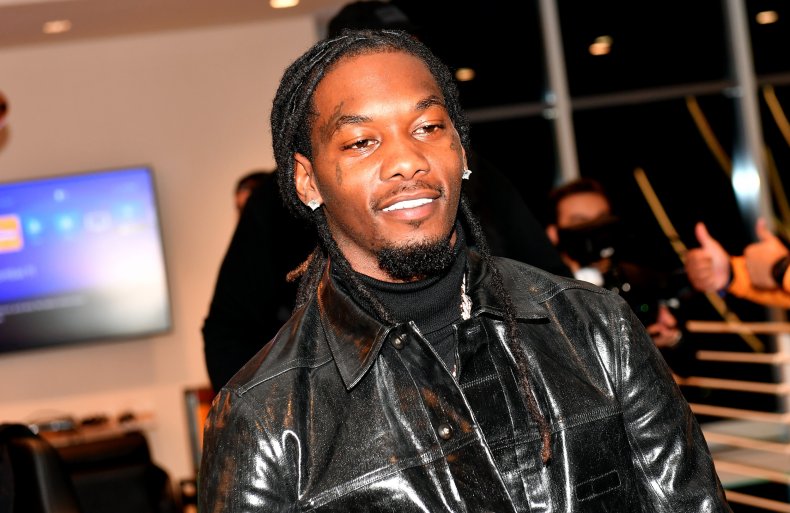 Earlier this week, Offset released a get-out-the-vote PSA. The spot grew out of a conversation between Offset and fellow rapper Common about Offset's felony conviction as a 17-year-old, according to Rolling Stone. Offset's parole officer told him that he wouldn't be able to vote due to his conviction, so Offset never tried to register to vote, as he was afraid of being arrested. Offset's parole officer was wrong, and his mother encouraged him to register and become more involved in politics.
"You've gotta vote. That's what changes the rules, change the laws," Offset said in the PSA. "I voted, and I was able to be a part of where I live which is at home here in America. My voice matters."
Offset first voted in the June primary in Georgia, according to Revolt TV.