Rapper Turned Cop Jinho 'The Piper' Ferreira Tells Story of Police Shooting From Both Sides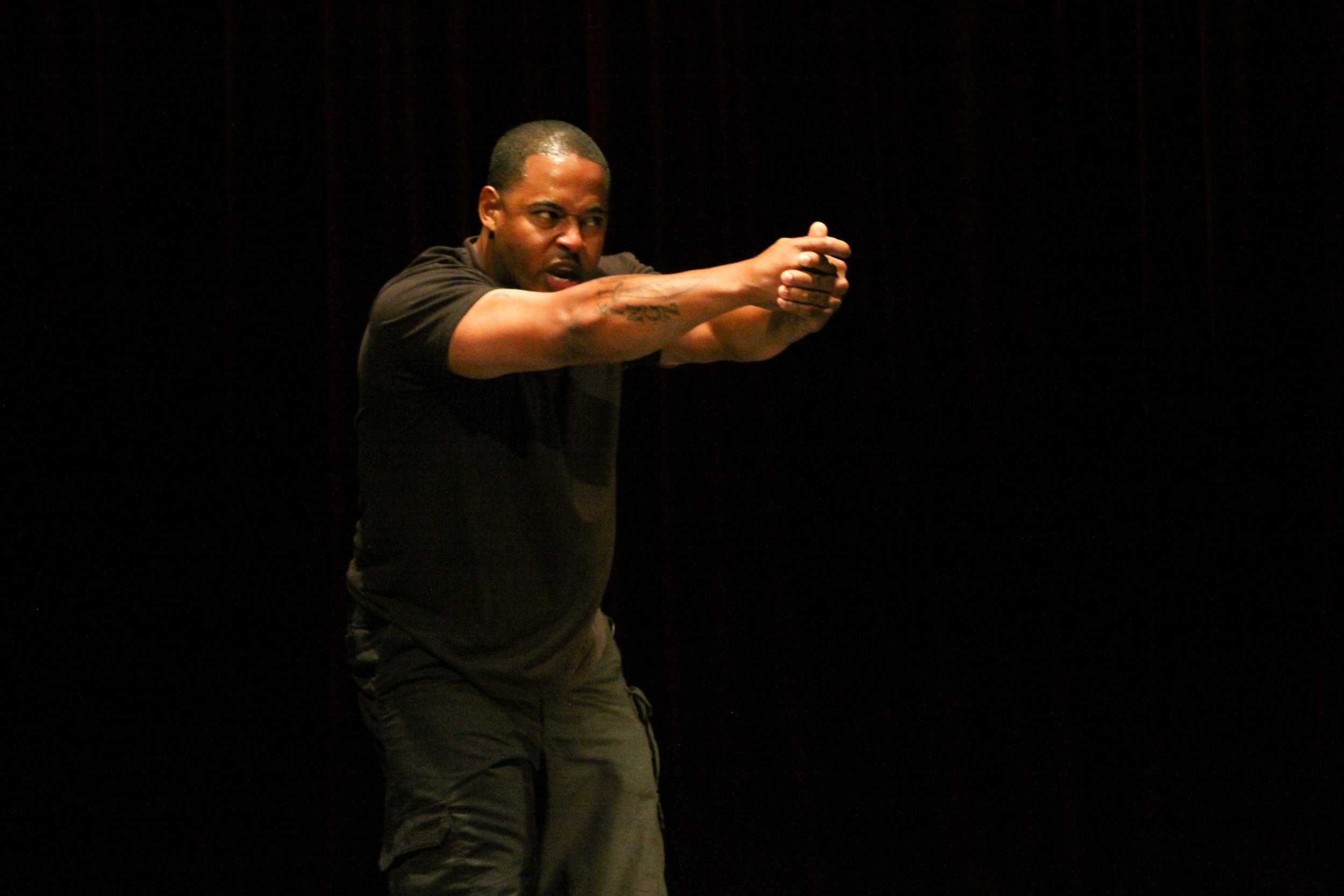 To get a picture of the divisions that have been exposed in the wake of the Michael Brown shooting in Ferguson and the chokehold killing of Eric Garner in New York—and the protests that followed when grand juries refused to indict the police officers responsible—look no further than your nearest TV. Where I live, CNN and Fox News are right next to each other on the dial. One night CNN was covering the thousands in New York, Chicago and Oakland protesting the Garner decision, chanting "I can't breathe" (Garner's last words) and "Hands up, don't shoot" (an homage to Brown). A click away and Sean Hannity was doing a group interview with store owners from Ferguson whose businesses had been destroyed in riots. Clearly for the Fox host, the greater crime was the destruction of property, while the ongoing protests center on police discrimination against African-Americans ("Black lives matter" being the other slogan du jour).
In Cops and Robbers, a one-man play that has been selling out Berkeley's Marsh theater since July, Oakland rapper, actor and sheriff's deputy Jinho "The Piper" Ferreira plays 17 characters reacting to a cop shooting a possibly unarmed suspect. One of them is a black preacher who rants about the cops "patrolling our streets like the overseers patrolled the plantations of yesterday." His media counterpart—the guy on the other channel—is a white right-wing radio talk show host prone to saying things like, "This is America! We have options, we make decisions and we're held accountable for those decisions."
Do they hear each other? I spoke to Ferreira (or Piper, as he prefers to be called) when he was on the job, police radio crackling in the background. "When the minister is driving down the street and he's listening to the radio," he reminds me, "and the conservative radio host comes on, he changes the channel."
Ferreira switched channels himself in the wake of another police shooting. On January 1, 2009 a 22-year-old black man named Oscar Grant was fatally shot by a white transit cop while he was being held on the ground following a scuffle on a crowded subway car. Dozens of people witnessed the killing and captured it on their cell phones, and the protests and rioting that followed made the East Bay the Ferguson of its day. (The policeman, Johannes Mehserle, was found guilty of involuntary manslaughter; the incident was dramatized in the 2013 film Fruitvale Station.)
Ferreira and his wife Dawn went to the first demonstration at the BART station where Brown died. He and his band, Flipsyde, had just returned from touring overseas (the rap-rock outfit has toured with the Black Eyed Peas and Snoop Dogg, and their song "Someday" was used as a theme by NBC for the 2006 Winter Olympic Games in Torino, Italy) and were at sort of an impasse. "We had begun to slow down," says Ferreira. "One of the band members was having drug problems so we were just recording music."
In the midst of the large and racially mixed crowd that came out to protest, Ferreira had an epiphany of sorts. "I'm looking around and there are thousands of people there and I begin to think about, why are we here? What do we hope to gain from being here? What do we want to come out of this?" he recalls. "I spoke to a number of people who said that there are cops who don't care about the community, who are racist or whatever. And I thought if we could just magically identify all these cops and get rid of them, who would replace these cops? I couldn't fathom anyone there doing it. I looked at myself; I couldn't picture myself doing it. "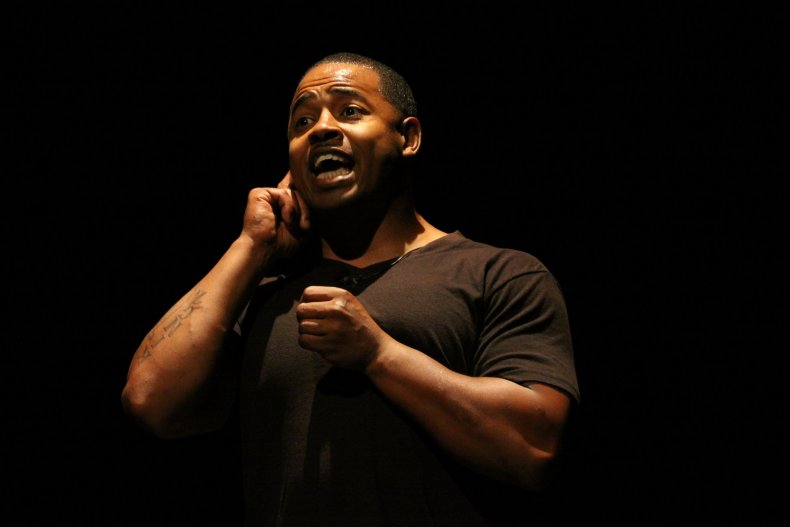 Ferreira grew up in Oakland and attended Berkeley High ("I had a pretty diverse upbringing," he says. "Oakland during the crack epidemic, which was something special"; while he didn't deal himself, at the age of 12 he was what he calls a "little homie," helping a dealer by bagging crack). This was his community and along with his wife, an educator and mental health advocate, he spent a lot of time talking about what they could do for Oakland, a city with a long history of police brutality complaints. On the day we spoke, Darren Wilson, the cop who shot Brown in Ferguson, had just resigned. "Who's going to replace him is the question?" Ferreira says. "If people have a problem with the way Darren Wilson went about his job, or a problem with the way Johannes Mehserle went about his job, or a problem with how the cops who beat Rodney King went about their job—if they have a problem with that but they're not willing to step up and replace them, then they shouldn't be surprised if people who think like them replace them."
After about a year and a half of discussing the idea of becoming a cop with his wife, his family and his bandmates, Ferreira went through the rigorous course of the Alameda County Sheriff's Academy (where he gave his class's commencement speech) and became a deputy sheriff. "I couldn't shake the question," he says—twice—of his decision. "I began to feel guilty about how passionate I was about change and justice but I'm not passionate enough to take this step?"
In 2012, after a few years as a sheriff's deputy, he wrote Cops and Robbers, drawing from about a dozen different incidents, including that of convicted felon Lovelle Mixon, who shot and killed four Oakland cops in 2009. He contacted a local acting coach named Ami Zins whom he had taken lessons with when he was a teenager and after performing the play for her and her husband, Lew Levinson, the couple agreed to direct him in his first theater production. On the strength of his play, he received a scholarship to work with Anna Deavere Smith, whose 1992 one-woman play about New York's Crown Heights riot, Fires in the Mirror, paved the way for plays like Ferreira's.
You wouldn't know that Ferreira was new to acting; he has the chops and poise of a seasoned trouper and as he morphs from character to character (adjusting his imaginary dress as the newbie TV reporter excited to be covering her first killing, grabbing his crotch as the trash-talking convict who used to roll with the victim) you hear the voices he has been tuned into, and benefit from the experience of someone from the streets who has actually listened. "I had to write the play because I felt like I was being pulled in so many different directions, all of these different people who I've met throughout my life," he says. "They're all passionate and they all claim they want to change the world for the better but it's like they don't even know the others exist. No one's talking to each other and no one knows where anyone else is coming from."
By the play's end, most of the audience's assumptions about the shooting have been dismantled, starting with the revelation that both cop and victim are black. "Members of the black community feel passionately about [black-on-black violence] but they haven't really figured out a way to attack it with the full force that they devote to white-on-black violence," says Ferreira. "The reason I made the cop black was to kind of confront the black community with that." It is a different kind of tragedy; the first speaker in the play is an African Ancestor who says, "In the village from which I descend, a boy could not become a man without weapon in hand and a will to defend the past, present and future. He would all too willingly lay down his life to serve as a bridge for the children to cross ... "
Cops and Robbers ends its run at the Marsh on December 13; "I need a breather," Ferreira says after working two jobs for six months (cop during the week, actor on the weekends). He wants to spend time with his wife and kids, and write the story's sequel. (He plans to film Cops and Robbers; an audio and book version of play are available at pipedreamzent.com.) In his day job he has been working primarily with the Crime Prevention Unit, organizing activities at the REACH Ashland Youth Center and speaking to groups like East Oakland's Boys & Girls Club. He was surprised to learn that the kids there hadn't been talking about Ferguson at school. "That was amazing to me," he says. "It just means we're setting ourselves up for the same thing. America does a great job of not talking about the things that are extremely important."