YouTuber Elijah Daniel Says He Bought Hell, Michigan, Renamed it 'Gay Hell' After Trump Ban on Pride Flags at Embassies
"Rick and Morty" musician Elijah Daniel, also known by his rap name Lil Phag, said he purchased the town of Hell, Michigan. His first order of business was to rename it Gay Hell. Daniel, who has nearly 600,000 YouTube subscribers, said he was inspired to purchase Gay Hell since the State Department has refused to allow embassies to hoist rainbow flags during LGBTQ Pride Month this year.
In an interview with Newsweek, Daniel revealed he has a past connection with Hell and its unofficial mayor, John Colone. He stood in as mayor for the day in 2017, where he banned straight people from the town.
"Growing up, I was always told that homosexuals would go to Hell," he wrote in his amended ban," he wrote at the time. "Now the heterosexuals are trying to take this from us too."
The YouTube star wouldn't disclose how much it cost to partially purchase Gay Hell, but he and Colone have been planning the "takeover" for months. In celebration of Pride Month "I decided to take it over for a bit," Daniel said.
People can become mayor of Gay Hell for the day, just like Daniel did in 2017. There's also going to be Gay Hell tours and weddings.
It's not clear how long Gay Hell is going to last for, but it could be extended past Pride month. Hell is up for purchase, and Daniel is thinking about buying it in total. Right now, his purchase is temporary.
So what's the response been like? It was more than what Daniel was expecting. "It's been a lot crazier than I thought it would be," he said. "It's been a busier day than I expected it to be."
In Daniel's town, the only flags that are allowed to be hoisted are rainbow flags that represent Pride.
The YouTube star took to Twitter on Monday to share pictures of his new town. Within one hour, his tweet was liked more than 20,000 times.
"Ahead of pride month Trump's administration put a ban on embassy's flying pride flags," Daniel tweeted. "So as of today, I am now the owner of Hell, Michigan. I bought the whole town. And my first act as owner, I have renamed my town to Gay Hell, MI. The only flags allowed to fly are pride."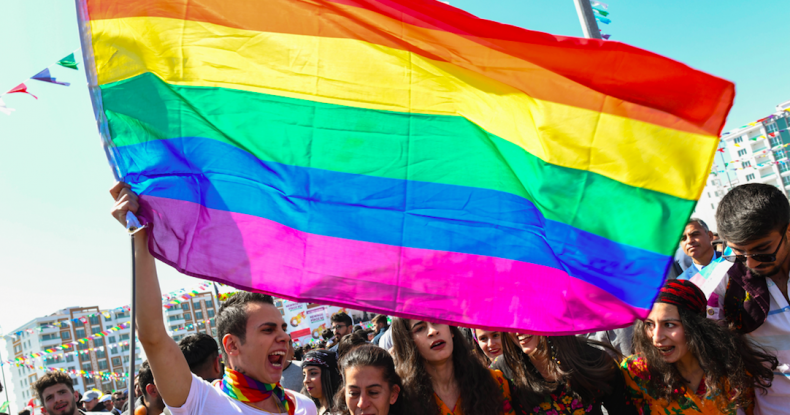 In a follow-up tweet, the "Elton John" musician added there are a library and wedding chapel in his town. "Gay Hell, Mi has everything. A library, a place to lock your love in Gay Hell, and even a WEDDING CHAPEL TO GET GAY MARRIED IN HELL!" he wrote.
The flying the pride flag ban at embassies is a new policy that Vice President Mike Pence, an evangelical Christian who opposes gay marriage said was the "right decision."
"We're proud to be able to serve every American," Pence told NBC Tuesday, but "when it comes to the American flagpole, and American embassies, and capitals around the world, one American flag flies."
The Trump administration's ban is starkly different from the Obama administration, whose directive was for LGBT rights to be promoted during Pride Month. It was part of the guideline for rainbow flags to be hoisted outside embassies.
When Mike Pompeo became secretary of state, however, if diplomats wanted to fly a rainbow flag they needed top-level approval from the State Department's Office of Management.
Update Monday, June 17 at 7:42 p.m. ET: A previous version of this story classified Daniel as a rapper. His title has been updated to musician and YouTube star.