Rapper T.I. Praises Cynthia Nixon's Stance on Marijuana Legalization
Rapper T.I., whose real name Clifford Joseph Harris Jr., has pledged his vote to Cynthia Nixon for New York governor based on her proposed marijuana policy. T.I. lives in Georgia and won't be able to vote for Nixon officially, but he told his Twitter followers her political views are worth supporting.
"I have no idea who this brilliant lady is...But she's invited to my next bbq/family gathering and if she's running for anything...ANYTHING I SAY..She's got my vote!!!" he tweeted Monday. "Right on to the Righteous Decent White People out there, using their privilege to make a difference!!!"
T.I.'s comment was attached to a video of Nixon speaking about legalizing marijuana. Nixon explained there are many reasons legalizing the substance can be beneficial for the city, but specified the largest reason is based on racial inequality.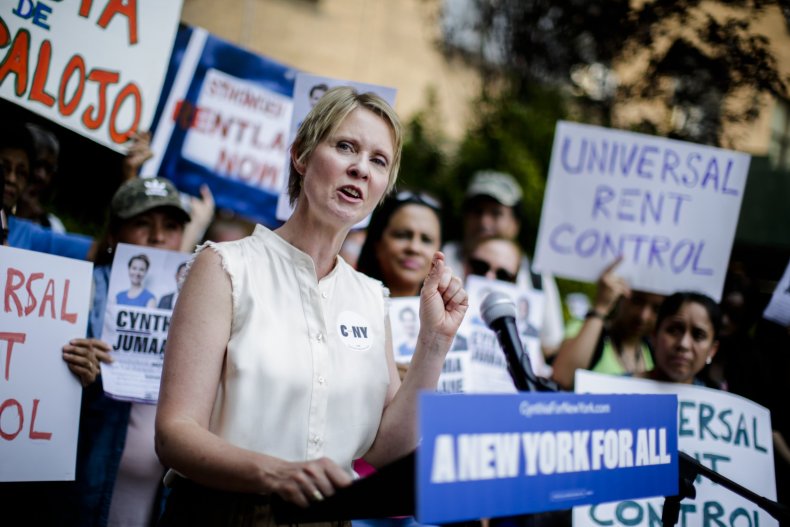 "There are a lot of reasons to do it, but first and foremost, because it's a racial justice issue. Because people across all ethnic and racial lines use marijuana at roughly the same rate, but the arrests for marijuana are 80 percent Black or Latino." She also stated marijuana has been "legal for white people" for some time and concluded it should officially be legal for everyone else.
Nixon responded to T.I.'s praise on Twitter. "Thanks for the support, [T.I.]! BTW: My name is Cynthia, and I am going to be the next Governor of New York," she responded. "Please encourage your friends out here in the Empire State to vote this Thursday, 9/13!"
A long list of celebrities have donated to Nixon's campaign, including Lena Dunham, Rosie O'Donnell and Alex Baldwin. Some of Nixon's former Sex and the City costars have also contributed to her campaign funds, including Sarah Jessica Parker, Kristin Davis and Chris Noth, Time reported.
Nixon is a longtime resident of New York and started her campaign to benefit her fellow citizens in her campaign message. "I'm running for governor because I love this state. New York is the only place I've ever lived, and I wouldn't have it any other way. But I know that we can do better. We need a New York that works for all of us—a New York for the many, not just the few," her mission statement reads.
Nixon's platform speaks on the importance of fixing the New York public transit system as well as universal rent control.