Rare 16th-Century Dish, Uncovered From Drawer, Auctioned for $1.7 Million
A rare 16th-century dish that illustrates the Bible story of Samson and Delilah was discovered in a drawer in a Scottish home and sold at auction for $1.7 million. This was far above the expected fetching value range of $109,000 to $163,000.
According to a release sent to Newsweek from British auctioneers Lyon & Turnbull, the dish was attributed to Nicola di Gabriele Sbraghe, a potter described as the "Raphael of maiolica painting," who often signed his work as "Nicola da Urbino."
Nicola di Gabriele Sbraghe was regarded as the master of the istoriato style of maiolica decoration in 16th-century Italy, per a footnote written by Celia Curnow, a maiolica specialist, on the artifact's information profile featured on the auctioneer's website.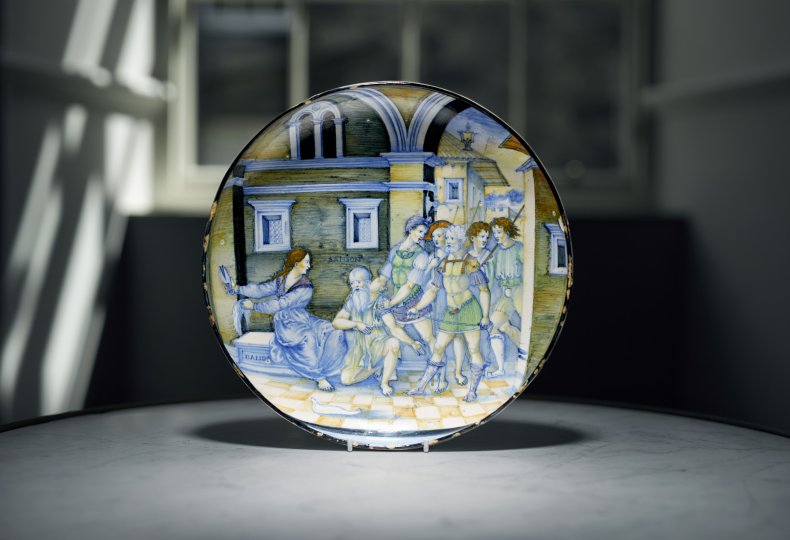 Though acknowledged as a master, not much is known about the artist, as reported by the J. Paul Getty Museum.
The Gardiner Museum describes Italian maiolica as "one of the most sophisticated and refined ceramics produced in Renaissance Europe."
It uses a technique that involves using ashes of tin in a lead glaze to create an opaque white background. The background is then ready for further decorating. The museum notes that the technique originated in present-day Iraq in the ninth century, but spread and was established in Italy in the 14th century.
"As the auctioneer, it was a real joy to bring the hammer down at over £1 million on this incredibly rare dish—a new world record price I believe," Gavin Strang, Lyon & Turnbull's managing director said in the release. "The whole story of its discovery tucked away in a drawer, though the meticulous research carried out by our specialists, and then fierce international bidding on auction day has been exciting from beginning to end."
This particular dish measures about 11 inches in diameter and features Delilah holding scissors and the hair she cut from Samson. It was found by Lyon & Turnbull's European ceramics specialists during preparations for the auction of contents with the Lowood House. The country house is located within the Scottish Borders and more than 400 pieces were sold.
Jill Brown, a spokesperson for Lyon & Turnbull, told Newsweek that the total selling rate for the contents of Lowood House was just more than $3 million. The collection featured artifacts from two families: the Crum Ewings and the Hamiltons.
James Ewing, a Lord Provost and MP for Glasgow, mentioned purchasing the maiolica dish in a diary entry.
CNN reported the winning bid came from an anonymous source. Strang told CNN that there was an "electric" feeling during the auction and "there was a round of applause when the hammer went down.