Rare Blue Sucker That Smashes World-Record Size Caught by Missouri Man
A Missouri man has caught a blue sucker fish that smashes the world-record weight for this species.
Travis Uebinger from Auxvasse, Callaway County, snagged his catch on January 15 while fishing on the Osage River—a 276-mile-long tributary of the Missouri River—per the state's Department of Conservation (MDC).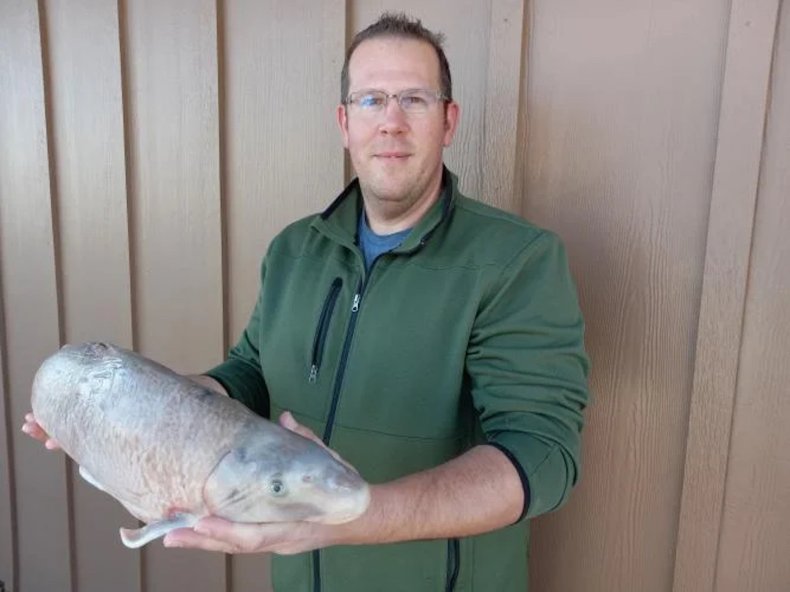 The blue sucker (Cycleptus elongatus) is a fast and powerful freshwater fish native to the United States and Mexico. It inhabits the primary segments of major rivers and the lower portions of main tributaries.
These fish are found throughout the vast Mississippi River basin, which covers all or parts of 31 states, as well as the Missouri River—the longest in the country.
Officials with the MDC weighed the fish, with certified scales displaying a reading of 11 pounds, 5 ounces.
The department confirmed this was a new state record catch for this species. The previous title holder was a blue sucker weighing 9 pounds, 14 ounces, caught in 1997 by Randy Christian in the Missouri River.
The fish taken by Uebinger is also significantly heavier than the current International Game Fish Association (IGFA) all-tackle blue-sucker world record. Steven Wozniak caught that specimen, weighing just 2 pounds, 12 ounces, in April 2022 in the White River, Indiana.
Christian did not submit his catch to the IFGA for world-record consideration, but he would likely be the title holder if he had done so.
Should Uebinger decide to submit his catch to the association, it could soon be recognized as the new blue-sucker world record.
"That would be amazing to have a world record," Uebinger said in an MDC statement. "Especially on a fish you weren't targeting."
The fisherman said he and his friend had been looking for white bass or walleye the day he caught the blue sucker, which he hooked using the pole-and-line method.
"We were really targeting a whole bag—anything that would bite," Uebinger said. "We were on my friend's new boat, trying it out, when I reeled it in. I didn't know what it was, a sucker or a carp. It was my friend who said it could be a state record."
While blue suckers are widespread, they are generally rare across their entire range and are far less abundant today than they were in the past.
Blue suckers are extremely sensitive to pollution, so the presence of the fish in a given body of water tends to indicate that the local ecosystem is healthy.
Much of the fish's decline over the course of the 20th century can be explained by factors such as pollution, as well as the segmentation of its habitat due to the construction of dams and other infrastructure projects.
Uebinger said he was not planning to eat the blue sucker he caught—they are considered to be good-tasting fish—but instead is looking to have his catch preserved for display.
"I contacted several taxidermists," he added. "Being in the carp family, it's a little difficult to mount, and it would have to be custom-made. Luckily, I did find a place in Springfield that would mount it, so I've currently got the fish wrapped up and frozen."
Newsweek has contacted the Missouri Department of Conservation for comment.
Do you have an animal or nature story to share with Newsweek? Do you have a question about fishing? Let us know via nature@newsweek.com.