Jews, Christians and Muslims around the world will all see a rare overlap of major religious observances this weekend, bringing a confluence of reflections for communities making up the three monotheistic traditions.
On Friday, Jewish people celebrate Passover to mark the exodus of Israelites from enslavement in Egypt. On the same day, Christians observe Good Friday to commemorate the crucifixion of Jesus before celebrating Easter Sunday when he rose from the dead. Over the weekend, Muslims will continue observing Ramadan, a month of prayers and fasting to memorialize the transmission of the Koran.
The overlap of the three observances occurs about every 33 years, according to Lees McCrae College. Religious groups and others use the rare occasion to call for harmony between the traditions.
"As Passover, Easter, and Ramadan converge this weekend, we pray for peace and tranquility in Israel, in the United States, and around the world," the American Jewish Committee said in a tweet.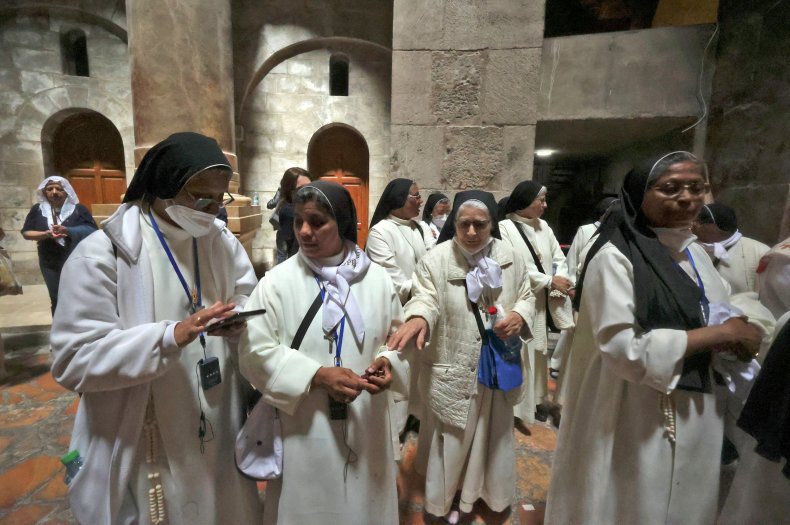 The coincidence is so uncommon because the three observances are based on different calendars and factors that determine when the holidays occur. Easter is celebrated on the first Sunday following the full moon that occurs on or after the spring equinox. Good Friday marks the crucifixion of Jesus, God's messiah, under the Roman governor of Judea to atone for humanity's sins.
Passover occurs in the middle of Nisan, a month in the Hebrew calendar, on the first full moon, putting it in proximity to Easter. The holiday begins at sundown and includes seder, a special meal meant to remind Jewish people of the hardship they endured in Egypt.
Ramadan is Islam's holiest month using the lunar calendar. Because the calendar follows the cycles of the moon, unlike the Gregorian calendar commonly used in the West, Ramadan falls on different times each year.
During Ramadan, Muslims believe God revealed the sacred text of the Quran to the Prophet Muhammad, the first verses of which were passed down on "The Night of Power" (Laylat al-Qadr in Arabic). Muslims abstain from food or drink from dawn to sunset for the entire month and are encouraged to contemplate their relationship with God.
The American Islamic College in Chicago announced it will mark the overlap of the holidays by organizing an interfaith trolley next week to visit various faith-based organizations. The event will also recognize Baha'i, Sikh, Hindu and Buddhist holidays.
However, on Friday more than 150 people were injured after Israeli security forces clashed with Palestinians in Jerusalem.
"My heart is full of pain this morning as I watch the scenes coming out of Jerusalem," Mustafa Farooq, CEO of the National Council of Canadian Muslims, said on Twitter. "As I know our shared communities are celebrating Passover, Ramadan, and Good Friday, if there is one thing that gives me hope, it's that my friends in every community want peace."
Newsweek reached out to the Institute for Islamic, Christian and Jewish Studies (ICJS).